The Blackpool Group of lodges and chapters has enthusiastically embraced an invitation from the United Grand Lodge of England (UGLE) to celebrate the NHS, Social Care and Frontline Workers' Day of 5 July 2021 by proudly displaying a specially designed banner to mark this unique occasion. The day has been dedicated to the NHS, Social Care and all those that work on the frontline, who have saved so many lives during the COVID-19 pandemic. The celebration will also remember those workers that were sadly lost.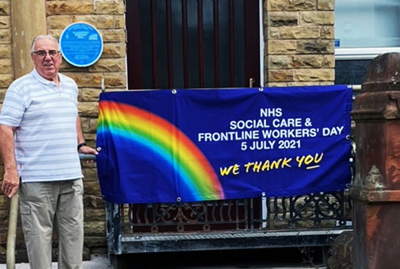 The UGLE is one of the core supporters of the NHS, Social Care and Frontline Workers' Day, alongside the Cadet Forces, English Heritage and the Women's Institute. A £5 donation from every banner, flag and length of bunting made will be equally divided between NHS Charities Together and the National Care Association.
Bruno Peek, Pageantmaster to the Queen and creator of NHS, Social Care and Frontline Workers' Day, said: "We are delighted that Freemasons, whose members come from all walks of life, are playing such a high-profile and active role to start this special day of celebration and commemoration of those within the NHS, social care and on the frontline, who undertake so much for us all, 24 hours a day, seven days a week and 52 weeks a year, without any thought of their own safety."
In addition, Dr David Staples, chief executive of the UGLE and a consultant in acute internal medicine at Peterborough Hospital, said: "We are facing the greatest global pandemic in living memory and the NHS has never been so tested in its history. Its staff have been stretched beyond comprehension during the last year and they deserve our gratitude, our applause and all the support we can give."
Little wonder then that the President of the Blackpool Masonic Club Colin Goodwin was so proud when he exhibited the banner outside the Masonic Hall, Adelaide Street, Blackpool, as a token of the Blackpool Group's support.