The lower dining room at Blackpool Masonic Hall is full of items donated by the Freemasons of Blackpool, with over 4,000 items having been donated so far and with even more arriving at the hall on a daily basis.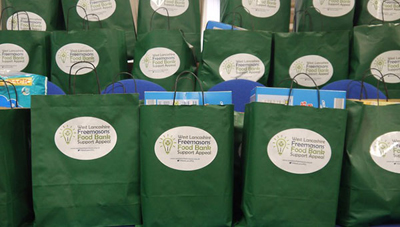 Not only do the donations consist of non-perishable food items, there are a huge number of toiletry goods, pet foods, children's toys, Xmas items and many more bits and pieces to make life a bit more bearable for the neediest in our community over the festive season.
"A tremendous response by members of the Blackpool Group of lodges and chapters", was the reaction from group chairman David Cook as he helped other volunteers to package and store the huge collection. "We have also received a large number of monetary donations which will enable us to purchase a great number more", he added.
Blackpool Freemasons' Club President Colin Goodwin and his band of Christmas elves have been working very hard to collect and collate the 100s of donated goods, packing them into Provincial Food Bank Appeal carrier bags ready to be collected by the Blackpool Food Bank.
In speaking of the generosity of the group members, Colin pointed out that further donations can be delivered to the Masonic hall between 9:30 and 10:30 on Monday, Wednesday and Friday mornings. If any members have items to donate that they would like collecting from their homes, contact Martyn Jones at jonesmartyn@btconnect.com  who can arrange collection.