Freemasons are taught to practise charity and to care, not only for one another but also for the community as a whole, both by charitable giving and by their voluntary efforts as individuals.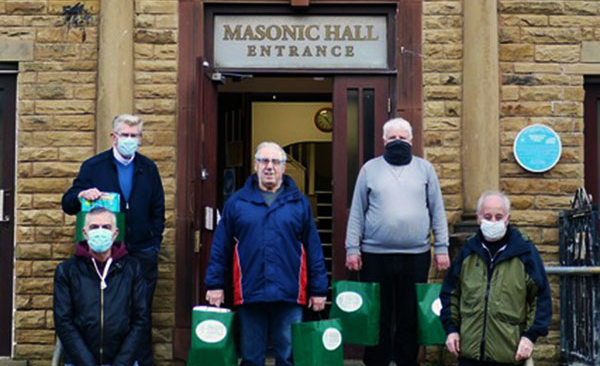 And from its earliest days, Freemasonry has been concerned with the care of children, the sick and the elderly and this has been exemplified by the efforts of local brethren who have supported the appeal launched in November by the Provincial Grand Master Tony Harrison, who personally launched the Province of West Lancashire Freemasons' Food Bank Support Appeal.
Brethren of the Province of West Lancashire were asked to donate one item a day for the 30 days of November and the support from Blackpool Freemasons has been extremely impressive with well over 4,000 items having been donated and delivered to the Masonic Hall in Blackpool.
The collections were overseen by the Masonic Club President Colin Goodwin and his team of helpers who packed the items into carrier bags and boxes ready to be collected by the Blackpool Food Partnership.
Blackpool Group Chairman David Cook and his socially distanced fellow group officers, along with Masonic Club Chairman Colin Goodwin and Rod Holt, assisted the volunteers from the Blackpool Food Partnership to load all the produce into vans ready to be distributed to people in need throughout the Fylde.
In addition to the donations of food, the group has received monetary donations: £250 from the West Lancashire Freemasons' Charity; £370 from individual brethren and donations from three lodges to a total of £450; making a grand total of £1,080 of which £500 has been spent on extra items of food.
The Blackpool Food Partnership works with agencies across the Fylde to provide emergency food parcels to support families and individuals in Blackpool and its surrounding areas who find themselves in financial crisis and are unable to afford food or do not have family or friends to assist them during this current crisis.
The Freemasons of Blackpool and of the Province of West Lancashire can rightly be proud that they will have made a difference to the lives of many people struggling to survive over this Christmas period.

Story and photographs by Gordon Ivett.