Bill Williamson was installed as WM of Garstang Lodge No 6633 for the sixth time in the presence of Past Provincial Assistant Grand Director of Ceremonies Barrie Crossley, the representative of Provincial Grand Master Mark Matthews. Barrie was accompanied by Scott Devine, Vice Chairman of the Lancaster Group and acting Provincial grand officer Dave Shaw, Provincial Junior Grand Deacon.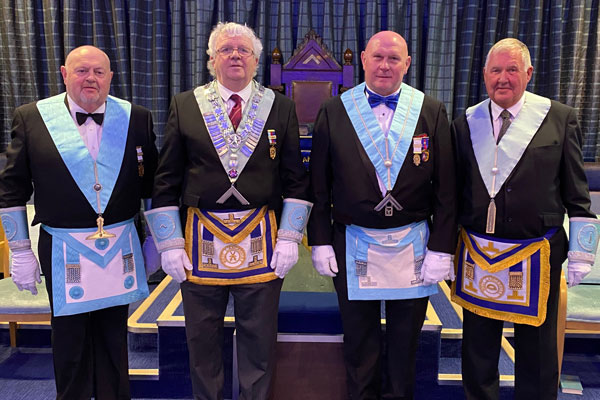 WM Colin Richmond opened the lodge and then conducted the installation ceremony assisted by acting director of ceremonies George Riley from Scorton Lodge No 5791. Master elect Bill was presented by Ian Brook. The installing officers were, senior warden Frank Horn, junior warden Bill Richmond from Pilling Lodge No 7879 and inner guard Malcolm Rowlandson from St Michaels on Wyre Lodge No 8348. The conduct of the ceremony was a collaboration of Masons from neighbouring lodges who were happy to fill in gaps caused by recent illness among Garstang brethren.
The third degree working tools were presented by Ran Fisher, the second working degree tools were presented by Colin Richmond and the first degree tools were presented by Andy McClements from Scorton Lodge. The WM appointed Dave Partington as senior warden and Ian Brook as junior warden. The address to the master was given by Jack Stackhouse, the address to the wardens was given by Scott Devine and the address to the brethren of Garstang Lodge by Barrie Crossley. Dave Shaw gave the address to the deacons.
Barrie Crossley was pleased to announce that the lodge had made donations to Masonic and non-Masonic charities to the value of £15,813. Barrie thanked the brethren of Garstang Lodge for their generosity.
The organist was David Tattersall from Runic Lodge No 6019 and the Master's Song was performed by George Fox from Vale Lodge No 5256. A total of 35 brethren attended the festive board. The toast to the WM was given by Colin Richmond. The raffle and master's Swindle raised £280.
Bill Williamson was born in Pilling in 1956. He left school at 15 and has spent most of his working life as a joiner, setting up his own business in 1983. Bill has been married for 43 years to Janet and they have a daughter Jenny, a son Robert and five grandchildren.
He was initiated into Garstang Lodge on the 26 April 1983 and will have been a Mason for 40 years in April 2023. Bill's grandad, George Croasdell, was WM of Garstang Lodge in 1960 and his father Bill Williamson Snr was also WM of Garstang Lodge in 1981, making Bill a 'Lewis' of the lodge. Bill has held posts in the lodge as assistant director of ceremonies, director of ceremonies and charity steward.  He has been a director of Garstang Masonic Hall Ltd since 2000.
Bill is a Past Provincial Grand Sword Bearer in the Craft and a Past Provincial Assistant Grand Sojourner in Royal Arch. He is also a member of another Masonic Order.