Bill Sass is the proud holder of the British Empire Medal for gallantry and also a distinguished Mason who celebrated his 50 years in Craft Masonry at Pemberton Masonic Hall. Helping that celebration go smoothly was principle guest, Assistant Provincial Grand Master David Ogden, ably assisted by PrDGDC Gary Smith and two Provincial Grand Stewards, Ian Green and Phil Barr. All present were treated to a wonderful insight into the private and Masonic life and times of Bill, and allowed to share his joy in the lodge as well as in the banquet that followed.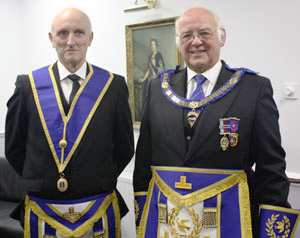 Bill Sass was born in Liverpool in September 1945 and was educated locally and awarded a scholarship to the Liverpool Collegiate Grammar school. Leaving school at 17 with a string of GCE's, Bill started his working life as a trainee manager with British Rail, but soon realised that this was not his future. Noticing an article in the Liverpool Echo he decided to apply to Liverpool City Police for entry as a cadet and joined in 1963.
Just a few months after joining, whilst on duty at the Pier Head in Liverpool, together with another cadet, they rescued a drowning woman from the River Mersey. Without any concerns for their own safety and welfare, they dived right into the Mersey, a highly polluted river 50 years ago, to affect the rescue. For their bravery, they were both awarded the British Empire Medal for gallantry, which was presented by Lord Derby on behalf of Her Majesty the Queen at Knowsley Hall.
Bill's career went from strength to strength, serving on CID, the Fraud Squad and the Criminal Intelligence Department. Due to the diligent manner in which he managed complex and painstaking enquiries, Bill received numerous commendations from both judges and his own Chief Constable. After being appointed Head of Recruitment, and then serving as a Sub-Divisional Commander, Bill retired in 1995 at the very high rank of Chief Superintendent.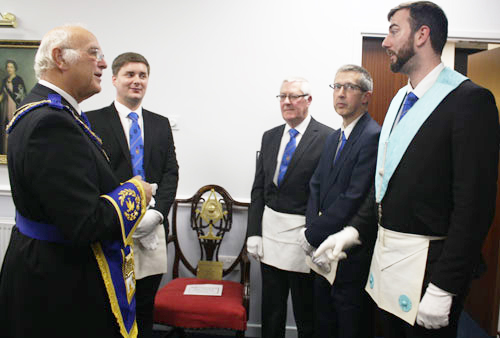 Bill met his wife Stella, a co-worker in CID, at work and they were married in 1969, now having celebrated 50 years of marriage. They have two daughters and six grandchildren, ranging in ages from 10 to 17 years which keeps both of them on their toes. Bill's main hobby outside of Masonry is spending at least 16 weeks a year on holiday, primarily in Crete and Thailand. With family holidays (otherwise known as babysitting) away from home are spent in Cornwall and Italy.
In Freemasonry, Bill was initiated into Phoebus Lodge No 7705, which met at Hope Street, Liverpool, in November 1969 and served all the offices becoming WM in 1981. He served as treasurer for 24 years until 2007, when sadly the lodge handed in its warrant. In the meantime, Bill joined Up Holland Lodge No 7608 in 2001, which in turn became Orrell Lodge No 8371, his current Masonic home and proud to be hosting his golden jubilee
At Provincial Grand Lodge, his first appointment came when he was appointed to the very high rank of acting Provincial Deputy Grand Superintendent of Works, and then promoted in 1995 to the rank of Past Provincial Junior Grand Warden.
Bill Sass has shown commitment to his community and police service for 32 years and has shown devotion to his wife and family being married for over 50 years. Bill has now been recognised and thanked for a 50-year long commitment to Freemasonry.
It was an absolute pleasure for Group Chairman Geoffrey Porter to read the celebratory certificate from the Provincial Grand Master Tony Harrison, and for David Ogden to present it, before continuing the celebrations in the less formal surroundings with good food, wine and happy memories recalled.