In February 2022, Bill Stables celebrated 60 years as a Freemason since his initiation in 1961. The ceremony was conducted by Assistant Provincial Grand Master Peter Schofield who was accompanied by Past Provincial Grand Master Norman Thompson, Assistant Provincial Grand Master Keith Beaumont, Provincial Deputy Grand Director of Ceremonies Ryan Modlin, Past Provincial Assistant Grand Pursuivant Joe Crabtree; Lancaster Group Chairman Neil McGill and group vice chairman Scott Devine.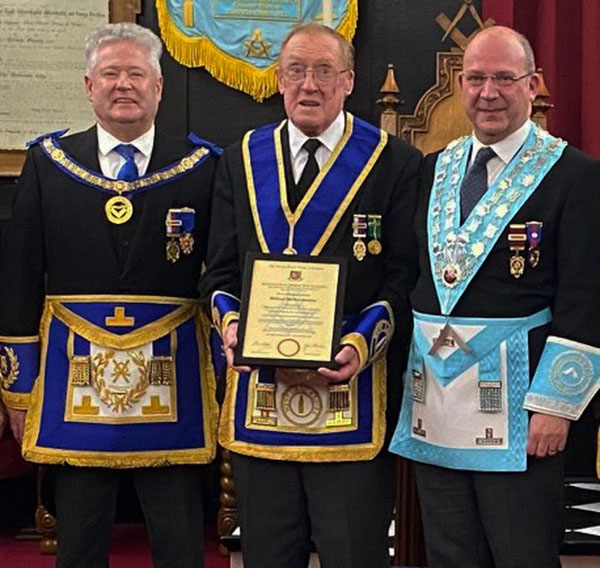 Peter was conducted to his seat where he was introduced to the WM Stuart Bateson who offered him the master's gavel, which was duly accepted. Peter requested the Provincial Deputy Grand Director of Ceremonies to escort Bill Stables to a seat in front of the podium so that he could relay Bill's life and Masonic career to the brethren.
Bill was born in July 1934 at the Nursing Home in Thornton Road, Morecambe and lived with his mother Gladys, father Herbert and older brother John at Bland Cottage in Bolton-le-Sands. He attended Bolton-le-Sands Junior School before spending a short time at Lancaster Old Boys School and completed his education at Lancaster Storey's Technical School. Bill was offered a place at Lancaster Grammar School but decided to follow in his brother's footsteps by attending the Technical School. He decided at an early age that University was not for him as he preferred more hands-on subjects like woodwork, metalwork, and sporting activities which he believed were more suited to his future ambitions.
From an early age, Bill had a very keen interest in farming and agriculture and on leaving school he was employed as a farm hand at Newlands Farm at Bowram, Lancaster. He worked there for several years before the farm was compulsory purchased and closed to make way for the new M6 motorway which was under construction at the time.
Having decided on a change in career, Bill applied for employment with the Prison Service, Lancashire Police Force and Lancashire Ambulance Service. The Prison Service contacted him for an interview at Preston Prison a week later, where he was offered a position as Prison Officer, which he duly accepted. Bill received an offer of an interview with Lancashire Police some weeks later and is still waiting to hear from the Ambulance Service!
Bill began a long career as a prison officer, first at Preston before a transfer to Bela River to be nearer to home. Following the closure of Bela River, Bill was posted to Lancaster Castle Prison.
It was common practice for prisons to provide working teams to help on community and civil projects within the local area. Bill was responsible for escorting up to 12 prisoners on hired buses to attend work locations and was totally responsible for their welfare and the complex security issues involved.
One project was the clearing of land for the new M6 Preston bypass. Often friends of the prisoners would drive pass and throw cigarettes and other contraband to their mates. In order to preserve good order Bill allowed them to keep the goods as long as they were equally shared and nobody was left out.
There were similar projects during the building of Kirkham and Haverigg Prisons. Bill was very proud that during these excursions none of the prisoners in his charge ever absconded.
Bill attended a physical education course at a Borstal School in Lancashire and obtained qualifications to deliver this subject to prisoners at Bela Prison, which he thoroughly enjoyed and derived great personal satisfaction from doing. This came to an end when he joined Lancaster Castle Prison where the governor introduced a system of detached duty, which meant that at short notice he could be sent anywhere in the country to cover for absent staff in other prisons for up to three months at a time.
On the closure of Bela Prison, Bill had the opportunity to purchase his staff house which then became his family home, giving him a permanent, stable location for the whole family. At the age of 55 Bill decided to retire after 34 years of dedicated service.
As a member of the National Veg Society, Bill grows onions, leeks, sweet peas and chrysanthemums which he displays at local shows, all grown on his allotment in Milnthorpe which he has tended for 30 years. He is an active member of the local allotment association where he is held in high regard by the members.
Being a keen bowler, Bill is Captain of the Westmorland and North Lancashire Bowling Club and is a keen and proficient crown green bowler who has won many trophies. He has competed at the Lancaster and District Group Bowling Competition and always secured a place in the Provincial finals. Bill's colleagues have commented on the wonderful support for the fundraising activities needed to keep this club and competitions running.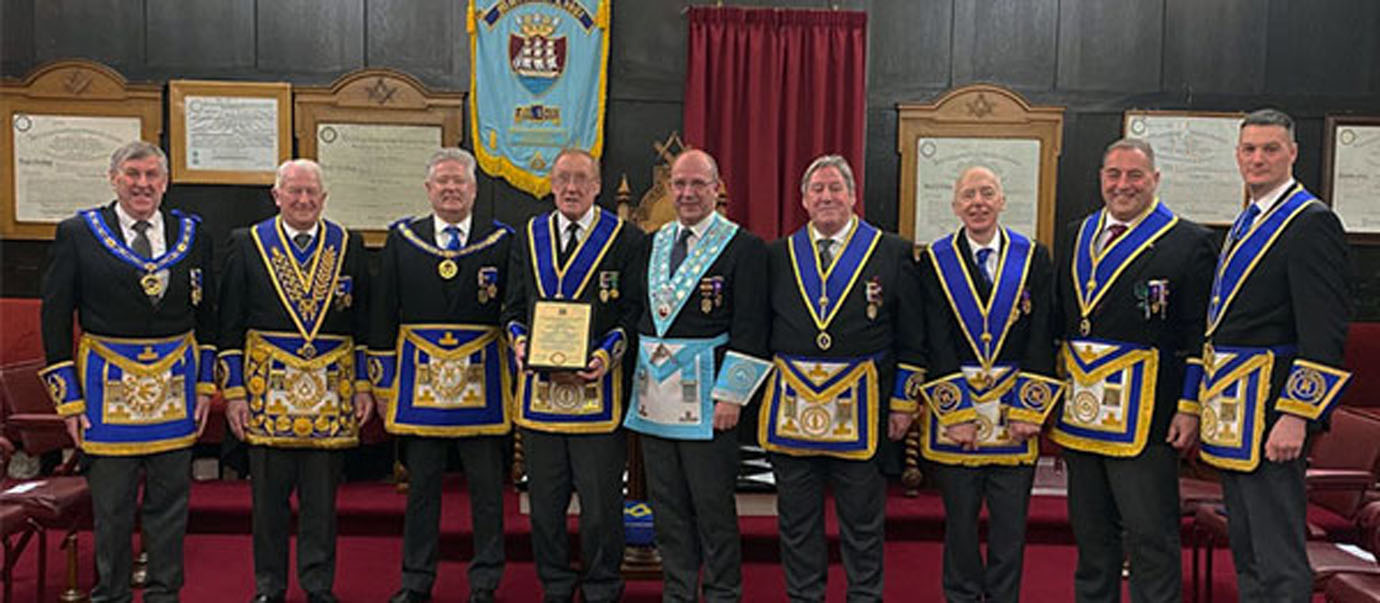 Bill met his wife Valerie (Val) at a dance hosted by the Morecambe Young Conservatives Club (known locally as the 'Morecambe Courting Club'). They were married on 19 May 1962 at St Barnabas Church in Morecambe and celebrate their diamond anniversary in May 2022. Bill and Val have had two children, a daughter Alison who lives in Burton-in-Kendal and a son Christopher, who sadly passed away following a tragic accident. Bill was immensely proud of Christopher who was an accomplished and respected navigator, competing in National Rally events. Bill and Val also have a grandson Cody, who plays a major role in their family life.
The Masonic journey for Bill began on 3 February 1961 when he was initiated into Morecambe Lodge No 1561 at Morecambe Masonic Hall. Bill was influenced to join Morecambe Lodge by John Altham who was a member. John owned the farm in Bolton-le-Sands where Bill regularly helped out when he was 16 years old. Bill was regularly invited to attend lodge Christmas parties and other social events before being invited to join the lodge by John.
Bill was faced with a difficult decision as his father and brother were members of Torrisholme Lodge No 5245 and Val's father and brother were members of Poulton Hall Lodge No 6647. Bill's father agreed that he should join Morecambe Lodge, which meant that they could attend three installation meetings as well as many other social functions throughout the year.
Following his initiation, Bill was passed to the degree of a fellow craft on 7 April 1961 and raised to a master Mason on 2 June 1961. Bill progressed through the various offices of Morecambe Lodge and was installed as WM in 1979. He served as lodge almoner from 1992 to 2003, charity steward from 2003 to 2013 and was the Masonic Charitable Foundation 2021 Festival representative. Bill was a member of Plantagenet Lodge of Installed Masters No 9357 for many years and served as charity steward.
In Provincial Grand Lodge he was appointed to the rank of Past Provincial Assistant Grand Director of Ceremonies in 1990 and received promotion to Past Provincial Grand Superintendent of Works in 1997 before being promoted to Past Provincial Junior Grand Warden in 2005.
In the Royal Arch Bill was exhalted into Morecambe Chapter No 1561 on 5 November 1979 where he was installed as first principal on 1 March 1993 and served as chapter charity steward from 2006 to 2020.
In Provincial Grand Chapter Bill was appointed Past Provincial Assistant Grand Sojourner in 2000 and promoted to Past Provincial Grand Sword Bearer in 2009, before being promoted once again to the rank of Past Provincial Grand Scribe Nehemiah in 2015.
On completion of Peter's presentation, group chairman Neil McGill was asked to present Bill with the certificate issued by the Provincial Grand Master, commemorating Bill's 60 years' service to Freemasonry and read the dedication to the brethren.