As the Ayrshire bard and renowned Freemason Robert Burns wrote in 1785: "The best laid schemes o' mice an' men gang aft agley, an' lea'e us naught but grief an' pain, for promis'd joy!" How true this has turned out to be with the arrival earlier last year of the coronavirus pandemic.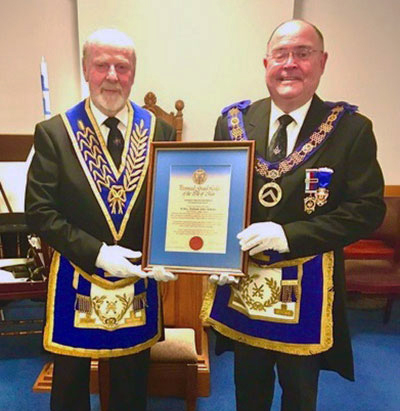 With regard to Freemasonry the result has been the restriction or postponement of all activities, depending on region. Bill Ashton should have celebrated his golden jubilee in Freemasonry in October 2020, and in his mother lodge, Liverpool Charter Lodge No 7650, but due to COVID-19 restrictions, followed by all meeting in the West Lancashire Province being suspended until further notice, the eagerly awaited celebration was postponed. Hopefully when meetings return to normality, Bill will be able to attend his mother lodge so a belated celebration may take place.
Liverpool Charter Lodge was consecrated on 30 September 1959 at the Carlton Masonic Hall, Eberle Street, in what was the heart of the Liverpool business district. A then youthful William John Ashton, strode with some trepidation along the narrow street on which the hall was situated, nervously entering for his initiation on 8 October 1970. In 1975 Liverpool Charter Lodge encamped to the grand Liverpool Masonic Hall, Hope Street within the Georgian quarter between the two cathedrals, and it was here that on 14 September 1978 he was placed with full ceremonial into the chair of King Solomon for the first time.
In 1983 Liverpool Charter Lodge decided to move to Woolton Hall in south Liverpool and it was while here in 1988 that Bill received first appointment in West Lancashire as Past Provincial Assistant Grand Director of Ceremonies. Bill became assistant director of ceremonies of Liverpool Charter Lodge in 2002, and the following year the lodge was on the move again, this time due to the closure of Woolton Hall, with a move to the Prescot Masonic Hall on the fringe of Liverpool. It was here that Bill received a promotion in 2006 to Past Provincial Senior Grand Deacon of West Lancashire. The following year Bill handed over his lodge office as ADC into younger hands, without realising that he had obtained a remarkable achievement. He had completed a significant milestone at every location the lodge had met; initiated in Carlton Masonic Hall, WM at Liverpool Masonic Hall, Provincial appointment at Woolton Hall and promotion at Prescot Masonic Hall.
Bill was also a keen Royal Arch Mason after being exalted into Kirkdale Chapter No 1756 in April 1979 and only resigned in 1984 when he left to take up residence on the Isle of Man.
With regard to Bill's early life, he was born in 1933 and brought up in Perth, Scotland where he attended junior and secondary modern schools, before, at 15 years of age, becoming a clerk with the General Accident Fire and Life Insurance Company. He was a member of the Life Boys, followed by the Boys Brigade and, as a keen sportsman, played for his school, Boys Brigade and junior league football. For those outside of Scotland, the term 'junior' refers to the level of football played, not the age of the players. In England it would be on a par with non-league football. Not content with just playing football, Bill relished his ice-hockey in the winter and cycle touring in the summer across Scotland and around Ireland while youth hostelling.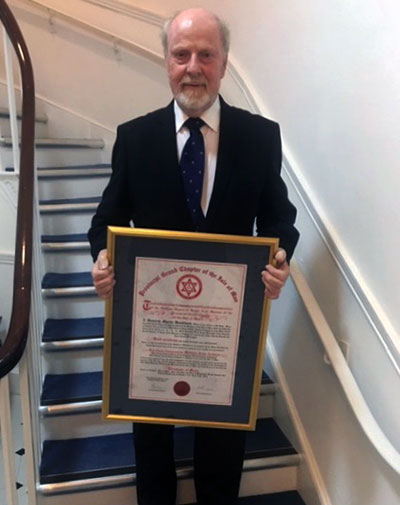 At 18 he was called up for National Service and served in the Royal Air Force from 1952 to 1954 as a Corporal in Air Traffic Control at West Raynham, Norfolk. Bill met his wife June, who was serving in the Women's Royal Air Force, at the same station and they married in December 1953. Fortunately, June was a Liverpudlian girl and brought Bill back to her home city. On being demobilised from the RAF in 1954, he joined the Liverpool City Police, and after four years pounding the beat, he was successful in obtaining a position in the vice squad. He moved onto the Criminal Investigation Department, being promoted Detective Sergeant which included time in Special Branch, a further promotion to Detective Inspector and later gaining charge of the CID.
Bill retired from the police in 1984 and moved to Douglas in the Isle of Man, where he and June bought their own guest house. This they later sold to enjoy full retirement at Onchan on the outskirts of Douglas. Sadly, after many very happy years here June died suddenly in February 2011. The couple had two children, two grandchildren and up to now one great grandchild.
Bill leads a very active life on the island and over time has volunteered for roles within the TT and Grand Prix races and was Deputy Sector Marshall for the course at Windy Corner Mountain 1996 to 2007. Keeping his membership of Liverpool Charter Lodge, his Freemasonry also continued on the Isle of Man, joining St Trinian's Lodge No 2050 in 1984, and served as their master in 1988 to 89 and again in 2012 to 2013. He was the lodge's secretary from 1985 to 1988 and again from 1989 to 1998 and charity steward from 2003 to 2008 and again from 2018 to date. He also became a founding member of the Isle of Man Tourist Trophy Lodge No 9872, and his first appointment in the Provincial Grand Lodge of the Isle of Man was as PPSGD in 1994. Promoted to Past Provincial Grand Sword Bearer in 2005, he earned another promotion in 2012 to Past Provincial Grand Warden.
For his dedication and hard work, both in the Province of West Lancashire and the Province of the Isle of Man, Bill was appointed to Past Assistant Grand Director of Ceremonies in the United Grand Lodge of England on 30 April 2014.
Although resigning from Kirkdale Chapter on leaving Liverpool, in 1988 he joined Athole Chapter No 1004 in the Isle of Man and was first principal in 1996. He was ADC from 1999 until taking over as DC from 2002 until 2008; followed by janitor in 2008 until 2012 and then scribe Ezra from 2014 until 2015. Bill received his first Isle of Man Provincial appointment as Assistant Grand Sojourner in 2000, followed by Deputy Grand Director of Ceremonies from 2005 to 2007, Grand Sword Bearer from 2008 to 2009 and then Grand Director of Ceremonies 2010 to 2012. These it should be noted being acting offices. He was Second Provincial Grand Principal from 2012 until 2014, followed by Deputy Grand Superintendent until 2020 and upon the retirement of the ProvGM/GSupt he became the Deputy Grand Superintendent in Charge from March 2020 until September 2020, and was presented with the first ever Grand Superintendent's Certificate of Merit on 28 October 2020.
He had received his first rank in Supreme Grand Chapter, Past Grand Standard Bearer, in 2014 and promoted to Past Grand Sword Bearer in 2015. Bill also holds a number of very high positions within a number of other Masonic Orders.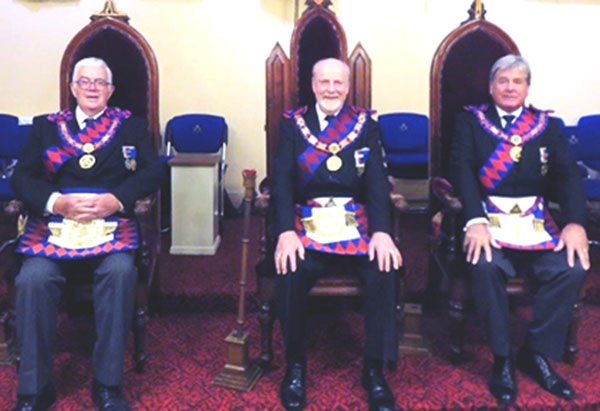 In October 2020, Bill attended his Isle of Man Lodge, St Trinians and during the proceedings was presented with a 50th anniversary certificate by his good friend Roger Southern PGSwdB and DepProvGM. Bill said he is looking forward to when full meetings are resumed in West Lancashire so he may attend and receive his certificate in his mother lodge. Bill was also presented with a painting of St Trinians Church from the members of the lodge, the church being the centre piece of the lodge crest. Bill thanked everyone for their cards and emails, particularly those from brethren in West Lancashire and other Provinces. He said it was a very good evening with some 65 brethren present.
To top it all, on Wednesday 28 October during the 150th anniversary meeting of Athole Chapter of the Provincial Grand Chapter of the Isle of Man, Martin Blackburn called Bill to his presence and spoke at great length about the exceptional commitment and valuable services he has contributed to the Provincial Grand Chapter of the Isle of Man. He then presented him with the very first Royal Arch Certificate of Merit. The assembled companions greeted this with a standing ovation. Bill is a well-known figure throughout the Province of the Isle of Man and is well respected by our adjoining Provinces where he regularly acts as an ambassador for Isle of Man Freemasonry. For many years he has overseen the 'meet and greet transport' of the 'Manx welcoming party' which collects Masonic visitors to the Island, for the annual Provincial Meetings, from the airport and ferry.
Bill has always found time to visit his mother lodge, to which he has retained his membership and thoroughly enjoys meeting up with the brethren of Liverpool Charter Lodge as often as circumstances allow.