The Bikers' Chapter No 1380, was originally intended to be the Royal Arch home for the Widows Sons Masonic Bikers Association and like-minded companions and brethren with a shared interest in motorbikes. From single figures back in 2016, the chapter has gone from strength to strength, and now boasts an active membership of over 40 companions, most active bikers and some just fans of the unique way they do things.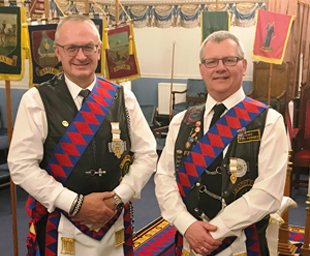 Interest has been growing steadily and over 50 sat down to a hearty breakfast at 9am, as by custom, there was to be no formal festive board after the meeting. The car park was again full of motorcycles. Following breakfast, the meeting commenced at 10:30 and again by tradition, many of the companions wore their regalia over motorcycle leathers. The chapter was opened by the three principals, Geoff Gill, Greg Casson, and Andy Baxendale, sharing the ceremony along with sojourners Graham Chambers and Ray Thain. They conducted an excellent and memorable double exaltation. Two active bikers, Rob Winn and Carl Farber were the candidates. Together with two joining members, Rob and Carl became the latest additions to this now thriving chapter.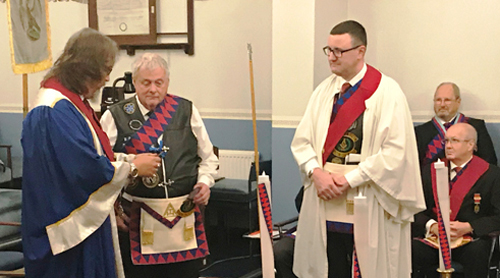 After the chapter was closed, the companions remained in the temple to witness the 'patching' of a newly accepted member of the Widows Sons, Clive Hardisty. Patching is the process by which new members are accepted, and takes place after three official rides with the Northwest Chapter Widows Sons Masonic Bikers Association and a successful ballot by existing members.
Andy Baxendale conducted the 'patching' and explained to the assembly the procedure and significance of it. Clive was presented with three patches which are: the main WSMBA patch that every member in the country wears, a chapter patch that is specific to Northwest Chapter (of the WSMBA), and an inverted red triangle with three degrees in it in recognition of persecuted Freemasons around the world. This symbol is taken from the former Nazi symbol from the second world war that Freemasons incarcerated in concentration camps were forced to wear.
Following the convocation, despite the inclement weather, the bikers set off for a ride-out to Lytham St Annes.
The chapter meets on the third Saturdays in May and September each year, starting with a breakfast at Ashton-in-Makerfield Masonic Hall, with the installation in May and exaltations at the September meeting. There is no festive board after the meeting, the usual procedure being an organised bike ride in the afternoon.
Bikers may wear their leathers but must have a shirt with a white collar and Masonic tie. Membership is open to anyone especially those interested in motorcycling. Many of the members belong to the Widows Sons Masonic Bikers Chapter which has an extensive program of activities.
If anyone is interested in joining this Royal Arch chapter full information can be obtained from Barry Dickinson, Scribe Ezra, email; barry.dickinson@gmail.com who will be happy to provide any information to enquirers.