'Because we care' is the title because since Freemasonry began, Freemasons have willingly given of their own time and money to help those less fortunate.  In centuries gone by, the building of schools and other civic projects were undertaken, these days the focus is more on international disaster appeals, national and local charities.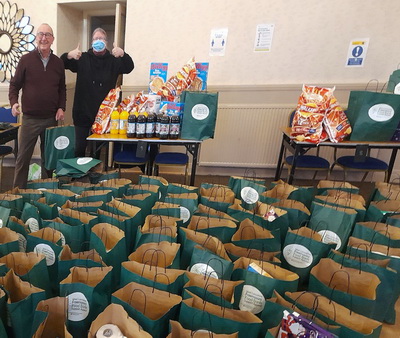 Today in Britain there are over 2,000 foodbanks in operation and the number is growing; compare this to the UK's 1,300 McDonald's restaurants that helps to put this number into perspective. The recent increase in foodbanks is a direct result of people sliding into poverty and it is estimated that there are 4,500,000 children living in poverty in Britain today. In 2019/20 the number of people using foodbanks exceeded 1,900,000, an increase of 300,000 over the previous year. In terms of regional data, the North West is the part of the UK where the most food parcels are distributed.  Since the start of the pandemic there has been an increase of over 20% in the number of food parcels distributed by food banks.
In November the Province of West Lancashire Freemasons' Food Bank Support Appeal was launched by the Provincial Grand Master Tony Harrison.  Widnes Freemasons whole heartily got behind their Provinces incentive and donations of food items and toiletries were collected and stored at Widnes Masonic Hall.
In December; Masonic volunteers made up 100s of food parcels ready for them to be distributed to two selected local charities by the Widnes Group Chairman Neil Pedder and the Group Charity Steward Bob Williams who were ably aided by supportive brethren
The first charity to receive support was the Nightstop Communities Northwest, who are a non-profit organisation in the Halton area. This charity provides safe and secure emergency accommodation for people between 16 years and 35 years who are homeless, or at risk of becoming homeless.  Other services provided by Nightstop Communities Northwest include supported lodgings for vulnerable people (16yrs-18yrs) living in host accommodation and who receive support with life skills. All clients have access to wellbeing support with immediate access to a full range of Wellbeing and Mental Health Support Services.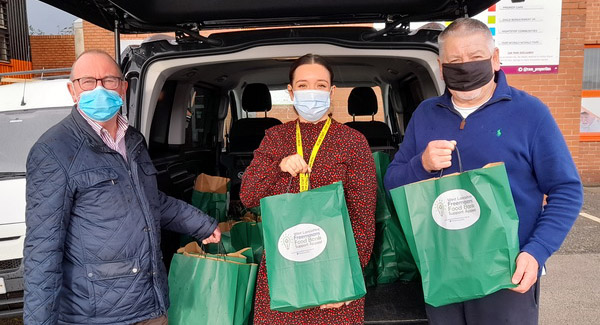 Alison Sparks who is one of the Accommodation Support Workers at Nightstop confirmed that this non-profit organisation had been running for over 10 years providing valuable services in and around the community of Halton (Widnes).  She said that the charity is always grateful for any type of assistance, and that the food parcels and associated toiletries that the Widnes brethren had so generously donated would certainly go a long way to providing relief for those in the most need.
The second local project to receive food parcels was the Community Food Pantry which supports vulnerable families in the Halton area. This charity mainly relies on support from St Michael with St Thomas Church, along with St Basil and All Saints Church.
Group chairman Neil Pedder along with Bob Williams met with the vicar of St Michael and St Thomas Church the Rev Linda Riley-Dawkin to discuss how the church was supporting those in the community who are the most vulnerable to hardship and poverty and to listen to how the number of people suffering hardship has increased during the pandemic.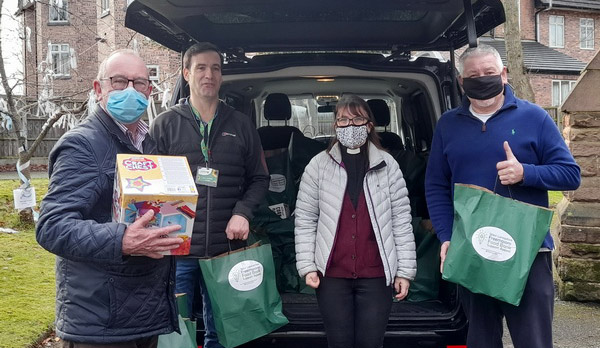 Reverend Linda stated that the church was now busier than ever working tirelessly to support vulnerable families, especially at weekends when traditional foodbanks are closed.  She said that the food parcels along with the cash donation of £250 that Widnes Freemasons had donated to buy fresh and perishable goods would go a long way to directly support those families in the most need in the Halton area of Widnes.
The final amount distributed to the two local charities by Widnes Freemasons was approximately 1,400 food items and toiletries and 101 children's Christmas gifts. The Widnes Group also raised £385 in cash donations to help with the build-up of their food parcels; this enabled the group charity steward to approach his local Asda supermarket who couldn't have been more supportive as they did a 'big shop' of essential items to supplement the donations already received.
As a post note: The United Kingdom is the world's fifth largest economy, so it is a sad reflection on our society and those that govern it that there are so many people in the UK who are affected by extreme poverty.  Freemasons care, and will always continue to do so.