Barry Thompson has had quite a few successful and busy years in his lodge. He was installed as master of Wayfarers Lodge No 7544 in 2020, just prior to the pandemic lockdown, and in October 2021 he celebrated 50 years in Freemasonry. In 2022 Barry was proclaimed master of Wayfarers Lodge for a third year.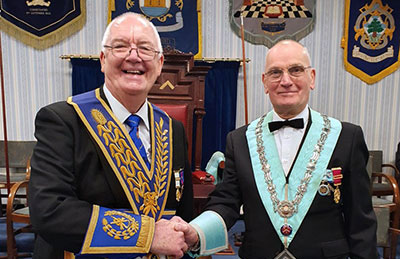 Barry, a well-known face in the North Fylde Group, was initiated into Perseverance Lodge No 345 in the Province of East Lancashire and joined Wayfarers Lodge in 2019 after being a 'PIG', a Masonic abbreviation for a 'Permanently Invited Guest' for a number of years.
Having a long connection with Blackpool, Barry has had a varied career, from hotelier to baker through to becoming an undertaker. In his personal life Barry has a passion for music, being a member of the Salvation Army in both Blackburn and Blackpool, in which he was the leader of the children's choir for 10 years and of the senior choir for three years.
In a life of dedication to his local community, Barry was also a past committee member of Blackpool Children's Pantomime and a bandsman for 45 years, and now offers his services as a bugle player, which fits in well with his job helping at a local funeral director's which he has been doing for the past six years.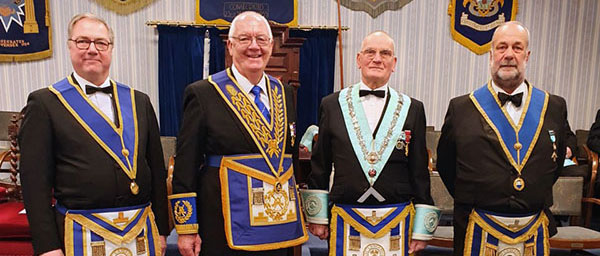 With all Barry's dedication, which is no less impressive in his Masonic career, it is no wonder that the lodge has honoured Barry with a third year in the chair of this noble lodge and that 44 brethren gathered at Cleveleys Masonic Hall to witness his proclamation.
In what promised to be a memorable evening the principal guest was Regional Charity Steward Edward (Ted) Michael Rhodes, who was accompanied by the North Fylde Group Chairman John Cross, together with acting Provincial grand officers Kevin Bryne, Mike Hornby and Graham Smith.
The meeting was opened and once the principal guest had been admitted to the lodge and welcomed by WM Barry Thompson, the proclamation was started.
In an excellent ceremony, Michael Thistlethwaite and Brian Coulter acting as proclaiming officers, ably assisted by Bob Hopwood, Dave Thornton and Ken Williams as installing officers, Barry was proclaimed master according to ancient custom.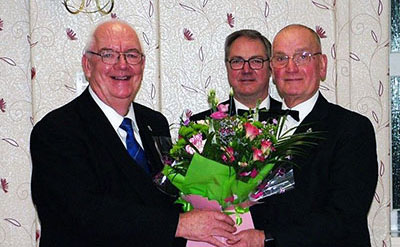 Once Barry had installed his officers for the coming season and the ceremony was completed Ted took the opportunity to bring the greetings of the Provincial Grand Master. Barry then presented Ted with cheques for £1,000 for Guide Dogs for the Blind, £300 for NHS Personal Protective Equipment, £200 for the Masonic Charitable Foundation, £150 to the Northwest Air Ambulance, £150 to Great Eccleston Friends of Cancer Research and £125 for Poulton FC Dynamos and Cosmos. Another £125 went to Brian House Children's Hospice and £100 to Anchorsholme Park, amounting to an impressive £2,150.
The evening's festivities then moved to the comfortable surroundings of the dining room where the brethren enjoyed a three-course festive board, at which a raffle raised a magnificent £411 towards 2023 charitable donations.