The Adams Suite on the third floor of Liverpool Masonic Hall was almost full to capacity with the members of Lodge of Israel No 1502, together with their guests, to celebrate Barry Elman achieving 50 years in Craft Freemasonry. The principal guest for the evening was Assistant Provincial Grand Master Derek Parkinson who was accompanied on this special occasion by grand officers Fred Hunter, Ernie Waites and Malcolm Alexander, together with Liverpool Group Vice Chairman (Royal Arch) David Kemp. Guiding this august assembly was Provincial Grand Director of Ceremonies Malcolm Bell.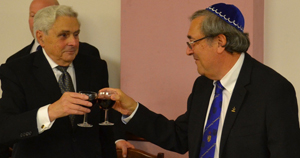 The WM of Lodge of Israel Ian Niven welcomed Derek into the lodge room and offered him the gavel, which on this occasion he politely accepted whilst thanking everyone for their warm welcome.
On taking the chair, Derek began his address outlining the reason for the evening's celebratory event, together with some of the events that happened during Barry's lifetime, with particular reference made to 1969 when he took his first steps in Freemasonry. On finishing, Derek asked Malcolm Bell to place the celebrant before him so that he may continue his address. After making sure Barry was sitting comfortably, Derek embarked on a fascinating and enlightening reflection on Barry's personal, professional and Masonic life. A transcript of Derek's address can be found by clicking here.
On the conclusion of his address Derek asked David Kemp to read the commemorative certificate which the Provincial Grand Master Tony Harrison had caused to be issued, after which Derek presented the certificate to Barry and wished him the health to enjoy many more years in Freemasonry.

In reply Barry, momentary rendered speechless after being temporary overawed by the occasion, regained his usual self-assured composure, to present to Derek a personal cheque made payable to the MCF 2021 Festival.
Following the meeting all present retired to the main banqueting suite to partake in a traditional kiddish prior to the festive board where Barry was escorted into the suite to great applause.