Once again, the members of Wayfarers Lodge No 7544 had a reason to celebrate a golden anniversary. This time it was for the lodge's WM Barry Thompson.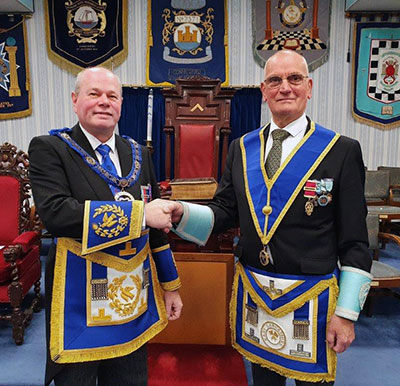 Barry Thompson joined the lodge in 2019 having being a member of Lodge of Perseverance No 345 in the Province of East Lancashire and was installed as master of Wayfarers Lodge in February 2020. Barry was due to celebrate his 50 years anniversary the following month but as we all know the COVID-19 pandemic put Barry's mastership and his 50th on the back burner.
Moving on to 2021 and it is time, finally, to celebrate Barry's milestone in Freemasonry. There could not have been a prouder man than Barry as he entered the lodge to take his rightful place in the master's chair.
On taking his seat, Barry welcomed everyone to the celebration and opened the lodge before moving the lodge through the various degrees to the point where the evening's principal guest Assistant Provincial Grand Master Duncan Smith took the master's chair. Once Barry was placed in a seat before him, Duncan started on his journey through the life and times of Barry Thompson.
Duncan began by saying that Barry was born in 1946 to Harold and Rose Thompson. He was born in a time when World War II had ended and the country was in turmoil and rationing was affecting everyone's lives. Duncan moved through Barry's school years and early life to marrying his wife Barbara in 1967 whom he had met at a music festival when they were both young – Barry was a cornet player and Barbara was in a choir.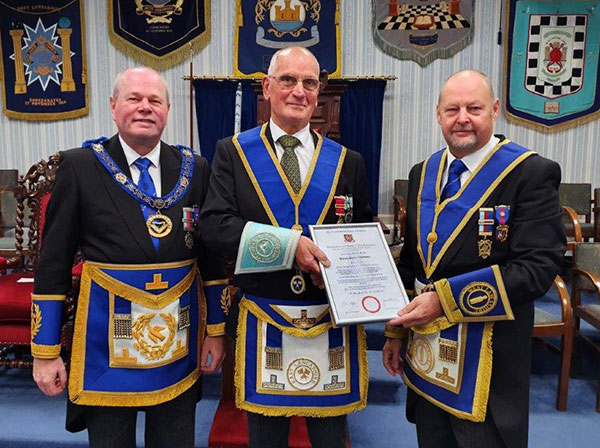 Barry had a varied career; notably he was a hotelier with his father and mother when they joined forces to buy the Trafford Hotel on Charnley Road in the centre of Blackpool which had 20 bedrooms. Duncan noted that these were happy times and the hotel was very busy and popular with professional dancers, the equivalent of those on Strictly Come Dancing today, from the many dance championships held at the Winter Gardens and the Tower Ballroom.
Barry bought a cake stall on Abingdon Street market and bought produce in to sell on to the public. He quickly out-grew this and rented a unit on Moor Park Industrial Estate and opened up his own bakery, having never baked a loaf of bread at that point, which he ran for 27 years. The bakery employed 22 staff and had six vans out on the road supplying just over 100 shops a day. Barry still enjoys a little home baking today which has helped him pass the time during lockdown and he has been seen posting his wares on Facebook.
Duncan continued his story into Barry's Masonic career. Barry's father was a Freemason in the Lodge of Perseverance and Barry was initiated into the same lodge in January 1970, his proud father being his proposer.
Following his initiation Barry moved through the degrees and offices of the lodge until he was installed as WM in December 1979 and there couldn't have been a prouder man at the installation than Barry's father when he delivered the 'Address to the Master' to his own son.
In 1988 Barry was recognised by the Province of East Lancashire and appointed to the rank of Past Provincial Grand Standard Bearer. Upon retirement Barry went back to his lodge and held the office of junior warden for two years, followed by the office of senior warden for a further two years. He joined Wayfarers Lodge at Cleveleys in 2019 after being a permanently invited guest for four years.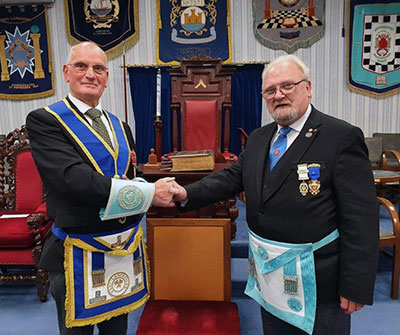 Barry was exalted into the Chapter of Perseverance No 345 in May 1987 and he progressed through the various offices to second principal until he resigned due to his business commitments. He re-joined in 2015 and served as assistant sojourner and principal sojourner before joining Fylde Chapter No 2758 in March 2020.
Outside of Freemasonry Barry has always had a love of music and entertainment. He was a member of the Salvation Army in both Blackburn and Blackpool, in which he was the leader of the children's choir for 10 years and the senior choir for three years.
Barry was also a past committee member of Blackpool Children's Pantomime and a bandsman for 45 years and he now offers his services as a bugle player which fits in well with his job helping at a local funeral director's which he has been doing for the past six years.
At the conclusion of his presentation Duncan asked North Fylde Group Chairman John Cross to read a certificate from the Provincial Grand Master commemorating Barry's 50 years in Freemasonry which Duncan had great pleasure in presenting him. John Cross made a further presentation of a distinctive lapel badge.
Duncan then returned the master's chair to Barry so he could complete his duties and bring the evening's business to a close. The brethren then proceeded to the dining room to enjoy what turned out to be an evening of great food and great friendship.