After 50 years of sterling service to our fraternity most people would think it was time to sit back and relax. Not so, Christopher John Band who has reached that particular milestone whilst he is still playing an active part as the present incumbent of the master's chair of Arthur John Brogden Lodge No 1715.
Leading the celebrations at Grange Masonic Hall was Assistant Provincial Grand Master David Grainger. David was accompanied by two other assistants in the persons of Stuart Seddon and David Randerson, along with many other distinguished grand officers. The role of Deputy Provincial Grand Director of Ceremonies was carried out by Barrie Crossley who had six acting Provincial grand officers under his gentle supervision. The unique, bijou lodge room played host to 70 members and their guests.
David, after taking the gavel from Chris, gave an insight into the family, professional and Masonic life of the celebrant.
Chris was born and raised on the Fylde where he attended Rossall School in Fleetwood. On leaving school he became an articled clerk at his father's law firm. He attended law school to qualify as a solicitor. Until his retirement in the early 1990s he carried on that calling, specialising in the field of probate and conveyancing.
Whilst he was an articled clerk he was sent to collect forms from another firm of solicitors and there met Shirley who was later, in 1961, to become his wife and subsequently mother of their daughter Leonie. They are now the proud grandparents of two granddaughters.
In 1982 Chris and Shirley purchased a holiday cottage in the village of Levens which is south of Kendal. In 1997 they moved from the Fylde and made the house their main home. Chris enjoys gardening and has turned what was an overgrown orchard into a beautiful garden which he opens up each year under the National Garden Scheme. Under that initiative he has raised £5,000 for charity over the last four years.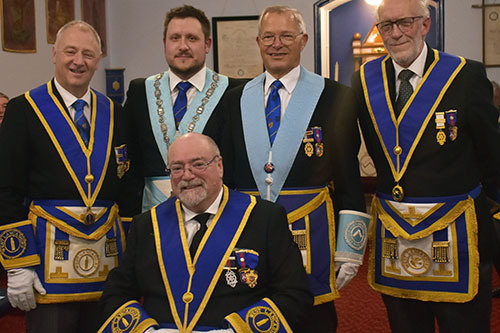 The local parish church of St John's is close to the heart of Chris and he has served as a Parochial Church Councillor for 18 years. He also holds a position as a trustee of a charitable foundation which distributes £140,000 each year.
Chris was introduced to Freemasonry by his father-in-law and was initiated into Onward Lodge No 5540 in 1968 at Fleetwood Masonic Hall. On hand at the meeting was Adam Simpson who is current WM of Onward Lodge and he was called upon to read an extract from the minutes of the meeting when Chris was initiated.
Chris became WM in 1977 and later undertook various offices within the lodge. He was first appointed to Provincial grand rank in 1986 which was followed in 1988 by the acting rank of Provincial Grand Registrar. Appointment to grand rank followed in 1996 and Chris presently holds the rank of Past Grand Junior Deacon having been promoted to that prestigious status in 2005.
The North Fylde Group benefitted from Chris being the group secretary and then the chairman in which capacities he served for 13 years. In 2009 he became a joining member of Arthur John Brogden Lodge and was installed as its WM in December 2017.
The Royal Arch is something Chris holds in high affection and which he thoroughly enjoys. He was exalted into Hesketh Chapter No 950 in 1978. His commitment to that order has seen him act as Provincial Grand Scribe Nehemiah, an Assistant to the Provincial Grand Principals and from 2007 until 2012 he was the Second Provincial Grand Principal for the Province of West Lancashire. He holds the grand rank of Past Assistant Grand Sojourner.
Following his oration, David called upon group chairman Peter Schofield to read out a certificate from the Provincial Grand Master before presenting it to Chris on behalf of the PrGM.
Following the meeting a short trip was made to the Grange Hotel where a celebratory meal was enjoyed.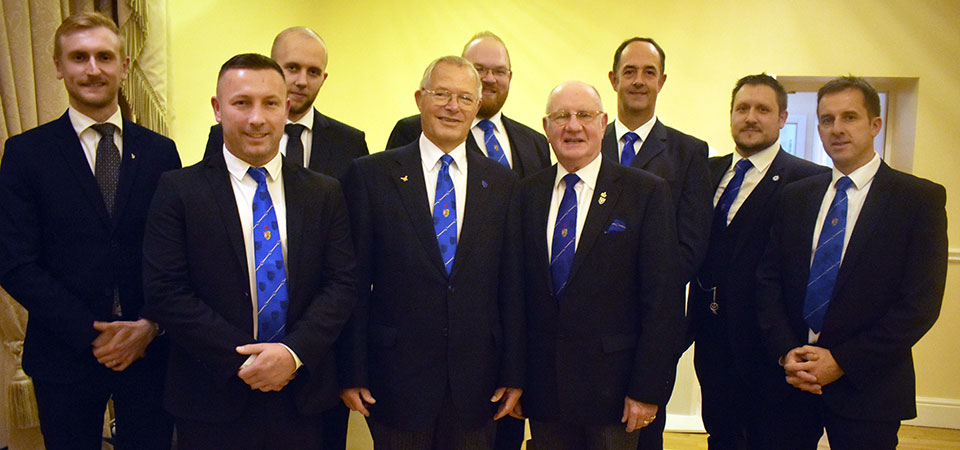 The toast to the health of the celebrant was proposed by Harry Cox who has known Chris for many years and had been appointed as secretary of the North Fylde Group by Chris. The words of Harry proved heartfelt, sincere and were well received by those in attendance.
On behalf of Arthur John Brogden Lodge, secretary David Jopling presented Chris with a cheque which, at the request of Chris, was made out in favour of St John's Church. Adam then presented him with an engraved plague detailing the celebrant's Masonic career (to date) and a copy of the Onward Lodge summons on parchment from the day of his initiation.
In response Chris thanked all those who had attended, some of whom had travelled some distance. It was clear from the content and tone of his reply that Chris has, and indeed continues, to thoroughly enjoy his Freemasonry. Chris stated that his idea of a perfect day was a round of golf in the morning, gardening in the afternoon and a chapter meeting of an evening.
By co-incidence both Chris and Harry share the same birthday although Harry was at pains to indicate that he had not had quite as many of them. The day following the celebration would see Chris reach another milestone, that of being 80 years of age. Accordingly, David called the brethren to order and a rousing chorus of 'Happy Birthday' was sung to both of them.
It was a fitting end to an enjoyable evening celebrating the Masonic career of someone who has, and continues, to play his part in promoting our wonderful organisation. It was a pleasure to be present on such an auspicious occasion.