Baldwin Chapter No 1398 moved from its usual location at Dalton-in-Furness to Barrow-in-Furness Masonic Hall in order to welcome members of the Provincial Grand Stewards' of West Lancashire Chapter No 8516 to its meeting.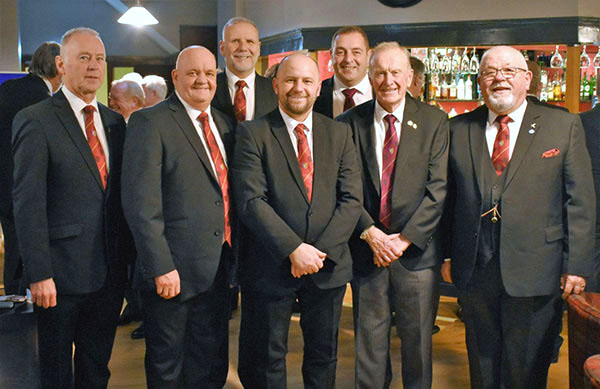 The reason for the change was to provide a larger venue to host a demonstration by the stewards entitled 'An examination of the ceremony of the veils'. Once again COVID had cast its net and Baldwin Chapter first principal David Grainger had to tender his apologies, with his predecessor Darren Stainton taking the helm.
After the convocation had been opened and the usual business of the chapter dispensed with, Second Provincial Grand Principal Chris Butterfield was admitted in ceremonial order, along with Assistants to the Provincial Grand Principals Malcom Alexander and Barrie Crossley, together with other grand officers. They were under the watchful eye of Deputy Provincial Grand Director of Ceremonies Barry Fitzgerald who was accompanied by three further acting Provincial grand officers in the persons of Provincial Grand Scribe Nehemiah Harry Chatfield, Provincial Grand Sword Bearer Scott Devine and Provincial Grand Steward Alan Hilton.
Darren welcomed Chris to the meeting, and on being offered the sceptre, Chris accepted it in order to conduct the demonstration. Chris was himself a COVID enforced preplacement. Malcolm took over from Mike Benson as second principal for the purposes of the demonstration, whilst Stewart McVernon replaced Brian Fallows in the third principal's chair.
The present-day interpretation of the veils ceremony is different in many respects to that which preceded it. The actual veils are replaced with lighting effects and great use is made of PowerPoint slides. The fact that there were a number of the chapter stewards with speaking roles added to the enjoyment.
Over 50 companions were present to witness the presentation and the feedback afterwards was that the lecture proved to be informative, well delivered and a pleasure to observe. On conclusion of the demonstration, Darren expressed his thanks to Chris and the members of the team, some of whom had travelled a significant distance, for having provided an evening of delightful Masonic learning.
Following the meeting, a raffle was held at the festive board and raised a magnificent £415 for the Ukraine Crisis Appeal.