Anyone returning to an installation meeting of Baines Lodge No 7844 after an absence of nearly 20 years could have been forgiven for their awe and surprise at the changes that have occurred.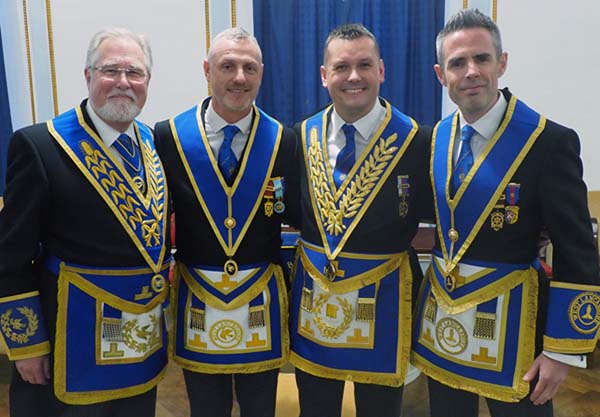 In 2003 a handful of Baines Lodge members, for that's all there were at that time, met to discuss the future of the lodge. The options were either to hand in their warrant and go their separate ways, or grab it by the scruff of the neck and recover. They chose the latter.
That decision proved to be the correct one. Three of the younger members on that fateful day are still there and looking on with pride at their joint achievements. John Lee, David Thomas and Ryan Modlin have survived the passage of years, along with George Clitherow who was master of the lodge in 2004 and had travelled up from his current home in Somerset for this occasion.
To say that this meeting to install John Lee into the chair was well attended would be an understatement. A congregation of over 100 brethren included the Deputy Grand Superintendent Paul Renton and the Past Deputy Provincial Grand Master Howard Jones, Past Assistant Provincial Grand Master Philip Gardner, who was representing the Provincial Grand Master Tony Harrison and four other brothers of that rank, Provincial Junior Grand Warden Ben Gorry and a whole host of acting and past Provincial grand officers, including Robert McGown, a past Provincial Senior Grand Warden who gave the responses on behalf of all of those Provincial grand officers present and past.
Other significant leaders were South Fylde Group Chairman John Robbie Porter, along with the Chairman of North Fylde Group John Cross and Blackpool Group Vice Chairman Steve Jelley. They were joined by several other group officers from across the Province. John Robbie was also numbered amongst several masters of other lodges.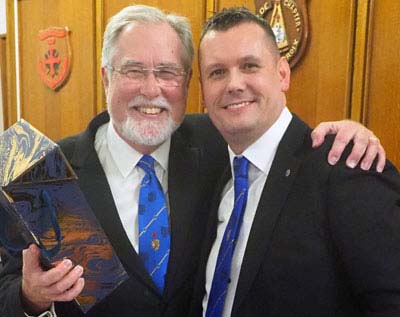 One mustn't forget the younger members of the lodge, some of whom who took a significant parts in the ceremony, particularly Geoff Diggles and Tom McMurdo, who gave excellent presentations of the  third and second degree working tools; along with Dave Thomas, who was keeping his hand in with a fine explanation of the first degree tools.
Other brothers who took part in the ceremony were Creag Williams, the lodge director of ceremonies, David Edwards who presented the master elect, Glen Jackson who acted as installing inner guard, Paul Darlington who acted as installing junior warden and Bob Bennett who acted as installing senior warden. The last three installed the new lodge wardens and inner guard in fine style. Added to this, Bob Bennett delivered an excellent explanation of the Volume of the Sacred Law, a piece of ritual which was new to almost everyone present and caused an admiring hubbub at its conclusion. Paul Darlington was later to perform a moving song to the WM at the festive board.
Addresses to the WM, wardens and brethren were in the very capable hands of John Stanley, David Winder and Philip Gardner. Polished and word perfect doesn't come close to a description of the brilliant presentations given by these elder statesmen. "No pressure then?" One brother was heard to whisper from the side-lines.
South Fylde Group Charity Steward Dave McKee has been holding the reins as master of the lodge for two years now and delivered every part of the installing master's duties with precision and aplomb. As the lodge charity steward it also gave Dave the greatest pleasure to present Philip Gardner with a list of the charitable donations made by the lodge during his tenure. Cheques had been sent out as follows: In 2020; £500 to the MCF 2021 Festival, £400 to Pear Tree School and £400 to Care and Share Blackpool. In 2021 a further cheque for £300 to Care and Share Blackpool, £400 to Headway, £400 to Child Action North West and £400 to Home-Start Blackpool. In all, donations totalling £2,800 had been made over the two-year period.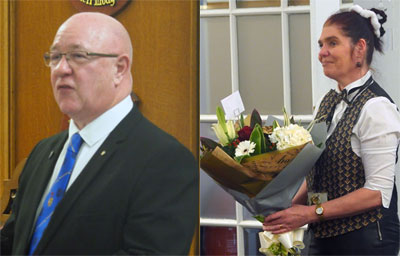 During the meeting Dave also had the pleasure of welcoming Past Assistant Provincial Grand Master David Randerson into the lodge as an honorary member. He also welcomed Adrian May and Michael Tax as joining members, both of whom are Provincial grand officers. Dave rounded up his evening with an excellent toast to the WM at the festive board.
Michael had brought his mother Elizabeth and his sister Rachel along to join John Lee's lovely wife Kathryn, as the lodge had arranged a ladies dinner to coincide with the festive board for the brethren. Nearly 40 ladies sat down to a fine feast in the Palace's Blue Room and with the 100 men in the main hall, Lee Munro's Masonic Catering team had their hands full all evening and an excellent job they did too.
Also busy catering for both groups were hall stewards John and Pamela Nicholls who were assisted by Juan and Laura. They were running two bars during the evening. They were also responsible for laying tables in both dining rooms and cleaning up at the end of the evening and preparing for the next event. That next event on the following day was for the St Anne's YMCA under eights football team Christmas party. One of the players is Ben Gorry's son.
In recognition of their efforts, John Nicholls was presented with a bottle of his favourite tipple and Pamela received a bunch of flowers, each presented during the evening in the appropriate dining room. The whole event was rounded off by a disco run by DJ Chris which played into the early hours of the morning.
A grand festive board was enjoyed by all, with over 20 raffle prizes won by lucky ticket holders. At the end this raised £785 in charity funds to go towards John Lee's masters list for the forthcoming year. A great start to his mastership. The formal conclusion to the evening was presented by Gordon Ivett who proposed the tyler's toast.