Peter McGrady was proclaimed as WM of Old Crosbeian Lodge No 4992 at Merchant Taylor's School in the presence of the Provincial Grand Master Mark Matthews. Mark was accompanied by Assistant Provincial Grand Masters Frank Umbers and John James, Provincial Grand Director of Ceremonies Malcolm Bell and grand officers Peter Levick, Roy Pyne and Chairman of Ormskirk and Bootle Group Graham Chambers.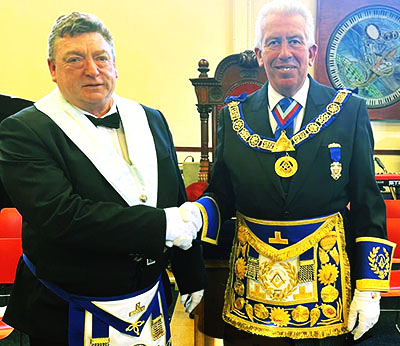 Also present was acting Provincial Senior Grand Warden Chris Taylor, Provincial Junior Grand Warden Sylvester During, Provincial Grand Charity Steward Paul Shirley, Provincial Senior Grand Deacon Stephen Dunn, Provincial Junior Grand Deacon Alfred Dickinson, Provincial Grand Standard Bearer Richard McHale and Provincial Grand Steward Jim Carrie.
Ensuring that everyone behaved themselves was Provincial Deputy Grand Director of Ceremonies Gary Smith, accompanied by Robert Fitzsimmons and Rylan Modlin and Assistant to the Provincial Grand Director of Ceremonies David Boyes,
After the appropriate salutations had been honoured, Peter resumed labour to the first degree and lodge director of ceremonies Paul Grainger stood and proclaimed Peter McGrady master for the ensuing year. Once Peter had appointed his senior and junior wardens, Chris Taylor installed the senior warden and Sylvester During the junior warden.
The address to the master was given by Ian Donaldson and the address to the wardens was given by Chris Taylor. Chris also gave the address to the almoner Ian Elsby. Acting Provincial Senior Grand Deacon Steven Dunn provided the address to the deacons and the address to the stewards was given by acting Provincial Grand Steward Jim Carrie. Finishing the investiture of lodge officers, Ian Elsby gave the address to the tyler.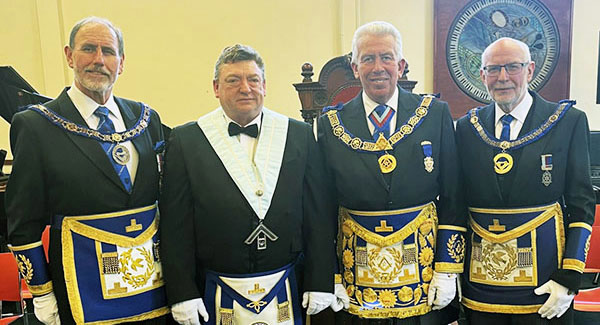 Rounding off the formal ceremonial, the address to the brethren of Old Crosbeian Lodge was given by Mark Matthews. Mark was then pleased to announce that the lodge had made a donation of £500 to the West Lancashire Freemasons' Charity for which he gave thanks the brethren of Old Crosbeian Lodge for their generosity.
After Peter closed the lodge, the brethren and guests retired to the William Hall for the festive board. The venue for the festive board which is usually the Grand Library had to be changed as on this very auspicious occasion there were over 80 brethren and guests.
All were not looking forward to a school dinner, but to the surprise of the guests, a menu consisting of a starter of fish cake with lemon gel and sauce gribiche, a main of carved sirloin steak with roasted asparagus, buttered roasted Jersey royals and red wine jus and a desert of chocolate torte with Chantilly cream and raspberries. This was then followed by port served with a cheese course which was enjoyed by all. Throughout the festive board the stewards of the lodge were continuously refreshing everyone's drink.
As the evening drew to an end, Peter had much pleasure in presenting bouquets of flowers to Mark, Frank and Graham who were all delighted to receive them on behalf of their wives.