For several years St Annes Palace has hosted a hugely popular Burns Night on or around the Bard of Ayrshire's birthday, an event that has regularly attracted in excess of 100 guests.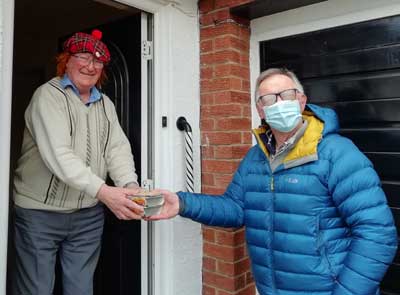 Never one to let a global pandemic get in the way of a fun filled evening, South Fylde Group Secretary Ben Gorry gathered his marshals in the persons of Ian Park and John Nicholls and said: "Let's make it happen." And happen it certainly did.
In the end, around 85 people logged into this virtual event, and what a night of entertainment was presented. In preparation for the gathering, each participant was delivered, via a team of volunteers, a miniature of malt whisky and a pre-prepared supper of haggis, neeps and tatties together with a whisky cream sauce. Many of the guests entered into the spirit of the occasion by dressing in kilts and tartan. Some even decorated their rooms with all manner of Scottish themed bunting.
As people started to log in, it was quite obvious there was a buzz of expectation for a night of fun and friendship and it was seamlessly delivered by the team. After a brief introduction to the night by Ben, the computer screens cut to an enchanting video of highland scenes accompanied by the traditional solo piper which truly set the scene for what was to come. This was immediately followed by a rendition of Burns' Ode to the Haggis, but with a unique and entertaining twist.
As the poem was recited by John Nicholls, in his finest Scottish brogue, viewers were treated to a hilarious line by line translation into English that appeared on the screens in unison with the recitation. Ben Gorry then delivered a short toast to the 'Immortal memory of Robbie Burns' followed by the Selkirk Grace, albeit in a far more authentic Scottish accent!
Time was then called for supper which gave plenty of opportunity for all assembled to chat amongst themselves and catch up with those that they had not seen for some considerable time. After the meal, there was a delightful rendition of Burn's song 'Bonny Mary of Argyle' by Lewis Johns and who later reprised his performance with 'My Love is Like a Red, Red Rose' much to the enjoyment of all.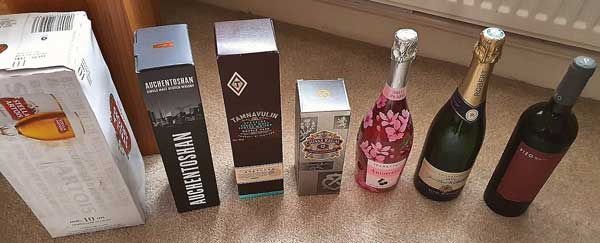 A fiendish and highly entertaining Burns themed quiz was won by Chis Meadows with a remarkable score of 17 out of 20 correct answers. This was followed by a raffle for several generously donated prizes, which raised the quite remarkable sum of £1,047. This was donated to the 2021 MCF Festival.
Festival Vice President David Winder expressed his delight in the raising of this magnificent amount of money and congratulated the South Fylde Group for all that they have done during lockdown to maintain fundraising for the Festival.
Our own Assistant Provincial Grand Master David Randerson, echoed these sentiments and went on to praise the organisers for their planning and execution of the night. These thanks and congratulations were added to by group chairman John Robbie Porter, who stated how much he and his wife Susan had enjoyed a fabulous evening of friendship and entertainment.
At the end of the official proceedings the meeting was kept open for a considerable length of time as many took the opportunity to have a drink and chat in a most convivial atmosphere.