The membership of Aughton Lodge No 7996 is small in numbers but big in generosity. They have generously supported the Digmoor Community Foodbank in Skelmersdale.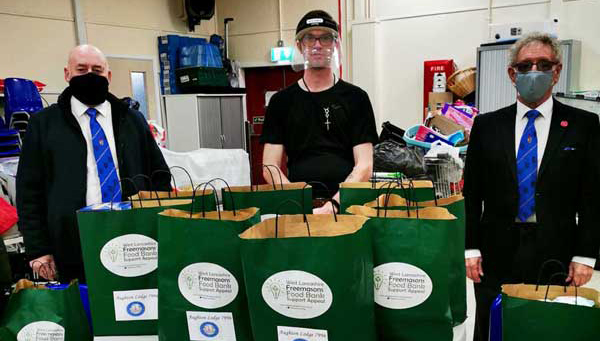 For the past 30 years, on the first Sunday of December, Aughton Lodge has traditionally held a Christmas Social and Christmas Carol Evening. As part of that tradition, the lodge members have normally donated items to create a food hamper which was then offered as a prize in a Dutch auction and the money raised given to charitable causes.
Sadly, the problems caused by the COVID-19 virus has meant that the lodge could not hold its Christmas Social evening in 2020, so it was decided by the lodge members to make a cash donation instead, and with the money raised going towards buying items to donate to a local foodbank.
The cash donation made in lieu of the 2020 Christmas Social is in addition to Aughton Lodge's previous generous donations that exceed £1,000 in support of the Provincial foodbank initiative.
Members of the lodge raised in excess of £140 for the 'hamper' and after consultation with the Digmoor Community Foodbank, this was used to buy non-food items. The WM, Malcolm Sandywell, accompanied by Ian Tupling, the organiser of the Christmas socials, delivered the purchased items to the Digmoor Community Centre in Skelmersdale.