Another meeting for Longton Lodge No 6237 and this one was made a little more special due to the ceremony at hand; a jubilee celebration. The meeting was held at Leyland Masonic Hall and it was Arthur Heaton who was being honoured on the night. Arthur has been a Freemason for 50 years and it was only right that he celebrated it with his lodge; the only lodge he has been a member of having been initiated in 1968 into Longton Lodge.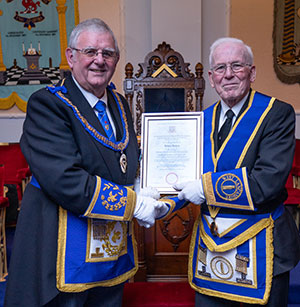 The meeting was opened by WM Phil Monks and following the warm welcome he gave Assistant Provincial Grand Master Stewart Seddon on behalf of the lodge, he offered him the gavel. This Stewart took. He thanked the lodge for the welcome and said that he hoped that everyone present was looking forward to the celebration as much as he was. With that he took to the master's chair and began the proceedings. Asking if everyone was seated comfortably, he began by taking everyone back to 1935.
George V was on the throne and celebrated his silver jubilee on 6 May. Ramsay McDonald was Prime Minister of a coalition government and resigned on 7 June to be replaced by Stanley Baldwin. The average price of a house was £500; salary £150; car £300 and petrol 2p per litre. Adolf Hitler introduced conscription in Germany. Britain protested at this and yet agreed to the formation of a German Navy equal to 35% of our own naval tonnage but also announced plans to triple the size of our Royal Air Force over two years.
The Ramblers Association was formed. A 30mph speed limit was introduced in built up areas, the driving test was made compulsory and 'cat's eyes' were first used. Sir Malcolm Campbell broke the land speed record at Bonneville Salt Flats, Utah registering 301.337mph the first time the 300mph barrier had been achieved. In the Lake District the last service was held at Mardale Church prior to the village being flooded by the creation of the Haweswater Reservoir. And in York – Rowntree's produced their first chocolate crisp bar which was later renamed KitKat.
Meanwhile, on the other side of the 'pond',the FBI killed the Baker gang, including Ma Baker, in a shootout. Airplanes were banned from flying over the White House. Alcoholics Anonymous was founded in Akron, Ohio. On 16 July the world's first parking meter, known as Park-O-Meter No 1, was installed on the southeast corner of what was then First Street and Robinson Avenue in Oklahoma City, Oklahoma. And lastly Porky Pig made his Looney Tunes debut.
Arthur's contemporaries include: Audrey Wise who was to become MP for Preston, George Carey (Archbishop of Canterbury) and writer Dennis Potter author of the Singing Detective and many others. From film and television: – Michael Parkinson, Julie Andrews, Dudley Moore and James Bolam. From the world of music and entertainment: Barry Crier, Jerry Lee Lewis, Johnny Mathis, Sony Bono and the 'King' himself Elvis Presley. From the sporting world: Brian Clough, Bruce Tulloh, Floyd Patterson, John Spencer and Jimmy Armfield. He also shares his birthday with King Robert II of Scotland, first monarch of the House of Stewart (1390); Mikhail Gorbachev (1931); Harry Redknapp (1947) and Andrew Strauss (1977)
Arthur was born in Preston on 2 March 1935. His father, Laurence was a painter and decorator. His mother Catherine (nee Swarbrick) and better known as Kate was a telephonist at the North West Electricity Board. They lived at 12 Boundary Road, Plungington and he was the fourth of five children, Clarice, Laurence and Mary being older and the yet to arrive Frank the youngest. Children have a great capacity for learning and Arthur soon learned how to upset Mum when, whilst playing in Cadley Brook, better known locally as 'Stinky Brook', he got stuck in the mud.  It wasn't a problem and he just walked out of his brand-new wellies and went home. Mum went mad and only got madder when she had to enter the swamp to retrieve them!
Arthur began schooling at age five when he attended St Cuthbert's Infant School, the same school as Sir Tom Finney, albeit 13 years after the great man. He did share the classroom with Roy Barraclough though who was to progress to fame on television, most notably in Coronation Street and at his funniest in collaboration with Les Dawson with the hilarious Cissie and Ada sketches. He went on to Roebuck Street Junior and Deepdale Secondary Modern schools where his interest in sporting activities increased.  Being an active lad, Arthur took up cricket with his main interest being running. Here he developed a liking for fell running and was so good he eventually became a professional fell racer often winning races in the Lake District and going home to mum with the £3 prize money.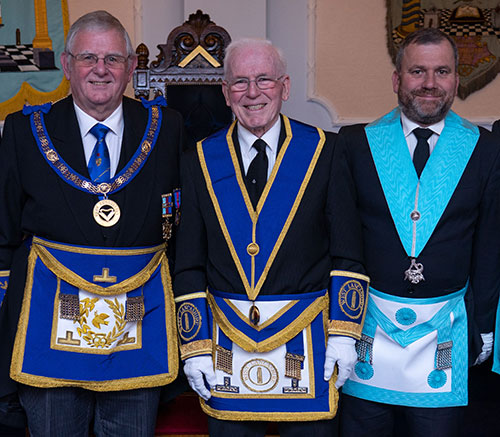 Arthur left school at 15 to begin an apprenticeship as a painter and decorator at Preston Royal Infirmary. The painting and decorating of a hospital can be quite disruptive and none more so than when working in the maternity unit. On more than one occasion Arthur had to abandon his work when it was feeding time.  He was brought down his ladder at a baby's whimper and ushered off the ward – there was no watching the ladies feeding their offspring in those days.
It was whilst at Preston Royal Infirmary, walking down one of the many corridors, that Arthur's attention was peculiarly drawn to a young lady who was with matron's entourage on the morning round. Miss Elizabeth Mary Richardson, better known as Betty and secretary to Harry Norris, the Hospital Estates Manager, was the girl who was to change his life. Whilst cementing their relationship Arthur was attending night school and following a night class, cycled all the way to Hutton to see Betty then cycled all the way back to Preston. One night after dark the long arm of the law stopped him. Yes, Arthur committed the heinous offence of riding a bike without lights. The 'bobby' gave him the strictest warning and told him to push his bike all the way home which, like the good chap he is, he did just that. They eventually married on the 17 December 1955 at St Cuthbert's Church, Fulwood. A week's honeymoon followed at the aptly named 'Honeymooner's Hotel' in Brighton.
After completing his apprenticeship and passing the City and Guild exams in signwriting, painting and decorating, he was called up to do National Service which had to be delayed for three months because of the exams – and so aged 21 years he went off to Maryhill Barracks in Glasgow for two years, assigned to the Royal Artillery. There he learned the art of firing 25lb shells in between football, cricket and athletics.
Returning home to Preston, Arthur continued his painting and decorating profession but eventually ended up in the stores department at British Aerospace at Samlesbury where, one lunch time, whilst having a game of football, he somehow managed to break his jaw and ended up on a diet of liquidized food and ice cream.
Arthur, being a wise and practical man, bought a plot of land at Clayton-le-Woods with the intention of building a new home for Betty and himself. This he did and on 17 July 1958 Arthur dug the first sod in the building of their new home. Betty maintained a comprehensive daily log of all that went on, noting every piece of equipment purchased, the daily progress made, and a description of all the materials used together with the cost of them. The house was completed on Saturday 1 August 1959.
Four years after completion, in 1963 during one of the coldest winters on record, along came Ruth. Indeed, it was so cold that the River Ribble froze over and Arthur had to walk all the way to hospital to see Betty and the baby. Not making the same mistake twice and with a great degree of family planning James (also a member of Longton Lodge) was born in the middle of summer. Arthur and Betty have been blessed with four grandchildren Christopher, William, Thomas and Jack. On 17 December 2015 Arthur and Betty celebrated their diamond wedding anniversary receiving a lovely letter and photograph from Her Majesty The Queen which takes pride of place on the display cabinet.
Arthur was Initiated into Longton Lodge No 6237 on 23 October 1968 and having served in all the offices he was installed as master on 18 January 1980. He subsequently served as junior warden for two years 2005 to 2007 taking the chair once again in 2007/8 and senior warden in 2009/10. Arthur was honored by the Province of West Lancashire in October 1990 with the rank of Past Provincial Junior Grand Deacon and promoted to the very high rank of Past Provincial Junior Grand Warden in May 1992.
Stewart went on to say that there was no doubt at all of Arthur's entire life has also been an example of what makes a good Freemason, as well as a good citizen, a good husband, a good parent, and in every way, a contributor to society. There is also no doubt, that during the last 50 years, anyone who happened to learn that he was a Freemason, could not fail to see him as anything other than a good ambassador for our Order. Stewart then invited Chris Blackwell Chairman of the Leyland and District Group to read a certificate, which is an acknowledgement of the Province of West Lancashire's great appreciation of Arthur's half a century of membership of the Craft. This having been read, Stewart then presented the certificate to Arthur who was proud and pleased to have been recognised in this manner.
Stewart handed the master's chair back to Phil. The lodge was closed with everyone retiring to the dining room to continue the celebration.