The installation meeting of Arrowhead Chapter No 8500 was held at Bryn Masonic Hall in the presence of the principal guest, Assistant to the Provincial Grand Principals Malcolm Alexander and the representative of the Grand Superintendent Mark Matthews.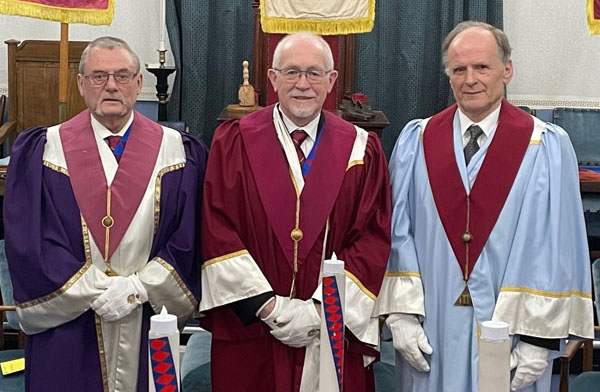 The conclave was opened in due form at 6pm with the following companions obligated excellently, John Pendlebury, Keith Woodhall and Tony Martin, becoming the three new principals, and they were expertly installed.
Malcolm Alexander delivered a fine rendition of the address to the companions of the chapter which completed the ceremony of installation. He then went on to congratulate the newly installed principles and made special mention of the manner in which the three sojourners had delivered the robe addresses, and also thanked the DC and ADC or their hard work.
John Pendlebury then presented two cheques; £400 to the Masonic Hall and £400 to the Hall Development Fund, and thanked Malcolm for his kind words and attendance.
Once alms were collected had been done, the principal guest, group chairman and acting Provincial grand officers all retired after the first rising and the chapter was closed in harmony following the remaining risings.

At the festive board, a sumptuous meal was provided by Phil and Christine which was thoroughly enjoyed by all present.
Joe Feeney proposed the toast to the three principals with the visitor's toast being proposed by Peter Benson. Paul O'Brien sang a splendid rendition of the song to the three principals, accompanied by Frank Laird on piano.
The raffle at the festive board raised in excess of £140 and all companions left having witnessed a most enjoyable installation meeting.