The following provide a round-up of news and what's been going on from some of the lodges that meet at Chorley Masonic Hall.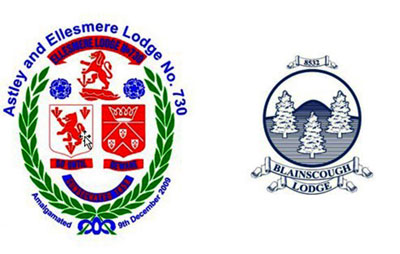 David Hatchard from Astley and Ellesmere Lodge No 730 stated: "We have regular phone calls to keep in touch. Each person rings other people up each week. Everyone has my phone number and I have told everyone if they need any assistance to call me, and I believe a few other brethren have said same thing."
Malcolm Scofield, almoner of Blainscough Lodge No 8532 said: "As almoner of my lodge, Maria and I speak to the widows weekly. We ask them if they need any shopping; fortunately, they are having it delivered by family. As usual I make soup every two weeks, enough to feed the British Army. We have delivered it to their homes. It's great doing knock-a-door-and-run. We have set up a WhatsApp group for our members to keep in touch. To date the group has 15 members who regularly chat and swap jokes. Our WM, Bob Smith has had a bit of a scare but it turned out to be a bad cold! Three kilos of sweets have been donated to Jasmine Care Home on behalf of the lodge and the Masonic hall."
Adam Dennet of Carnarvon Lodge No 2376 reported, "Since 23 March 2020 when the United Kingdom was placed in lockdown, we have experienced a different way of life. At first our focus was on those close to us, our loved ones, family, friends and of course our brothers. Immediately, four of our members volunteered themselves to assist with any members who were in isolation or just needed some help and support, offering anything from a call to some shopping. One volunteer was called upon to complete some shopping for one of our members which included toilet roll, flour and yeast! Knowing the shopping list, what do you think is the number of supermarkets visited to obtain such items? The answer is six! All items where obtained and safely delivered to our member who I am sure made some lovely fresh bread."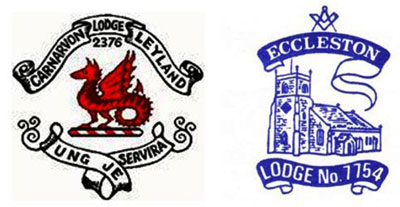 Jason Astley, secretary of Eccleston Lodge No 7754, stated, ''We are all communicating very well. We have a Facebook group and most of us keep in contact via this group. Anyone that is not in the group is contacted by the almoner, myself or any of the senior members."
Almoner Bill Nelson and secretary Norman Cox from Euxton Lodge No 7192 report, "Although we are of course not meeting, we have taken the trouble to maintain contact with all our members. Most are on email but several members have made sure that we have phoned the others and offered help. One of our younger members has put himself forward to help and deliver, not only to Euxton Lodge members, but also to the Provincial Welfare Plan. We have used Zoom to keep in touch where appropriate with individual members. Some members have signed up for the NHS volunteer responder service; perhaps because there's been around 1,000,000 volunteers that might be the reason why not everyone has yet had the satisfaction of being called out. We have a key worker or two, although one is on the sick at the moment. Our almoner has his own health issues so is confined to barracks but is in touch with all the members and he is ringing round all our widows in turn."
John Morgan, secretary of Leyland Hesketh Lodge No 986 reports, "Leyland Hesketh Lodge members are using emails and phone calls to keep in touch. Despite the lockdown, we are continuing to plan a charity swim by Bob Olive who is about to complete 80 lengths of a 25-metre pool to mark his 80th birthday for Preston and Chorley Teddies for Loving Care. Bob is a retired policeman who despite his age is a very active Mason and is a member of several other Masonic orders in which he holds Provincial and grand ranks He is also rapidly approaching 50 years in Craft Masonry. Coronavirus permitting, he will do the swim in June this year. Bob has agreed to donate 20% of donations to the Masonic Charitable Foundation 2021 Festival."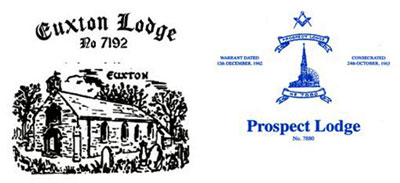 Andre Whitton, the secretary of Prospect Lodge No 7880, reported that Prospect Lodge are doing quite a lot during lockdown. He says: "We have created a 'Prospectors' WhatsApp group which helps us keep in touch with the majority of our members in real time. We check in every couple of days to touch base with everyone to see if everyone is alright and coping. We have 15 of our members in the group who in turn keep in touch with those not able to use WhatsApp and report back! We have a virtual social meeting every Friday night at 8:30pm We use Zoom to video chat and catch up with everyone. We always finish with the nine o'clock toast to absent brethren. We even sang the closing ode last Friday!
Our 'younger brethren' are on standby to help if anyone needs help with shopping etc. Members also check up on their 'friends' either by phone, email or even video chat and then report in. Two of our brethren are playing their part by being part of the Provincial Welfare Plan volunteers. We have at least two key workers in the lodge; a prison officer and a police officer. In my view we have another key worker who works for a brewery and we mustn't forget our member who is keeping the railways running.
Our almoner keeps in touch with members and widows as he always does. One of our widows, who is probably the most vulnerable of our widows since she's stuck away in Morecambe, volunteers once a week at the hospital and is still going in despite the lockdown. As a lodge we are keeping positive by actively planning our installation – the acting DC and ADC's have met via video chat and have started putting names on the doors for jobs at our installation."
Carl Faber, almoner of St George's Lodge of Chorley No 7161 said: "From a Masonic point of view, as lodge almoner, I'm in touch with the bulk of our members and widows."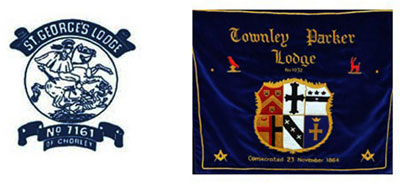 Simon Dalley from Townley Parker Lodge No 1032 reports: "We continue to put content out on our Facebook page, which has grown to have over 115 followers – including Chorley Masons – but also followers from a number of other Provinces. In addition, we have set up a Townley Parker Lodge WhatsApp group, which we are still working on getting all members involved with. One of the interesting things we've found is no one person knows all the members mobile numbers, due to the lodge's historic preference to record a landline number. When the COVID-19 crisis comes to a close I'll be proposing we place an emphasis on recording members mobile numbers."