The brethren of Lodge of Chivalry No 3974 gathered to celebrate Arnold Pye's 50th year in Freemasonry. The lodge was honoured by the presence of Assistant Provincial Grand Master Frank Umbers, who on arrival took the chair of the lodge in order to conduct the ceremony.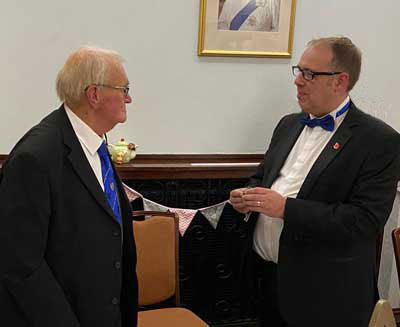 Arnold was born in a private maternity home in St Helens Lancashire to Jennie and Jimmy (James) Pye in 1946. At the age of four Arnold attended Robins Lane Infant School when they used to let you have a sleep part way through the day. Aged seven he moved to Sutton National Junior School as the family had moved house. Around this time, Arnold started to learn to play the cornet with the Church Army Band. Still playing his cornet, Arnold started to attend Central Modern Secondary School for Boys where Frank said: "Anybody who knows you well will not be surprised to learn that you were not into sport but you did enjoy woodwork. Working with your hands would serve you well in the future."
At 16, Arnold left school and started work at Fosters in Rainford making and erecting sheds for four months, enabling him to use his woodworking skills while waiting to join Pilkington Bros as an apprentice in the transport department.
As part of the apprenticeship, Arnold attended St Helens Technical College studying fitting and engineering. After successfully completing his apprenticeship, he continued to attend night school at St Helens Technical College and earned the right to put MIRTE (Member of the Institute of Road Transport Engineers) after his name.
Aged 24 Arnold started work for Ready Mix Concrete as Safety Manager of the self-employed drivers checking their vehicles roadworthiness and that they had all the relevant documentation. After realising it was not the job for him, (he was not using his hands), Arnold left and went to work for his uncles at F & G Pye in Rainford, once again using his hands. He stayed there for 12 months and then went back to Pilkington's working in the garage on HGV units and trailers.
Pilkington Transport was taken over by Nijman Zeetank and Arnold continued to work for them driving, fitting and also training new drivers on the use of the specialised trailers, sometimes demonstrating their use at Truck Fests. Finishing work at 65 Arnold decided he would continue to do some part time driving for friends until he finally retired completely aged 68.
Arnold married Anne on in December 1984 after asking her to marry him many times over three years. Arnold and Anne have four children between them.

Arnold was introduced to Freemasonry by his three uncles Fred, Gerald and Frank who were all members of Chivalry Lodge. Gerald took great pleasure in proposing Arnold on 3 April 1971 and the balloting occurred on 1 May 1971, during his year as WM. Frank's two sons also became members of Chivalry Lodge while Gerald's sons Ian and Nigel joined a St Helens lodge which is just as well because it was starting to look as though Chivalry Lodge would be renamed The Lodge of Pye's!
Arnold was initiated into Lodge of Chivalry in the Adams Suite in Hope Street, Liverpool, on 6 November 1971, He was passed to the second degree on 4 December 1971 and raised on 1 January 1972. The WM, Jim Aldred, conducted all three ceremonies.
Arnold has served in all the lodge offices and was installed as WM in 1984 and he held that office again in 1998. He held the following offices in the lodge; assistant director of ceremonies (ADC) for five years, director of ceremonies for five years, hall representative and junior warden for one year, ADC (again) for two years and he is currently serving as the lodge chaplain. Arnold's first appointment in the Province was to Past Provincial Junior Grand Deacon in 1993, he was promoted to the high rank of Past Provincial Grand Superintendent of Works in 2002.
Arnold was exalted into Ashton Trinity Chapter No 8821 on 16 September 1986, he is also a member of another Masonic Order.
Since Arnold had a second stroke in 2015, it has been difficult for him to take a more active part in the ceremonies due to his aphasia but this has not stopped him from regularly attending the lodge and enjoying the companionship of his fellow brothers.
A wonderful benefit from this meeting was that Arnold's two nephews Nigel Pye, who was a member of Lodge of Chivalry but resigned in 1999 and his brother Ian Pye who resigned from Freemasonry in 1990, were so enthused by the hospitality and friendship that they received on the night, that they have both decided to apply to re-join the lodge. Arnold is delighted by this.
After the ceremony the brethren enjoyed a wonderful festive board.