Due to the current COVID-19 restrictions a Provincial Service of Remembrance took place on Zoom on Remembrance Day to remember to very many fallen heroes who gave the ultimate sacrifice during conflicts around the world.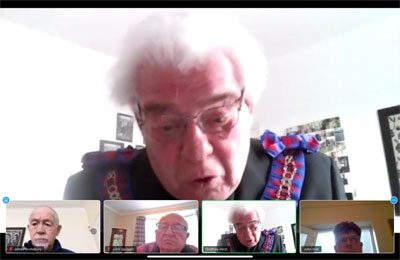 Over 220 Masons from all over the Province attended a very dignified the service to honour and pay respect to the fallen who gave their today for our tomorrows. The service was led by the Provincial Grand Chaplain John Hall and the Provincial Grand Master Tony Harrison.
John Hall opened the service with an introduction, he also gave a reading from St Paul's letter to Titus, the Reflection, final prayers and blessing. Tony Harrison read the bidding prayers, 'For the Fallen' (stanza 4) by Laurence Binyon and 'They gave their today' by J M Edwards. Godfrey Hirst read 'Dulce et Decorum Est' by Wilfred Owen.
A wide range of music accompanied the service which was played at the appropriate time. Music for the service included:- Beethoven's Funeral March, All Through The Night, Highland Cathedral, Nimrod, Last Post, The Rouse, Eternal Father Strong to Save, National Anthem and The Battle of Britain March.
At a ceremony on Sunday 8 November, Tony Harrison laid a wreath at the Cenotaph in Morecambe on behalf of all the Masons of the Province of West Lancashire. To see a short video, click here.