The annual service in commemoration of the Armistice was held at the war memorial within Liverpool Masonic Hall at the traditional time of 11 o'clock on 11 November, and this year was no exception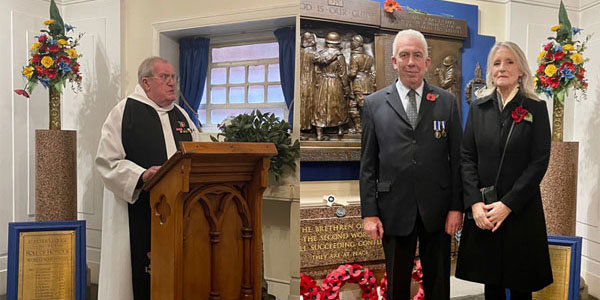 Liverpool Group Chairman Dave Johnson welcomed all present and said it was an honour to have in attendance our Provincial Grand Master Designate Mark Matthews accompanied by the Provincial First Lady, his wife Debbie.
Regarding the memorial, Dave explained that all who were killed were encapsulated upon the war memorial here within Liverpool Masonic Hall, the three armed services of the period, the mercantile marine and the innocent civilians who in the main were lost to enemy action at sea as passengers.
Indeed, present at the service in commemoration was a direct descendent of a Victoria Cross winner from a period before World War 1. Lt Gonville Bromhead, of the 2nd Battalion, 24th Foot (later the South Wales Borderers) was one of a record 11 VCs awarded to the mission's defenders at Rorke's Drift. He helped to command around 140 soldiers, of whom 36 were sick or injured, against about 4,500 Zulu warriors' intent on destroying the post and killing the garrison. The battle raged for 12 hours before the Zulu attack was abandoned.
Dave also said it was also delightful to see such a large attendance at the services particularly the wives and partners who had come along in support. Amongst whom was Norma Paterson, wife of Bob the deputy chair of the group, proudly wearing the medals of her grandfather John M Curphey who served with the Machine Gun Corps in WW1, and his medals are now proudly adorned with his cap badge.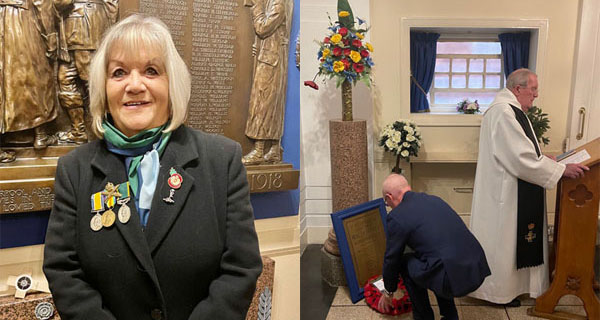 This years'service was led as usual by Rev John Williams, who spent 30 so years as a Padre in the Royal Navy and has worked tirelessly with the Seaman's Mission. The ceremony opened with a portion of scripture, followed by a reading taken from John Bunyan's 'Pilgrims Progress'. Following the two minutes silence and the playing of 'The Last Post', Geoffrey Green gave the Exhortation'.
The ceremony of wreath laying commenced with Mark Matthews laying the first wreath of poppies, followed by Dave Johnson for the Liverpool Group. Other wreaths were laid in respect of individual lodges, such as that laid by Steve Linton representing Blenheim Lodge No 7519 and Peter Fay for St Peter's Lodge No 4324. Other Masonic based associations based at Hope Street were present with Steve Walls laying a wreath on behalf of the Mark Masons meeting at the hall.
The service was completed by Rev John Williams leading all assembled in a prayer of commemoration. Afterwards, refreshments of tea or coffee was served along with a selection of sandwiches and cakes, courtesy of the staff of Liverpool Masonic Hall, while the order of service was produced and distributed by the Merseyside Association for Masonic Research based at Liverpool Masonic Hall, 22 Hope Street, L1 9BY.