"Are you all sitting comfortably? Then I'll begin" were the words that Assistant Provincial Grand Master Peter Lockett used as he started his presentation to David McCluskey at the celebration of his 50 years in Freemasonry. He had joined the members of Leyland St Andrew's Lodge No 7391 and their guests who had gathered at Ridgemont Hall in Horwich to share the milestone in David's Masonic journey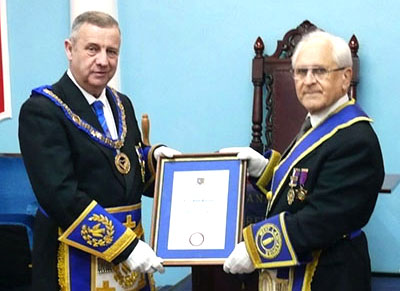 In his address Peter told the brethren that in February 1943, at 2 Wright Street, Chorley, Mrs Emma McCluskey gave birth to a son to be named Arnold David. His father was Thomas, a munitions worker at Euxton Royal Ordinance Factory where he assisted in the filling of bombs for the 'Dambusters' which was of course for the raid over German dams in the Ruhr Valley. Emma, his mother was a weaver and worked at the Diamond Mill in Railway Road, Chorley.
As a boy, David attended the St James's C of E mixed school on Eaves Lane, Chorley from the age of four up until leaving school aged 15.
He met his fiancée Eileen Ashley at the Victoria Dance Club in Chapel Street, Chorley and was married on 26 February 1966 at Chorley Parish Church where he had previously been a choir boy. David and Eileen bought a house in Kendal and lived there from 1965 until 1969 when they moved to Euxton, staying until 1982 when they moved to Astley Village. He attended the Parish Church in Euxton.
They had two boys, Sean, born in Kendal and Jason, at St. Mary's Hospital in Manchester. He has five grandchildren; Alex, Benjamin, Samuel, Tilly and Sarah who range between 12 and 18 years of age. Sadly, Eileen passed away in January 2004.
David was a bell ringer and remembers ringing the bells which were muffled on the death of King George VI. He also rang the bells for the Coronation of Queen Elizabeth II. He also enjoys walking and has undertaken several of the Wainwright coast to coast walks. Other interests include cruising and ballroom dancing. He also enjoys real ale!!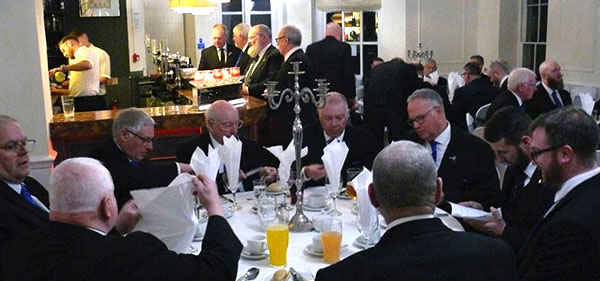 His career was in the gas industry. He went to Norweb as an apprentice gas-fitter and was based at the old Chorley Gas Works in Water Street, Chorley, also well known as 'Chorley Bottoms'. His career led him to Kendal where he was the installation supervisor; Blackpool where he became the senior quality control supervisor and then to Stretford to work in technical services, investigating incidents of fire, explosions and fatalities, and finally in Altrincham auditing depots throughout the North West.
Peter then turned to David's Masonic career and told the brethren that his proposer into Masonry was Horace Vessey and his seconder was George Ashley, his father-in-law. He was initiated into Coppull Lodge No 4232 on 7 November 1972 where he joined his elder brother, Alan John McCluskey in Freemasonry. Alan was a past master of Coppull Lodge and also a member of Leyland St. Andrew's Lodge and a member of the Earl of Lathom Chapter No 730 in the Royal Arch.
David served as master in 1984-1985 and again in 2006-2007. He held the office of chaplain for eight years from 1987. He was assistant director of ceremonies for five years and also director of ceremonies for five years.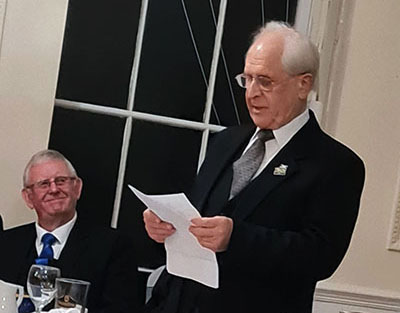 He was honoured by the Province in 1993 when he was appointed Provincial Assistant Grand Director of Ceremonies. Promotion followed in 2000 when he became Past Provincial Deputy Grand Superintendent of Works and then promoted to the very hight rank of Past Provincial Junior Grand Warden in 2007.
David joined the Royal Arch, becoming a member of the Earl of Lathom Chapter in 1975 and served as first principal in 1991. He was honoured by the Province in 1996, becoming Provincial Grand Steward. This was followed by a promotion in 2000 to Past Provincial Grand Sojourner. He then received further promotion in 2006 to the very high rank of Past Provincial Grand Scribe Nehemiah. In addition he served as assistant director of ceremonies for the chapter for seven years and as director of ceremonies for five years.
Peter concluded by observing that there was no doubt at all that David's entire life had been, in every way, an example of what makes a good Freemason, as well as a good citizen, a good partner and contributor to society as a whole.
Peter then presented David with a certificate as an acknowledgement of the Province of West Lancashire's great appreciation of his half a century of membership of the Craft.