Tim Bailey, who is the Charity Steward for Prince of Architects Lodge No 4188 of the Ormskirk and Bootle Group, is raising money for the Walton Centre in Liverpool, by competing in the Aquasphere Chillswim Coniston, which is 5.25 miles of Coniston Water, on 4 September 2021.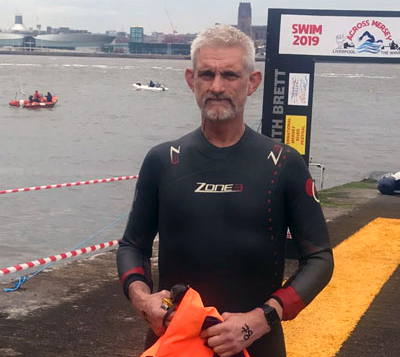 Tim has for the last 17 years lived with nerve damage in his spine which created a weakness in his left leg, Tim was told that this is inoperable due to it being too close to his spinal cord. Even though living with this condition and having a limp when he walked, Tim took part in various running triathlon events and swimming events.
Around January 2020 Tim started to experience balance issues and by the end of September Tim started to experience weakness in his right leg, with the condition deteriorating with having more falls and not being able to stand unaided, Tim decided to go to the Accident and Emergency Department at Southport and Ormskirk Hospital.
Tim was seen at the hospital by an advanced nurse, who after receiving various tests sent him the next day for an MRI scan, a diagnosis was quickly made and it was then the Southport Spinal Unit recommended that he was to go to the Walton Centre, which is a major neurology hospital located in the suburb of Fazakerley in the city of Liverpool.
An appointment was made within two weeks but was advised if things deteriorated, he should ring an ambulance, five days later Tim was back in A&E and in October Tim was rushed to the Walton Centre where he received an emergency discectomy and decompression. Tim's condition was diagnosed as the Cauda Equina Syndrome, a very serious form of spinal stenosis which can cause paralysis below the waist, had they not carried out this very urgent procedure, Tim would have been at risk of being paralysed from the waist down.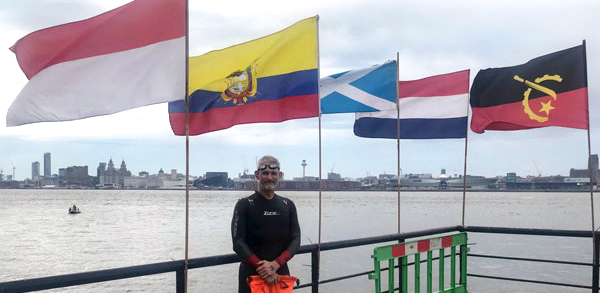 Being a keen open water swimmer and as a Freemason, Tim is very mindful of the need for the support of organisations like the Walton Centre and the lifesaving work they are carrying out. The Walton Centre specialises in many different types of neurological disorders and not only does it save many lives, the centre also vastly improves the lives of many people like Tim.
Tim has said: "As a Freemason, charity is in my heart. Swimming Coniston isn't just about my personal battle with nerve damage but also showing the staff at the Walton Centre how worthwhile their work is, as without them I wouldn't be able to do this."
If you wish to sponsor Tim when he does his swim on 4 of September 2021, the details are to be found in the links below;-
Tim's donation page, click here.  Aquasphere Chillswim Coniston website, click here.