It can prove a little confusing when Masons of two separate lodges share the same surname.  It then can become even more mystifying when you discover it's because they are a married couple!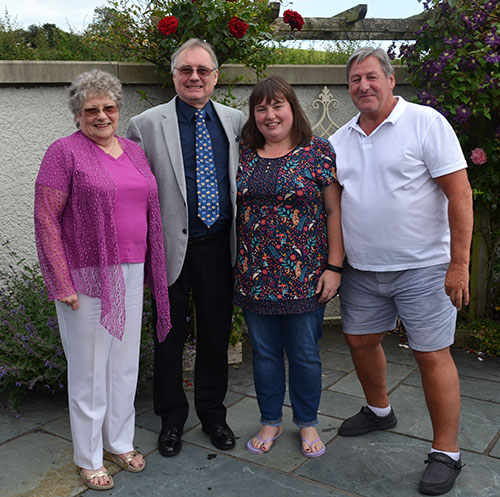 However, the picture becomes clearer when you learn that Stewart Aimson is a member of Vale Lodge No 5256 and his wife Laura Aimson, is the present WM of Morecambe and Heysham Lodge No 15 (HFAF).
Both Laura and Stewart were the organisers of the second annual Sunday Lunch, shared between these two lodges, with the simple aim of having a good family day out and raising money for charity.
These lunches are proving something of a landmark as they see Masons from both the United Grand Lodge of England constitution and those from the Honourable Fraternity of Ancient Freemasons (Women's Masonry) joining forces to support good causes and enjoy each other's company in a social setting.
It was truly a 'family affair' as around 60 diners, including grandparents, parent's, children and grandchildren all gathered at the Longlands Hotel, Tewitfield to enjoy a traditional roast dinner. The event was supported by the HFAF Provincial Grand Master for NW England Angela Seed and the Chairman of the Lancaster Group Neil McGill, who both enjoyed their day.
It was particularly nice to see Neil back on his feet and nearly fully recovered from his recent serious leg injuries.  To demonstrate just how well his recovery was progressing, he wore shorts! This led to one anonymous observer drily commenting: "The last time I saw a similar pair of legs so professionally restored was on a chair in the Antiques Roadshow!"
Two raffles were held, with the first reaching a total of £305, which is to be shared between the two lodges. One beneficiary of this will be the 'James Bond/Henry Welch Trust' which assists children with special medical needs in the Lancaster area.
The second raffle was for a bottle of 40-year vintage port, which raised £144 for the Rosemere Cancer Foundation. The winner, Paul Seacy, very generously returned the prize in order for it to be raffled again and raise more money for the charity.
Paul Taylor, WM of Vale Lodge, thanked everyone for their support and in particular praised Stewart and Laura for the hard work they had put in to make sure that the day was a success.