Definitely not the installation of Ian Parker into the chair of Heber Lodge No 4388 by his good friend and outgoing WM Andrew Perry. No, that was a fine ceremony in the presence of the principal guest Frank Umbers, and a credit to all who took part. There was also no messing about when it comes to the lodge's charitable efforts, with over £1,500 donated and the achievement of Grand Patronage of the MCF 2021 Festival.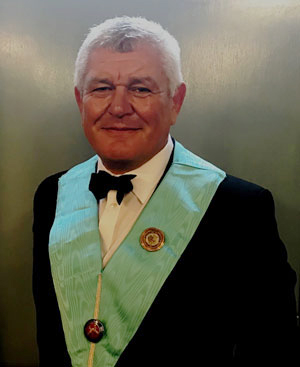 'Another fine mess' refers to the famous catch phrase used by the legendary comedy duo Oliver Hardy and Stan Laurel. What, may you ask, has Laurel and Hardy got to do with Heber Lodge and its new WM Ian Parker. Well, herein lies a story.
Ian is a colourful character, outgoing, enthusiastic, and always energetic. He has an interesting history, full of adventure. Prime amongst his hobbies arises from his fondness for the comedy pair, as a member of the Sons of the Desert, the Laurel and Hardy appreciation society. It was set up by Stan Laurel, in his words: "As a frivolous alternative to the dreaded serious fan club". The Sons of the Desert was a Laurel and Hardy film about a spoof fraternity of men and it is believed loosely based on Freemasonry. Oliver Hardy was a Freemason in Jacksonville in the USA, which gave Stan Laurel the idea for the film.
The Sons have local clubs all named after films and are called Tents and they usually meet monthly to watch films and drink cocktails. Ian's is the Wigan 'Dirty Work Tent', and he has brought their meetings to the Masonic hall at Bryn, making use of the fine catering facilities. and comparing their events.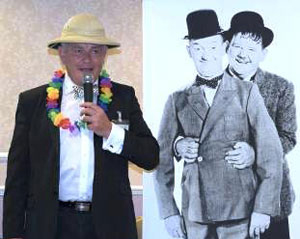 His role with the Sons took him further afield, and two are well worthy of mention. The first saw Ian on stage at the Coronation Hall in Ulverston. It was the town's twinning ceremony between Ulverston and Harlem Georgia USA, Oliver Hardy's birthplace. It was back in 2016 and the Sons were at their convention in Ulverston. Ian was nominated to facilitate the ceremony acting as MC. He had met and got friendly with the actor Geoffrey Holland, who played Spike in the Hi-De-Hi television show, who was himself a big Laurel and Hardy fan and was doing a show for the Sons that night. They both hit it off and decided to go around Ulverston for the afternoon and sample the refreshment of several of the local hostelries.
When they arrived at the Coronation Hall in high spirits, everyone was in a panic because the live link up to the USA was beginning in 5 minutes. In his own inimitable style, Ian remarked: "Good, well we've not missed owt". "No" came the reply from the Mayor's PA, "but you're doing the live link up". His actor friend laughed and scuttled off to put his make up on. Despite the excesses of an afternoon on the town, Ian stepped up to the plate, linked up with the USA and the twinning went ahead without a hitch.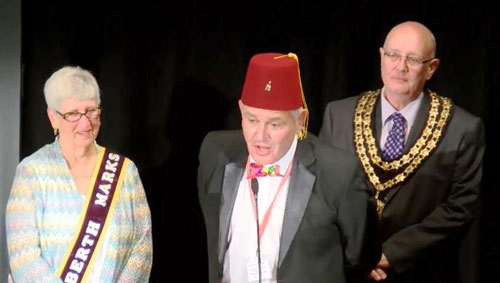 At a later date, Ian was called on to do an interview on behalf of the Sons of the Desert with non-other than Ken Dodd, which was probably Ken's last formal interview before his illness and sad passing.
Ian's working life saw him progress from a police cadet to retire in the rank of inspector. He now describes himself as a 'white van man'. Married to Frances, they have two sons, John (named after Ian, being the Scottish version of John), and Oliver, named after (you guessed it) Oliver Hardy. John is a pilot and Oliver is in the Royal Navy, so together they have land, sea and air covered.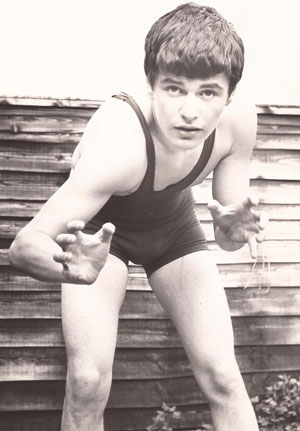 Ian has been a keen sportsman all his life and still plays rugby for Aspull. He was a freestyle wrestler and was fortunate to represent England and Great Britain, and now is a wrestling coach in Bolton.
He is quite proud to have coached two commonwealth games medal winners, Dan Bibby who he coached as a rugby colt who went on to win a bronze medal for England in the rugby sevens and silver at the Olympics, and Georgina Nelthorpe who won bronze in the freestyle wrestling.
In the lodge, Ian has served in every office. In addition, he has organised many socials and fundraising events, and is a proud member of the Heberettes, a band consisting of members of the lodge. Ian said in his response at the festive board: "I am really proud to be WM of this fine lodge. I really enjoy everything about Freemasonry, its traditions, its ceremonies, its social side, but especially the friendships. It fills me with pride when ordinary blokes like us can donate over £1,500 to charity."
One thing is for certain, with Ian in the chair of this shortly to be 100-year-old lodge, giving it all the enthusiasm he is famed for, the brethren will have an enjoyable and entertaining year. Rest assured, this time next year, the lodge will definitely not be 'in another fine mess'.