Each year the Woolton Group celebrate the achievements of brethren who have either received a first appointment or promotion in the Craft or Royal Arch. Over the years this has been organised by Ken Baxter, who is currently not experiencing the best of health, so Gary Devlin stood in for him. This year 19 brethren and companions from within the group received such accolades.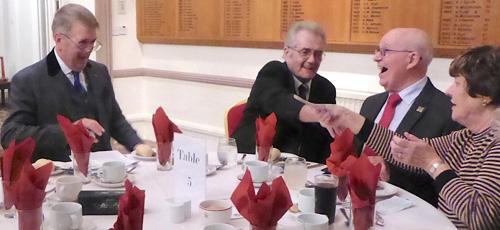 Over 55 brethren, wives and partners met at Woolton Golf Club for the celebrations, in the presence of the Assistant Provincial Grand Master Kevin Poynton and group chairman Andrew Whittle. Unfortunately, Sam Robinson, who had received a promotion in the Royal Arch, was unable to attend.
Gary Devlin acted as director of ceremonies for the evening and the group vice chairman Mike Cunliffe acted as chaplain.
Andy Whittle welcomed everyone to the event and explained that there would be a raffle during the evening, the proceeds of which would be given to the MCF 2021 Festival. He followed this announcement with an explanation of the meaning of the Festival to non-Masons and how the Province was a net beneficiary. Grace was given by Mike and everyone sat down to a very enjoyable meal and good company, after which he returned thanks.
Andrew Whittle proposed the loyal toast and then Vic Albin proposed the toast to the Woolton Group. Vic praised the group for organising some splendid social events throughout the year. Not just for Masons but also for groups such as the local pensioners, who thoroughly enjoyed last year's event and looked forward to another such event in December this year.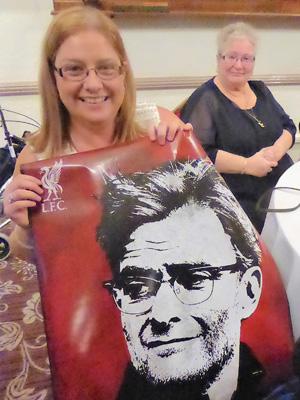 In response to the toast, Andrew Whittle explained the honours system, saying that a brother or companion must have done some remarkable work, either in Masonry or in the wider community. He said that grand ranks are few in number and is the sole recommendation of the Provincial Grand Master to the Grand Master, or Grand Superintendent to the First Grand Principal. Provincial grand ranks are not awarded lightly and only given after great study. Promotions are strictly limited in number and are only awarded for tangible evidence of continued service since a first appointment. 13 of the celebrants were present and Andy read out the celebrant's name and each in turn was met with rapturous applause.
Arthur Cregeen was promoted in grand rank to PJGD, whilst the following brethren received their first appointments Harry White, David Dutton, David Spear and Ian McGovern. Receiving a promotion was Eric Binks, James Campbell, Christopher Lyon, Gary Devlin, Albert Hogg, David Wood, David Rimmer, Alan Carter and Thomas (Tommy) Lunt. The six brethren who were unable to attend were George Christie, Philip Gambrill, David Moore, Graham Sinden, David Wood and George Gaskin.
Andy thanked Gary Devlin for organising the evening and chef Rendi and his staff for a wonderful meal.
As a surprise, Andy mentioned that two brethren had or were about to reach their 70th birthday; David Newland, who had just had his birthday and Tommy Lunt, who was about to celebrate his. A short rendition of 'happy birthday' was sung, while two magnificent cakes appeared.
But Andy had not quite finished, for there was one other surprise. Sara, Tommy's daughter, who is an avid Liverpool fan, often complained that Tommy would never bid on any Liverpool memorabilia, so Andy had threatened a visit from Jurgen Klopp, who unfortunately could not attend, but had signed a large signed poster for her bedroom wall and a Christmas card signed by the LFC first team.
In conclusion, Andy said the raffle had raised £231, which brought the group total so far this year to £2,000, he then thanked everyone and hoped that they had had an enjoyable evening.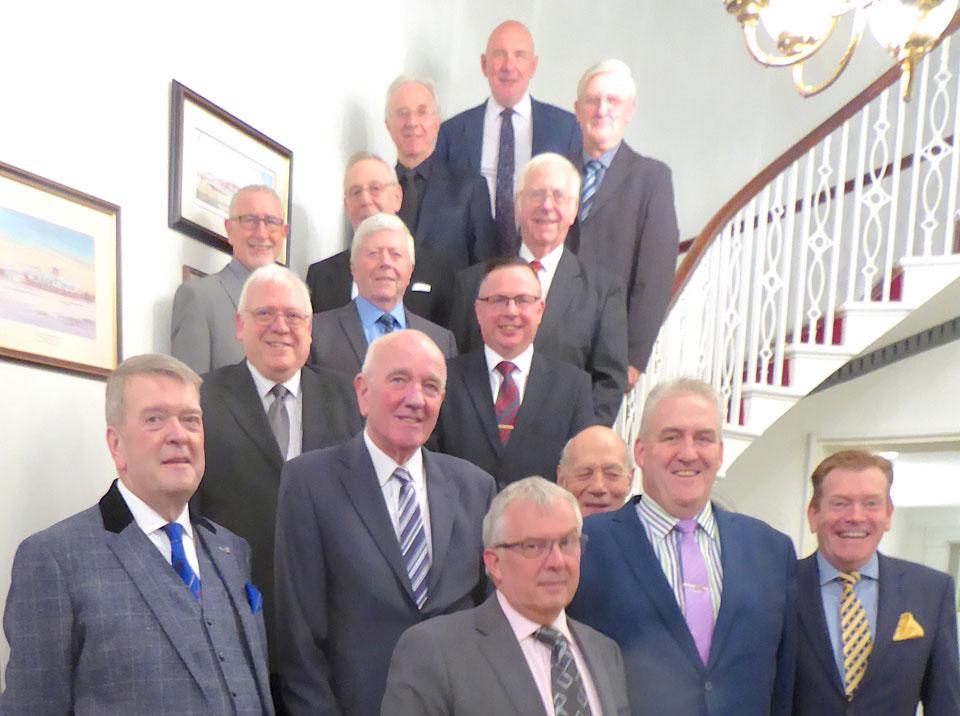 Article and pictures by Colin Roberts.