At the installation meeting of Scorton Lodge No 5791, Andy McClements was installed in the chair of King Solomon at by WM Steve Parker in the presence of the Provincial Grand Master Tony Harrison. Tony was accompanied by Provincial Grand Director of Ceremonies Malcom Bell, Provincial Assistant Grand Director of Ceremonies Barry Fitzgerald, Provincial Grand Secretary Peter Taylor, Lancaster Group Chairman Neil McGill and Provincial Senior Grand Deacon Steve McClintlock.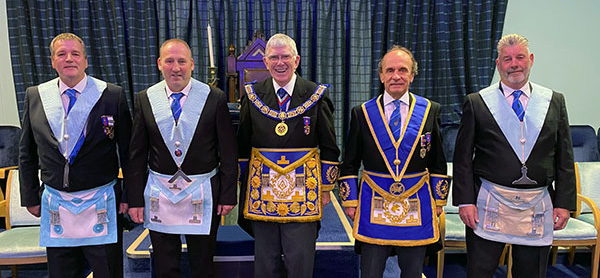 Andy McClements was presented for installation as the lodge's 73rd WM by Andy Curwen who was his proposer into Scorton Lodge. Andy is a former prison officer turned businessman who now manages an industrial estate in Lancaster. He is Lancaster Group Charity Steward and one of the stalwarts of the Provincial Clay Pigeon Team.
At the inaugural meeting of the clay pigeon team in 2017, Andy was a member of the team that won the Peter Spencer Clay Pigeon competition, beating teams from across England and Wales. Andy was born in Lancaster of Irish descent and Julie is his long-term partner. He has one daughter and two stepdaughters.
During the ceremony, the third degree working tools were presented by Chris Yates; those of the second degree by Colin Preston and those of the first by James Greer. The address to the WM was given by Andy Gardner; that to the wardens by Ken Parker and finally, that to the brethren of the lodge by Tony Harrison.
A total of 71 brethren attended the festive board at which a raffle raised a magnificent £580. The organist for the evening was Doug Little and the master's song was performed by Bob Tinsley. It was very apparent that Andy was thoroughly enjoying the evening and is looking forward to a busy year.