The meeting venue for raising Andrew Sharkey to the sublime degree of a master Mason was the Geoffrey Hirst Masonic Suite within Woolton Golf Club. Andrew was initiated into City Lodge No 2514 in March 2022 and now was being raised to the degree of a master Mason.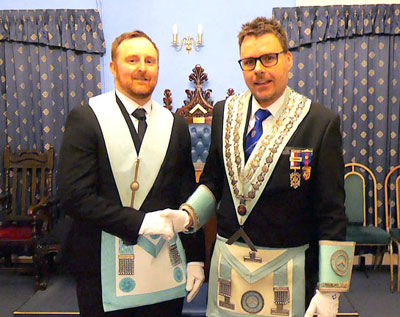 WM of City Lodge Andrew Prowse opened the lodge in due form and quickly moved to opening to the second degree where he enquired if any brother present wished to be raised to the sublime degree of a master Mason. Andrew Sharkey rose and indicated that he wished to be raised. The senior deacon Eric Shepherd accompanied by the junior deacon Peter Knightley attended upon Andrew whilst he gave proof of his proficiency answering all the questions.
Andrew Prowse entrusted Andrew Sharkey with the necessary information leading to the third degree after which he retired from the lodge. During his absence the WM opened the lodge to the third degree and once Andrew was regularly announced by the tyler and attended upon by the senior and junior deacons, Andrew was raised in due form.
The ceremony which was impeccably conducted by the WM who conducted all the work apart from the traditional history and the explanation of the working tools which was confidently delivered by Eric Binks of Toxteth Lodge No 1356. Throughout the evening the organ was played by the Provincial Grand Organist of Cheshire Dr Colin Porter who was accompanying Robert Bird, the WM of Good Companions Lodge No 6759 from Birkenhead, Cheshire.
With the ceremony of raising being completed, the brethren applauded the WM and Eric Binks for a fine deliverance of the ritual and the lodge was closed to the first degree. After hearing the various reports from the charity steward, the almoner and then the secretary, the lodge was closed in due form so that the brethren could retire to the festive board.
At the festive board, a raffle was held which raised £89 and the charity plate in the lodge raised £47, the monies will be distributed to good causes in due time.
During the evening one of the visiting brethren was heard to say that having travelled round the respective Provinces he had rarely seen such an impeccable performance from a WM. This was the first time that City Lodge had conducted a raising since 2012 and what a wonderful evening it had been.

Story and pictures by Colin Roberts.