The brethren and guests of Yachtsman's Lodge No 3698, which also incorporates Otterspool Lodge No 6605 met at the Geoffrey Hirst Masonic Suite in Woolton Golf Club for the last meeting of the season.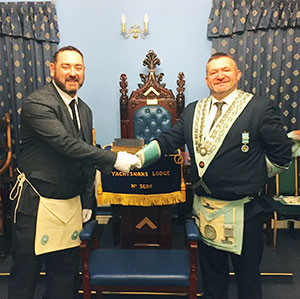 The WM Andrew Elton Jones, with his father Len Jones taking the position of acting immediate past master, opened the lodge in due form and after the minutes of the previous meeting had been confirmed and signed had much pleasure in investing the officers who had been unable to attend the installation meeting. David Keay was invested as senior warden and James Oates as assistant director of ceremonies.
The lodge was pleased to see two of the past masters present, namely Les McFarlane and Steve Ashcroft, as the two of them had not been able to attend for a while.
The WM asked if there was any brother present desirous of being passed to the second degree and Andrew Aitchison stood and was assisted by the lodge deacons. Having answered the usual questions Andrew was entrusted and retired from the lodge to be attended upon by the tyler John Hibbert.
The lodge was opened to the second degree and Andrew was readmitted to be passed in accordance with ancient tradition. The working tools of the degree were presented in an exemplary manner by Jonathan Pagan. At the end of the ceremony the WM congratulated Andrew who took his place in the lodge.
Other business having been transacted, the lodge was duly closed and the brethren retired to the festive board. In a break from the traditional Christmas fare however, the lodge had opted for a complete change of menu, consisting of black pudding, the golf club's well renown battered fish and chips, and to be completed with a fresh fruit trifle, along with tea or coffee.
The tyler brought the evening to a close by proposing the last toast and the brethren made their way home, no doubt full of festive spirit, as well as a scrumptious meal.