It was just another ordinary morning with Chris and his family, the silence in the hallway broken by a large envelope falling onto the floor. Chris was not expecting any post so he picked the envelope up and on opening it he was unable to believe what was inside. This is Chris's story.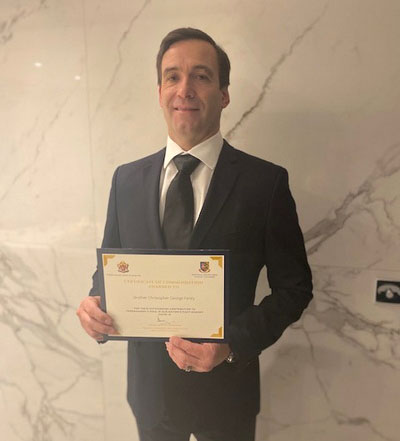 At the start of the COVID-19 outbreak, Chris Farley from St Paul's Lodge 5459 decided to do whatever he could to help those that were most at risk, not only from the COVID virus itself but also from being left behind and forgotten by the wider society. Chris received an email from the secretary of his chapter (Chapter of Perseverance No 155) requesting assistance and asking for volunteers; Chris could get in touch with University Lodge of Liverpool No 4274 and the brethren Adam Lindop and Liam Haywood.
The initial remit was to assist Freemasons and their families by completing shopping and prescription picks-ups, as well as regular welfare checks both via telephone and email. With the assistance of Adam from the University Lodge of Liverpool, a regular supply of PPE was secured and safety protocols and procedures were put in place to ensure that volunteers and service users' safety was assured during the assistance process. It was also apparent that a system of organisation and communication would be needed that allowed the group to not only log jobs from the service users but also to allocate the jobs to the best volunteer for the job. A WhatsApp group was formed by Adam in order to allow volunteers to request jobs, a system that proved very efficient. If a volunteer was unable to complete a task, then another volunteer would be able to take it on board thus ensuring the task was completed.
Liam, also from the University Lodge of Liverpool, was tasked with carrying out the main bulk of the administration, leaving the rest of the team to get their feet on the ground and do the physical work. Liam completed regular welfare checks and did shopping as and when required. In order to ensure that the volunteers were not stopped from delivering aid that would be needed, official designation cards and letters of authorisation were produced. These were secured by Alan Moore, the University Lodge of Liverpool secretary who provided assistance and advice at all hours, including communicating with other lodges and the wider masonic community.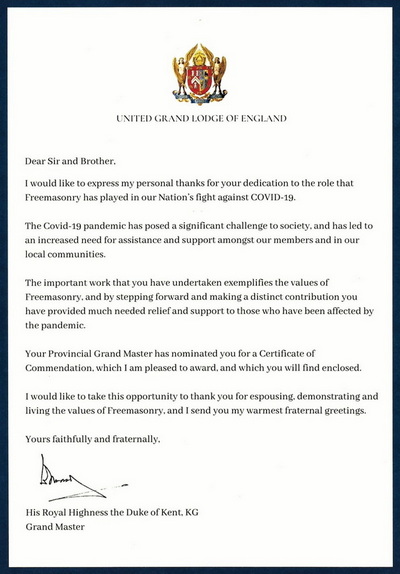 When the group began to assist a service user who had acute medical, psychological and dietary needs, Pop Szillard from University Lodge of Liverpool stepped up to the plate and offered to become her personal shopper.  This meant travelling from his home in St Helens several times a week in order to deliver shopping as well as speaking with her on the phone where moral and psychological support was provided.
It quickly became apparent that a large section of the non-Masonic community were in dire need of help so the group set about increasing the number of volunteers as well as widening the range of services they were able to provide.  During this time Adam and the group were able to arrange a delivery of face shields to a care home as well as PPE and food donations to the Whitechapel centre for the homeless in Liverpool.
The group continued to carry out shopping and prescription pick-ups as well as contacting several local foodbanks offering help with the delivery food parcels to anyone that was at risk. The response was very telling and so the group began their work in earnest carrying out up to eight tasks in a day with volunteers travelling between St Helens and Formby. Adam and his partner Holly Tann even carrying out regular pick-ups and drop-offs using their bicycles!
Inevitably the need for assistance eventually reduced. The group then decided to change tack in order continue helping where best they could.  A need for a different type of assistance was quickly identified when Adam and the group realised that during lockdown the homeless community in Liverpool had been largely ignored.  Adam immediately set about repurposing the group and decided that the best way to help would be to provide hot food and drinks during the cold winter ahead.
With the help of James Eaten from St Botolph's Lodge No 2020 in London, some ex-army Norwegian containers were secured in which to transport the food that consisted of curries and scouse. After receiving a donation of £250 from University Lodge of Liverpool further supplies of food were ensured. Clearly this would not be enough so Chris approached his lodge in order to secure another donation. This was used to buy more containers in order to ensure that a regular supply of food and equipment could be transported to and from the city centre as needed.In his day work Chris provides advice and direction to the homeless, and this was instrumental in the smooth running of the operation. The same volunteers that had been at the formation of the Masonic Assistance Team continued to give their time and effort in helping to feed the homeless in Liverpool city centre. Pop Szillard going beyond the call of duty by driving from St Helens every week to transport not only food and drinks, but also volunteers!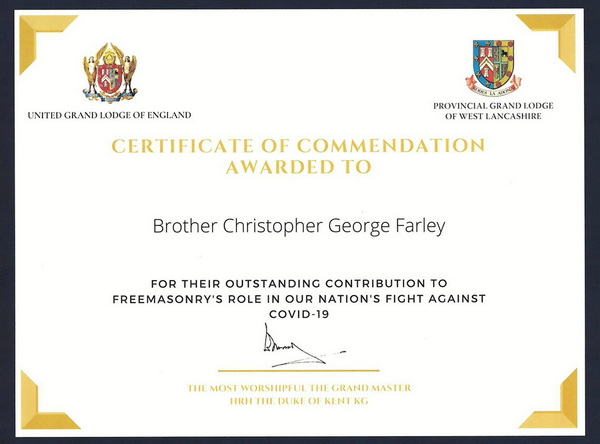 A large part of Chris's Masonic life is the provision of aid to those in need, which is something he expected without reservation from the Masons within the group. What he did not expect was the large amount of support that he received from the Masonic partners, who without a second thought engaged in the work that needed to be carried out.
Toni Hughes assisted in the preparation and cooking of food on a weekly basis and on many other occasions she cooked it single-handedly. On her day off from working as a care assistant she frequently carried out shopping and cooking duties. Holly Tann, despite being in the middle of working on her PhD in Physics was still able to find time to carry out shopping trips, prescription pick-ups and drop-offs. All in all, the team have literally travelled 1000s of miles and carried out over a 1,000 tasks ranging from shopping to prescription drop-offs as well as assisting care homes with PPE.
On the morning that Chris received an unexpected envelope through the post he opened it and was delighted to find a Certificate of Commendation and a letter from the HRH The Duke of Kent KG. Good works do get noticed!