One of the highlights of the year for any lodge is the installation ceremony and it was the same this year for the Hale Lodge of Fellowship No 3799.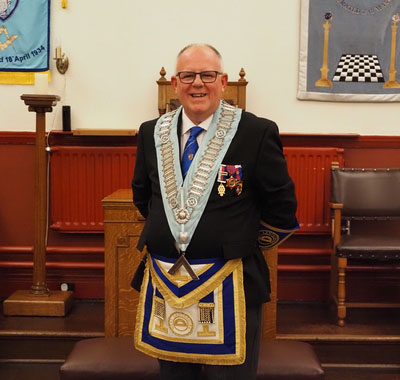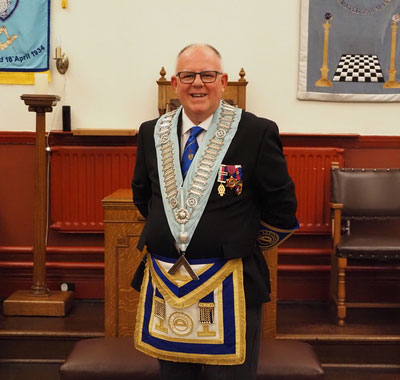 An installation is an occasion which every member of the lodge is keen to attend, along with friends of the lodge and of course invited guests. The occasion is always honoured by the Provincial Grand Master or one of his representatives. It is always a splendid ceremony to either take part in or to watch, and is always followed by a hearty meal afterwards at the traditional festive board.
This year the new WM of Hale Lodge of Fellowship would be Steven McNee and he would be installed by his predecessor, David Luing.  Everyone was looking forward to the occasion and then without warning COVID-19 struck.
After a spring and summer devoid of meetings due to COVID-19 it was a relief when in August meetings of up to six people were allowed to take place. Changes were made to the ceremony so that it could be performed with the reduced number of officers taking part, whilst at the same time adhering to social distancing and other safety considerations.
The ceremony went ahead and despite only six officers being allowed to take part everything went smoothly and according to plan. Steve McNee was installed as the new WM and he then appointed his officers for the following year. At the close of the meeting the lodge secretary read a proposal from David Luing that Past Assistant Provincial Grand Master Kevin Poynton be elected to honorary membership of the lodge with immediate effect; this was promptly seconded by Widnes Group Chairman Neil Pedder. A ballot was held and all were in favour.  This reflected the views of all lodge members as this had previously been discussed during a committee meeting as well as by phone.
The meeting was closed and four people immediately donned their masks in order to drive to a smart restaurant chosen by their new WM, Steve McNee. The food was nothing short of amazing but after a large starter and main course there simply was no room for dessert.  When the bill came this was immediately seized by Steve McNee who insisted on paying for the meal.  Everyone offered to contribute but this was not accepted, and after all who really would want to go against the wishes of a newly installed WM?  The waitress took the payment and returned a few minutes later offering the table a round of drinks, courtesy of the restaurant manager.  This was naturally accepted and a fitting end to a really enjoyable evening.