Chapter of Harmony No 220 was founded in 1854, following the petition of the then Provincial Grand Master Sir Thomas George Fermor-Hesketh Bart., to hold a Royal Arch chapter, presented by the brethren of the Lodge of Harmony No 220. At the time the Provincial Grand Treasurer presented a bible to the lodge and chapter, which is embossed with 'Lodge of Harmony No 220 presented by Joshua Walmsley', which is still used by the lodge today.

In 1924 members of the lodge and no doubt the chapter, laid the foundation stone to the Masonic Hall, Garston, and so it is fitting many years later, that companions and guests came to celebrate the installation ceremony of a new first principal in the very same hall.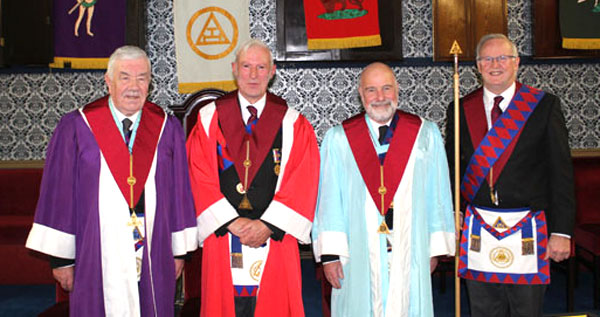 Director of ceremonies Gary Mason superbly directed the opening of the chapter, assisted by Kenneth Bradley who stood in as first principal, Alan McCluskey as second principal and Mark Mellor who also stood in as third principal.
The chapter having been duly formed and opened, swiftly moved on and unanimously balloted for a joining member, Thomas Jones, who had been a past principal of the chapter. Tom was very warmly welcomed and Kenneth commented how pleasing it was to see Tom back in the chapter of harmony.
Director of ceremonies Gary, having retired for a short period, announced that the representative of the Grand Superintended stood without, the companions came to order whilst Colin Rowling, Assistant to the Provincial Grand Principals, accompanied by Mersey Valley Group Chairman John Murphy and vice Chairman John Gibbon entered the chapter. Colin having been introduced to the three principals was very warmly welcomed to the chapter.
Third principal elect Bob Rowland was presented to Alan McCluskey who conducted the ceremony very well, Bob orated his obligation faultlessly and it was pleasing to see that the scripture reading was performed by vice Chairman John Gibbon.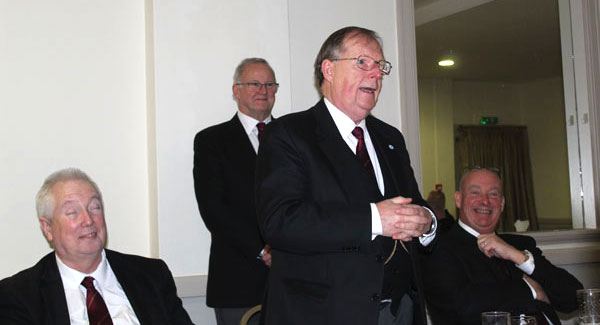 Kenneth Bradley then requested would Albert McDonald assist the chapter and occupy the chair of second principal. Alan McCluskey was then presented to Kenneth by Gary Mason, as first principal elect, again as Bob had done so before him, Alan was also perfect in his obligation. Chairman John Murphy then read out the scripture selected for the installation of a first principal.
Kenneth having declared a conclave of installed first principals, installed Alan in perfect form investing him with his robe, collar and sceptre. Alan then closed the conclave and opened a conclave of installed third principals. This was Mark Mellor's cue to install Bob Rowland as third principal which he did with aplomb, investing him with his robe, collar and sceptre.
Principal sojourner Eirwyn Jones delivered with forte the scarlet robe address to Alan, which was polished to perfection, however, not being done with such an impressive delivery of ritual then requested that third principal Bob rise, furnishing an equally impressive blue robe address. Both were given so well that Colin Rowling later described at the festive board the oration of ritual by Erwin as delicious.
At the conclusion of the installation ceremony, Colin rose and congratulated the three principals on a very impressive installation, particularly with involvement of those companions who had stood in at short notice. Colin also praised director of ceremonies, Gary Mason on a superb orchestration of the chapter, and finally crossing the floor of the chapter, congratulated the principal sojourner Erwin for his already aforementioned oration.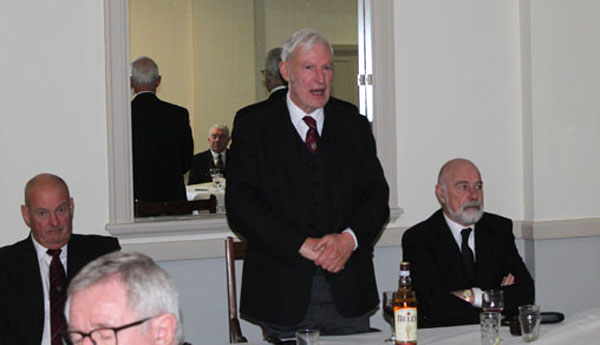 Alan then presented cheques to honour the charities to Colin, who having asked permission to read the contents of the cheques thanked the companions for their very generous donations consisting of £220 to the West Lancashire Freemasons' Charity and £220 to Garston Masonic Hall.
The chapter business being duly completed all retired to continue the celebration in the dining room of Garston Masonic Hall. Chapter of Harmony like its name is a very friendly chapter and the festive board was full of laughter and camaraderie. Colin once again thanked all those who had taken part in the ceremony and as already stated that it had been a superb display of ritual and that he very much looked forward to visiting the chapter again.
Alan McCluskey echoed those sentiments thanking all those who had helped to install him as first principal and that it was his second time having been principal of King's Chapter No 3101 which sadly handed in its warrant last year. Alan is looking forward to a busy year and with a planned exaltation, both Alan and the companions of Chapter of Harmony have plenty to look forward to.