It was an installation like no other at Prospect Lodge No 7880 in Chorley. In the lead up to the installation, the director of ceremonies had a number of fraught days of trying to cover offices as illness or work commitments prevented key players from attending the installation.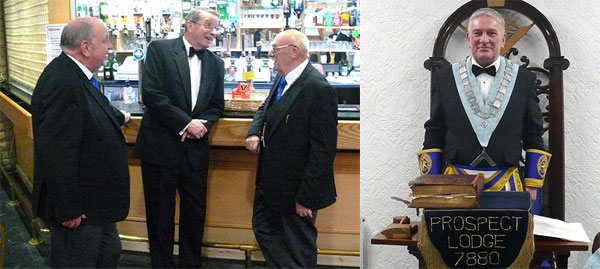 In the end it meant working without deacons, losing the address to the wardens and the proclamations in the three degrees. But finally, as the day dawned, the stage was set, offices were filled, addresses covered, brethren rehearsed, master elect primed and ready to go – what could go wrong!!
Well for a start the director of ceremonies Steve Williams was new to the post; it was his first ceremony so there was no opportunity to break him in gently. Then there were no reserves in the wings. If someone didn't turn up on the night, the office didn't get filled.
Then there was the problem that the team hadn't worked together for 18 months. Absolutely anything and everything could go wrong and in front of high-ranking guests. These were the thoughts going through the minds of the members of Prospect Lodge at their installation of Terry Cunningham.
They need not have worried. The principal guest Malcolm Dewhurst and the group treasurer Colin Preston joined them to enjoy a wonderful evening in which everyone played their parts exceptionally well. The Prospect team pulled together and produced a ceremony to be proud of.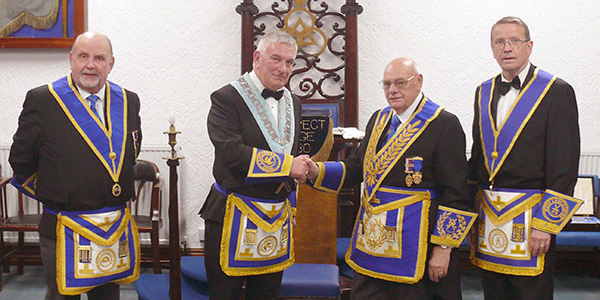 The new master Terry Cunningham can be proud of the way in which he was installed. Tony Lowe led the team with a word-perfect performance, giving confidence to the rest of the team to also give a high standard of ritual. It was the second time Terry had been installed so he could relax and enjoy the ceremony as it held no surprises for him.
The social board that followed was in Prospect Lodge's fine tradition; soup, roast beef and apple pie accompanied by fine wine and ale!!! Good food and good company were definitely the order of the day. Another tradition upheld which the members and their guests always look forward to was the singing of the master's song by Brian Flynn, accompanied by Ken Ingham, a tour de force as always!
The night proved that you do not need large numbers to enjoy Masonry. Small numbers and some imagination on fitting the ritual to the circumstances will produce just as enjoyable an evening, possibly more enjoyable in fact.
Well done Prospect in producing a very high class of installation under very trying circumstances.