A very special occasion occurred at Imperial Sefton Lodge No 680 with the initiation of Kunwar Rakesh (Suvi) into the lodge; a candidate who has passed through the Pathway Membership scheme.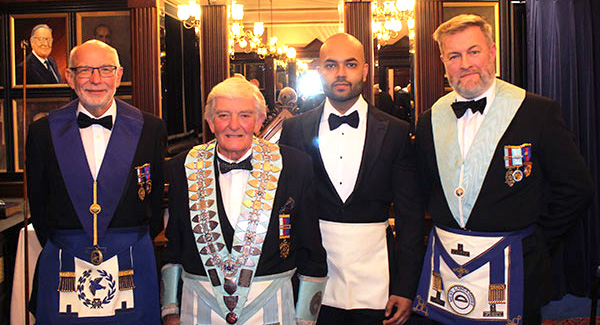 The Membership Pathway is designed to take a man interested in Freemasonry who is not yet a member on a journey to becoming a committed master Mason.
With an initial approach via an internet application through the West Lancashire website, Suvi met with the WM of the lodge Ernie Waites and lodge secretary Bill Culshaw in February 2020 over lunch and he was impressed with the profile of the lodge.
Meeting at the Artist Club, Eberle Street, Liverpool, Suvi was very impressed with both the venue and the lodge room, describing them both as having a really good vibe and further increasing his interest in Freemasonry.
As a young man who has gone from being a lawyer to starting a tech company, Suvi had been interested in Freemasonry and found the application process a really good experience that he would recommend to others who are looking to explore what it means to become a Mason.
A date was set for the initiation ceremony but multiple lockdowns and venue restrictions meant that date changed many times over the course of more than a year until finally the wait was over.
The lodge was opened by Ernie who was very ably assisted by the senior deacon David Boyes who performed a faultless and sincere ceremony that was very impressive to observe.

The standard of excellence continued with WM Ernie in his delivery of a superb rendition of the ancient charge. Suvi commented later that he was extremely impressed with the delivery and memorisation of the whole ceremony, thanking all of those who took part.
The lodge being duly closed the brethren, along with their newly-made brother made their way to celebrate Suvi's first festive board. Seated with Ernie, Bill Culshaw and guest Gladstone Group Chairman John James, the festivity began.
Secretary Bill, in delivering a toast to the new candidate welcomed Suvi to the lodge and delivered a humorous speech which was very well received. In response, Suvi thanked all the brethren that had helped to make it a very special occasion and one that he would remember for the rest of his life. He was delighted to be a member of the lodge and, with loud applause and encouragement the brethren present echoed his sentiments indeed.
Suvi is very much looking forward to continuing his Masonic journey and the lodge welcomes him to this Masonic brotherhood and wish him every success in the future.