More than 200 visually impaired and lonely local people will be given vital practical and emotional support, thanks to a grant of £57,000 to Galloway's Society for the Blind from West Lancashire Freemasons.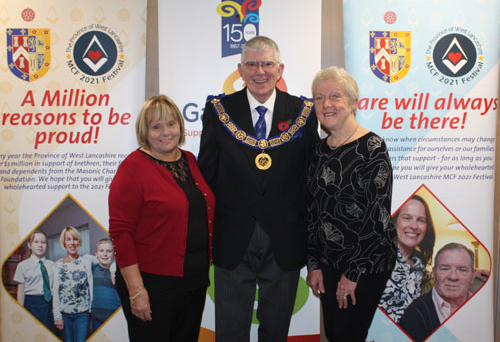 The grant supports the 'Be Seen' project aimed at people over 50, who will be given specially tailored support plans to cater for their individual interests and needs including advice about the latest technology and equipment. The overall aim of the project is to help blind and partially sighted people to reduce loneliness and establish a sustainable support network for the future.
Visiting one of Galloway's special support centres, situated in Morecambe town centre, Provincial Grand Master Tony Harrison was treated to a wonderful morning, meeting staff, volunteers and service users, and learning much about the work of this wonderful charity in his hometown. He was accompanied by Keith Kemp and Colin Rowling and they were greeted on a cold and windy morning with a welcoming coffee from the café and meeting place that is the public face of the charity.
The morning began by meeting Laurel Davey from Southport and Linda McCann from Preston, both partially sighted and both of whom had benefitted from their engagement with Galloway's. Both shared their experiences and explained in detail how the services provided by the charity had been of help and support to them.

Laurel stated: "It's no exaggeration to say it changed my life." She went on to explain that the main issue for the partially sighted is isolation, thinking that you are alone. Getting involved with Galloways has given her the confidence to do more in life and tackle everyday problems she would have previously avoided.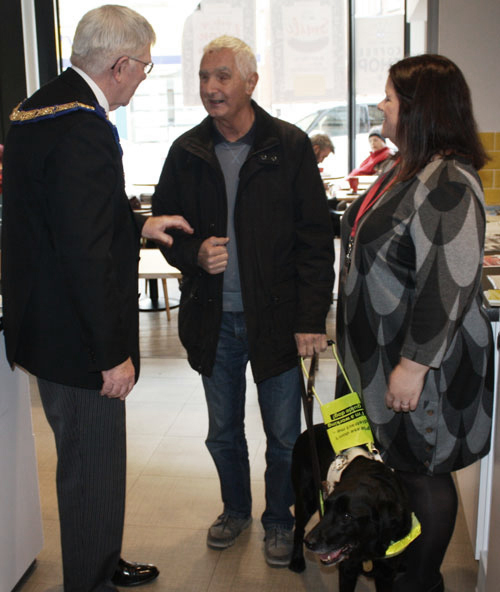 As well as the very practical elements of the package, Galloway's will provide much-needed emotional support, to combat the depression and isolation that so often accompany sight loss. Every year, the charity provides services that help 1,000s of people to regain their confidence and independence.
Laurel further explained that for a partially sighted person to approach a charity is a massive and daunting step. Knowing that the grant is destined to fund a sight advisor to go out in the community and proactively seek out those who may benefit is a major step forward.
Head of Income Generation and Communications for Galloway's Nicola Hanna said: "We're absolutely delighted that the West Lancashire Freemasons have chosen to support Galloway's. This generous grant means we can reach even more people who might be struggling with the effects of sight loss, and who might be feeling isolated and depressed. Our goal is that nobody should have to face sight loss alone."
The visitors then met volunteers Geoff Swan and Patrick White, both partially sighted, who explained the new developments in technology that were changing the lives of the partially sighted, and Nicola introduced Tony to one of the charity trustees, Tony Kimpton, who by chance called in with the help of his trusted canine companion.
Tony Harrison said: "I'm very pleased we've been able to help Galloway's with their hugely important work. Sight loss can be devastating, and the practical and emotional support that Galloway's gives to 1,000s of visually-impaired people is absolutely crucial."
The grant from West Lancashire Freemasons comes through the Masonic Charitable Foundation, which is funded by Freemasons, their families and friends, from across England and Wales.
The visit was a real eye opener for Tony and his colleagues, amazed at the level of support and assistance the charity provides. It is just another example of the good causes that are supported in our own West Lancashire Province and of the importance we should all place on supporting the MCF festival.