Members and guests of Adelphi Lodge No 6819 arrived early to enjoy a welcome glass of sparkling wine, prior to the opening of the lodge. The regular meeting had been summoned to celebrate the golden anniversary of Derek Johnston, a master Mason, who, because of his professional commitments, has never passed through the chair of his lodge, although his private and working life was crammed full of other amazing achievements.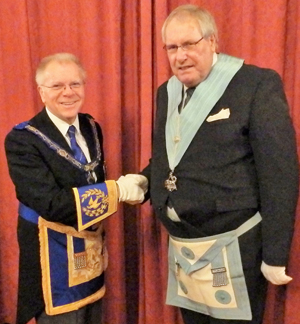 At 5.30pm, the lodge was opened in the first degree by the WM Mike Fox, assisted by his wardens Dean Scrutton and Dean Dwyer. Following confirmation of the minutes from the previous meeting, director of ceremonies Paul Shirley retired and on his return announced that Provincial Deputy Grand Director of Ceremonies Ian Halsall was without and sought admission. Upon his entrance, Ian announced that Assistant Provincial Grand Master Derek Parkinson was without and demanded admission. Mike responded that they would be delighted to receive him. Two Provincial deacons John Irwin and Dave Lindley, placed themselves beside the door and the brethren stood to receive Derek along with Gladstone Group Secretary Ian Sanderson and acting Provincial grand officer Harry White. Ian introduced Derek to Mike, who welcomed him and offered him the gavel. Derek replied that he would normally return it but as he was attending for a very special reason, on this occasion he would accept and eagerly occupied the master's chair.
Ian then called the brethren to attention, to salute Derek five times with the entered apprentices sign. Derek responded by thanking the brethren and greeting them well. Derek then informed the members and guests of the reason for his visit, to celebrate 50 years in Freemasonry of Derek Johnston. He asked that Derek be placed in a comfortable seat in front of him and requested the inner guard to invite the tyler to enter the temple to enjoy the presentation. In his capacity as APGM, Derek has many 50th's to officiate at every year and conducts each and every one with the same enthusiasm, which is obvious by the amount of research he puts into every celebrant's family and background, both professional and Masonic.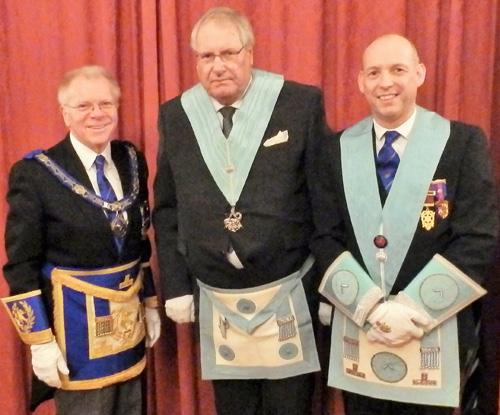 Derek Parkinson informed everyone that Derek  was married to Cindy and that they have two sons and that it was the celebrant's father and father in law, both active Freemasons, who were instrumental in his interest in the Craft.
Derek mentioned the schools the celebrant had attended and his apprenticeship as a printer with Bemrose Printers. After completing his apprenticeship, his hobby photography, soon became his preferred way of making a living, successfully tendering to become the official photographer for all royal visits to Merseyside. Through his work with two local newspapers, covering matches at Liverpool and Everton, he was approached by Everton Football Club to become their commercial manager, a post he held for seven years and only left when he was asked by the FA to become a centre director, responsible for teams playing in Liverpool and Manchester during 'Euro 96'.  Derek continues to work in football and is currently working for the English Football League as their television match manager for the televised matches, liaising between Sky, the League and the clubs.
Derek also managed in his spare time to become a member of Liverpool Lions Club for 15 years, raising money for local, national and international projects. As a show manager he organised the Liverpool and Woolton shows, which were annual events some years ago. Derek became a member of the Royal Liverpool Hospital League of Friends and then a trustee and chairman of the Friends for 20 years. During this time he took on the task of raising one million pounds for a CAT scanner. Another fund-raising scheme he instigated and organised was the Mersey Marathon, which continued for ten years.
Through his friendship with a member of Adelphi Lodge, he became a joining member, but because of his work commitments, spending a lot of time in London, he decided not to progress to become master. On completion of his presentation, Derek Parkinson requested Ian Sanderson to read out the certificate recording the golden jubilee, which had been signed by the Provincial Grand Master Tony Harrison, conveying his congratulations and very best wishes. The APGM then presented the certificate to Derek and the brethren cheered and applauded loudly.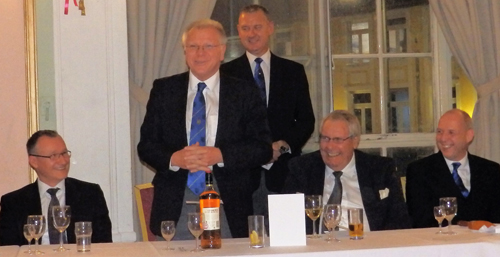 Derek Parkinson then asked Mike if it was his wish to take his rightful place in the lodge and occupy the WM's chair.
Derek returned to his seat, but quickly rose and approached the celebrant again. To Derek Johnston's surprise and the joy of everyone present, Derek Parkinson announced that although the celebrant had never been installed as master of the lodge, he was delighted to be able to immediately appoint Derek to the rank of Past Provincial Assistant Grand Director of Ceremonies, to celebrate not only his 50 years in Freemasonry, but also because of the huge amount of charitable fund raising he has directly or indirectly been involved with. As the APGM placed a collar around Derek's neck, the brethren again gave a thunderous and well deserved round of applause.
Following communications from Grand Lodge, Ian called the brethren to be upstanding, whilst Derek and grand and acting Provincial grand officers retired. Prior to taking his place in the procession, Derek approached the celebrant and asked him to accompany him.
The lodge was eventually closed in due form and perfect harmony. 40 members and guests then gathered in the Crosby Suite of the Adelphi Hotel, to partake in a pre-dinner drink before taking their seats to enjoy a fine four course meal, served by the friendly catering staff.
The dinner provided everyone present with an enormous feeling of fellowship, brimming with the hospitality that Adelphi Lodge is renowned. The toast to Derek Parkinson was proposed by Ian Sanderson and the toast to the celebrant was proposed by Dave Lindley. Derek, who had opted to save his response to his celebration within the temple, replied with humility, thanking everyone who had taken part in the proceedings.
All to soon it was time to call upon the tyler John Hibbert, to give the final toast of the evening. The end of a very memorable night for Derek, the members of Adelphi Lodge and all the invited guests.
Article and Photographs by Phil Marshall