Members and guests of Toxteth Lodge No 1356 met at the Geoffrey Hirst Masonic Suite within Woolton Golf Club to witness another excellent first degree ceremony.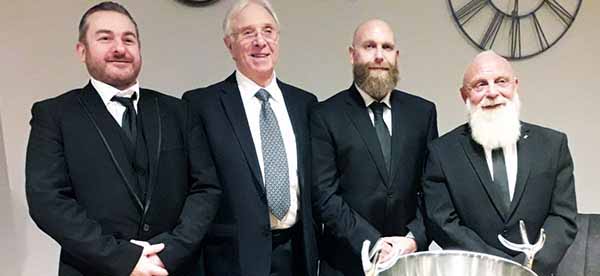 On a pervious occasion the WM Ian Folksman was more than happy to allow Stephen Robinson to take the chair for the first part of the ceremony so that he could initiate his second son Anthony into the lodge; the second part of the ceremony being conducted by Eric Binks.
Again, on this occasion Ian Folksman allowed Stephen Robinson, who had seconded the proposition for the candidate, to conduct the first part of the ceremony and he took over for the second part to initiate Paul Edwards. Steve Lawler, who had proposed the candidate, acted as junior deacon and John Sutton as senior deacon. The charge was confidently delivered by John Leisk.
Group mentor Hughie O'Neil congratulated Paul Edwards and presented him with some explanations of the ceremony and said he would speak more about the ceremony at the festive board.
Eric Binks made a proposition which was duly seconded and agreed that the sum of £100 be used by the lodge to buy some children's shoes for those in need as the food bank appeal had been very successful and gratefully received by the Food Bank.

During the evening Eric Binks informed those present that an anonymous donation of another £100 had been received to buy more shoes.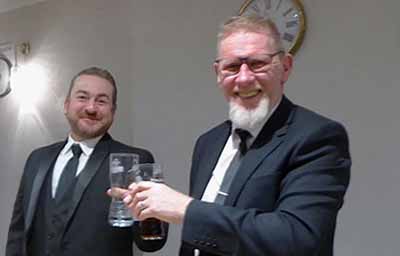 Hughie O'Neil, who was unable to be present at the previous two initiations, provided more explanations to the newly made brothers of the bond of friendship of Freemasonry.
Paul Edwards, having received the toast to his health from Ian Folksman, had the entered apprentice's song sung to him, led by Eric Binks and the brethren present. A raffle raised the sum of £155.
In response to the toast Paul said he had been overwhelmed by the events of the evening and very much looked forward to being a part of the lodge.
Phil Birch proposed the toast to the guests and the tyler John Hibbert brought the evening to a close.
Story and pictures by Colin Roberts.