In the latest of a number of planned events in support of the Masonic Charitable Foundation 2021 Festival, the Garston Group held 'An evening with Mikey Powell', which raised some £600 with the proceeds going to this worthy cause, as well as supporting the hall which is home to the group.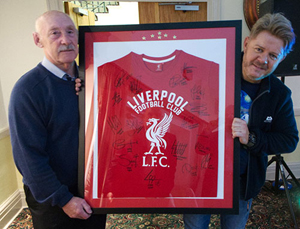 Some 50 brethren and guests were greeted on arrival with a choice of a 'Bucks Fizz' or a glass of wine to begin a very enjoyable evening featuring the vocal talents of local boy Mikey Powell who, amongst his other achievements, was a winner of the 'Stars in Their Eyes' TV series.
Prior to the entertainment, a carvery dinner prepared by the in-house catering team was served in the hall's main dining room and was enjoyed by all. With the dining room now cleared, Mikey took to the floor and completed his first spot of the night singing a range of songs from Sinatra, Matt Monro, Scott Walker and many, many more.
Returning to deliver his second set and with the tempo raised, the dance floor was soon occupied by the dancers amongst the audience, Mikey delivered an even wider range of songs to the appreciation of everyone present.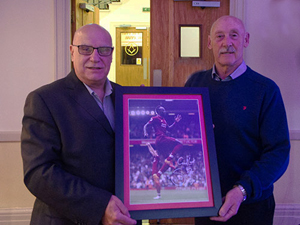 Concluding the evening an auction of sporting memorabilia was held. With a signed shirt of the squad of 2019 Champion's League winners, Liverpool FC along with a signed photograph of squad member and Senegal International, Sadio Mané. Both items had been kindly donated by the group festival representative, Jim Corcoran. The winning bid of £230 for the shirt was made by Mikey Powell and for the signed photo, group member Rob Jones won with a bid of £60.
With the addition of a raffle, all the proceeds of the evening will enable the group to further reinforce the efforts of our West Lancashire Province in its aim of raising as much money as is possible to support the Masonic Charitable Foundation 2021 Festival objectives.