The brethren of Lodge of Allegiance No 7352 and their guests were delighted to welcome Assistant Provincial Grand Master Derek Parkinson to their recent celebration of 50 years in Freemasonry of Ken Dobie, held at Garston Masonic Hall.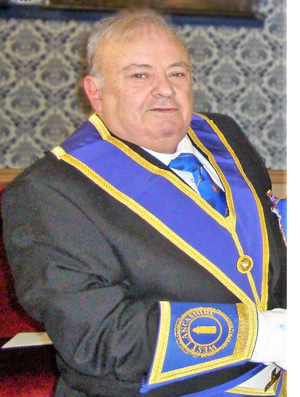 The lodge was opened by current WM Stewart Dobie, who just happens to be Ken's son and the routine business of the lodge was conducted. Deputy Province Director of Ceremonies Ian Halsall then announced that Derek was without the lodge and demanded admission. Derek was accompanied by fellow grand officer Howard Griffiths, Garston Group Chairman John Murphy and group vice chairman Dave Atkinson, all of whom were warmly welcomed by Stewart and the brethren.
Stewart was then pleased to offer Derek the gavel of the lodge, which on this special occasion, he was equally pleased to accept and so took the master's chair to deliver a comprehensive eulogy of Ken's Masonic and domestic life.
Ken was born on Thursday 17 January 1946 and as is his usual custom, Derek had taken the time to research some interesting information of world events in the early years of Ken's life. As would be expected, many of these involved the latter years of the Second World War, including as Derek stated "On the 7 of May the previous year, Germany had officially surrendered to the Allies and four months later on 2 September, Japan had signed the instrument of surrender, bringing to an end the six years and one day of the Second World War".
Moving on to brighter times, Derek continued by saying that the 1950's and 1960's signalled a big change in various aspects of life in this country and worldwide. In the 1950's things seemed to get a lot better and there were many reasons for celebration, petrol rationing ended, followed by the end of sugar rations and eventually all rationing ended. In 1953 at around the same time that Queen Elizabeth II was crowned, Sir Edmund Hillary and Tenzing Norgay reached the summit of Everest. The following year Roger Bannister ran the first sub four-minute mile, the next year the first polio vaccine was developed by Jonas Salk and four years afterwards, in 1959, the microchip was invented.
Returning to Ken, Derek informed the brethren that Ken was born to Henry and Elizabeth Dobie and christened Kenneth Milner Dobie. He has two sisters Dorothy and Valerie. Dorothy lives in Northampton and Valerie, closer to home, in Rainford and is married to lodge member Frank Gilmartin.
Derek continued with a history of Ken's family name, stating that the origins of the Dobie name in fact lay in 18th century France, where the Dubois family lived before being forced to flee to Dumfries in Scotland, due to religious persecutions in France at that time. In 1810 the family changed their name to Dobie, as this was a common name in the area. Eventually one of Ken's ancestors moved to Liverpool and so his branch of the family began its life in that city. Derek continued, by explaining that Ken's middle name 'Milner' was derived from the maiden name of Ken's great grandmother, Minnie Milner. With the subsequent first-born son being given the middle name Milner.
At the time of Ken's birth, his father was serving as a sergeant major in the 5th Kings Regiment and lived in the local barracks. Derek stated that like most second or third born children and a few firstborns, Derek was born at home and so his birth certificate states that he made his entrance into this world in the 'Drill Hall, Townsend Avenue'.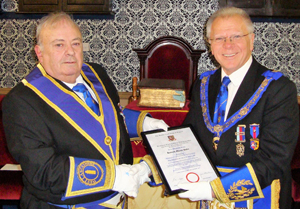 Ken's education began at Stonebridge Infant School and then Croxteth County Juniors and then back to Stonebridge for his secondary school. He left at 15 years of age and soon after started an apprenticeship at R. A Davison, a tiling contractor based in Great Newton Street in Liverpool. After he had served his apprenticeship, he did contract tiling for John Cothliff's plastering company. One of his workmates was Ronnie Hawksey and together they met Paul Rees during one of the contracts. The three of them decided they could do better working for themselves and so set up Allerton Tiling in 1987. The company did very well and was taken over by High Vogue, a tiling company from Mold. Ken remained with the company as the warehouse manager and contracts manager until leaving, intending that to be his retirement. But, still not yet 65, he decided to go back on the tools again, something he had missed over the last few years and he carried on with that until finally retiring about six years ago.
During his younger days, Ken used to go out with his friends John and Pat and on one such night in 1964, Pat brought her friend Esther Riley with her. Ken and Esther started dating and were married three years later at Holy Angels Church in Kirkby. At the time, Esther was working in a shop but had to give that up when she had Andrew, middle name Milner of course and then a few years later twin sons Stewart and Graham were born. When the children had gone off to school, Esther went back to work helping as a school dinner lady and then as a teaching assistant.
Ken's sons all followed him into the tiling business, Andrew and Stewart working at E & A Ceramics in Liverpool and Graham as a director at the Tile Warehouse in Birkenhead. They each have one child, his grandchildren Matthew, Louis and Michael. Derek then corrected himself saying "or rather they did when I wrote this just before I went away, but three weeks ago Stewart and Victoria gave you another grandson, David William Joseph, born at Liverpool Women's Hospital".
During his life, Ken has contributed to the benefit of the local community and spent many years as an election agent for one of the political parties, helping at the local council elections. In the 1980's he took on a role as a school governor for Croxteth County Primary School and for Ellergreen Comprehensive, in Norris Green. Until recently, Ken gave a lot of time and support to his daughter in law's 'Brownie pack', helping with the many events and activities that they were involved in and in recognition of that he was made an ambassador for the Brownies.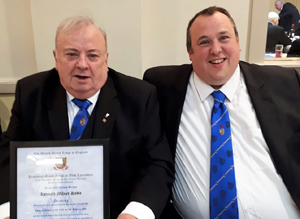 After such a detailed account of Ken's life, Derek then turned his attention to ken's Masonic career, saying, "your introduction to Freemasonry was similar to mine in that our fathers were both Freemasons". Ken's father, had been a member of Pembroke Lodge No 1299, which closed in 2008.  His mum was very supportive of his wish to join and as his brother-in-law Ted Weaver was a member of Lodge of Allegiance, he proposed Ken for membership and Bob Tyrer seconded the proposition. He was initiated into the lodge on 3 January 1969.
Ken passed through the usual offices and after 12 years was installed as WM in May 1981. In those days 12 years was about the average length of time from initiation to installation. He took the chair for the second time 14 years later and then again in 2007. Ken has also had the great pleasure of initiating his son's Andrew and Stewart into the lodge.
Derek continued by stating that Ken has served the lodge as almoner for 14 years and his work was recognised by the Province, when appointed Past Provincial Junior Grand Deacon. Eight years later he was promoted to Past Provincial Grand Superintendent of Works and then in 2009 he was promoted to the high rank of Past Provincial Junior Grand Warden.
Ken was exalted into Alliance Chapter and joined Everton Chapter No 823, where he became first principal and has Past Provincial rank in the Royal Arch. He also joined a lodge of Mark Master Masons, the Rose Croix and four years ago joined the Knights Templar.
In expressing his admiration, Derek stated, "Brethren I know we are here to celebrate Ken's 50 years as a Freemason, but perhaps many here don't know, that during these 50 years Ken has only missed two meetings. A wonderful achievement and a testimony to how much he enjoys being a member of this order".
Derek then called on Garston Group Chairman John Murphy to read the jubilee certificate, before having the pleasure of presenting it to Ken saying "Ken, you have contributed to serving Freemasonry as WM three times and by your work as lodge almoner and charity steward. You have also given your time freely to work for the wider community. I know you have derived a great deal of pleasure and enjoyment from both and so it is a great honour and a privilege to say to you, Ken, thank you for what you have done for Freemasonry and the wider community in this city and congratulations on achieving 50 years as a Mason and we all look forward to seeing you enjoy many more years as a member of this great order".
In concluding the evening celebrations, Derek returned the gavel of the lodge to Stewart and invited Ken to join him in retiring from the lodge room to enjoy with all the brethren a fine festive board.