Blackpool Group Vice Chairman Steve Jelly tripped forlornly into the deserted lounge bar of Blackpool's Masonic Hall prior to his lodge's installation meeting. He licked his dry lips, his attention riveted on the pint glass in Mel's hand as the cool tipple foamed up the sides and over the top. "Here," said the welcoming steward, "Cop hold of that."
Steve took the glass in both hands and, eyes closed in quiet contentment, downed two thirds of it in one blissful gulp. He sighed deeply and drew the rear of his hand across his mouth. "By heck, Mel, I was ready for that."
Steve took his time with the second snifter, leaning against the bar and gazing about him. "Terrible news about Mooch, Mel; and so young and such a good guy", he reflected.
Steve's reference was to David 'Mooch' Cryer, a member of Emblem Lodge No 6727 who was master of the lodge in 2016 and had passed to higher service only a few days before the meeting.
Mel responded: "Yes, he'll be sorely missed. He was a lovely man and a great Mason, raising 10s of £1,000s for charity, particularly for cancer research and for Trinity Hospice. It'll put a dampener on today's proceedings."
Steve threw a quizzical eye at Mel, "It won't Mel. Mooch wouldn't want it that way. He would insist that we celebrate. And that is what we are going to do. And we are going to put on a hell of a show as a tribute to him. We're all determined to make it a day to remember. That's why I'm so early. I wager that I'm the first here?"
"Yes, but they'll start trouping in any time now. Tom Inman will be next no doubt. In fact, this sounds like him now."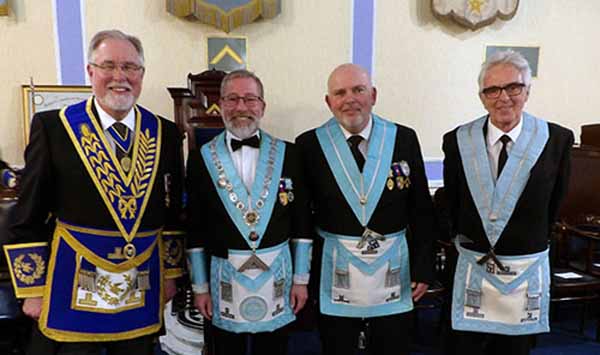 But it wasn't Tom. It was a buoyant, fresh-faced young cove, full of beans and clearly with an eager anticipation of the evening ahead. His burgeoning jauntiness could be simply explained. He was the master elect of Emblem Lodge and it was to be his special evening. Not that this was the first time that Robert Marsden had experienced the joys of becoming the master of a lodge; Robert is an old campaigner in Masonic offices.
It was to be a particularly poignant day for Robert. He and 'Mooch' had been close friends for years and he was determined to make it an evening that Mooch would have thoroughly approved of and enjoyed; hence the buoyancy of his outlook. It was to be a celebration and tribute to his pal.
Soon, the air in the lounge bar of the Masonic hall was alive with an array of desultory chit-chat. Larynxes were being jubilantly exercised and minds broadened. The occasion had attracted a considerable horde of Masons – there was even an assemblage of 12 Scottish Masons who had braved the fierceness of some of February's most challenging conditions. But the Caledonian breed comprises robust coves and a slice of inclement weather won't discourage their hardy spirits.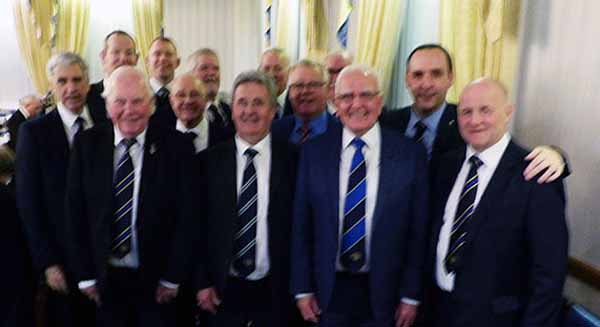 Having decanted themselves amongst the opulence of the lodge room and on completion of the general business, WM Richard Olley was delighted to welcome a pantheon of distinguished guests. A noteworthy procession filed into the lodge and made its way eastwards. It was preceded by the lodge's director of ceremonies Mike Fisher and the main body was headed by acting Provincial grand officers Michael Tax and John Paul Lovie. Following them filed the grand officers; Past Assistant Provincial Grand Masters Harry Cox and David Randerson, accompanied by Stuart Thornber and John Turpin. Lending even greater lustre to the already sparkling line-up was Grand Librarian of the Grand Lodge of Scotland and Past Provincial Grand Master of the Province of Lanarkshire James L Jack. As if this were not enough, Blackpool Group Chairman David Cook threw his weight in as well. Bringing up the rear to put the icing on the cake was principal guest Past Assistant Provincial Grand Master Philip Gardner.
The general business of the lodge having been efficiently dispensed with, WM Richard invited principal protagonist Martin Spencer to take charge of the main event of the evening, that of installing Robert Marsden into the chair of King Solomon. The next moment the performance was in full swing.
Martin Spencer is a quiet and unassuming gent, one that can be readily underrated. But he can rise to the occasion when required, realising his latent talent, if that is the right term. Not that it matters. The point is that he performed the ritual with subtle and sensitive inflection that the vapid and unreflective observer might overlook. He installed Robert into the chair of King Solomon in fine style.
Having been so installed, Robert sank back in the chair, staring out at the throng before him, with a smile that spanned from earlobe to earlobe. He seemed distinctly pleased with the situation, rather like a Cheshire cat presented with a sizeable tin of tuna.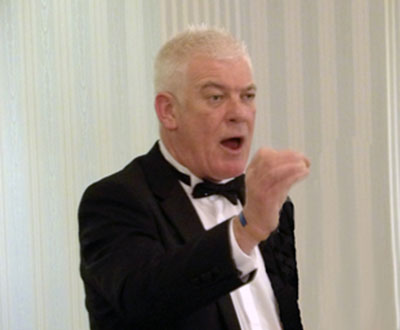 Striking the gavel with the vim of a village blacksmith forging a set of shoes for a heavyweight shire horse, Robert visibly and audibly meant business. Nobody snoozes when Robert Marsden is in the chair!! His fervour nevertheless was proved somewhat extreme when, on the next swipe of the gavel, he cleanly decapitated the implement, necessitating a speedy repair. Of course, mark you, if something on these lines had occurred to a lesser mortal, it might have been considered a calamity. But Robert is no lesser mortal. He remained perfectly calm and, led by the new master, the installing master Martin stayed as cool as an oyster on ice and proceeded with the ritual as if all had been intentional.
In the members of Emblem Lodge, one can find no finer palette with which to paint the art of Freemasonry. In all the orations and addresses that followed, excellence prevailed in no uncertain manner. Whilst all the participants can take credit for the excellence of the ceremony, it would be remiss not to throw the spotlight on some of the contributors. Those who orated the working tools deserve special mention. Their performances were exquisite, if that is the right word, unless that's a form of a rash on which you must put on ointment to cure. Derek Hawksworth parked himself on the spot, pulled down his waistcoat and heartily threw himself into the recital of the third degree tools. The animation of Chris Cash's performance in reciting the second degree tools impressed itself on the throng's retinas in no small way. And Gordon Smith brought yet another gleam of light to the proceedings with his magnificent delivery of the first degree tools. These chronicles would fail in their duty if it were not recorded that Gordon had driven from Lincolnshire, specifically to perform the ritual. He then had to return immediately after the ceremony. That is the measure of his commitment and respect for his friend Mooch.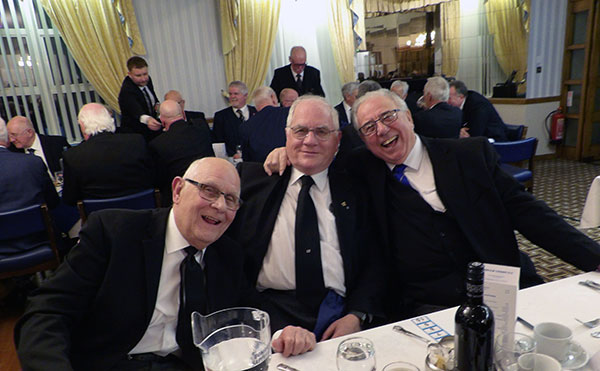 And, having reached that point in the proceedings at which the principal guest is contracted to deliver the address to the brethren of the lodge from the south-east corner of the lodge room, Philip Gardner made his way thither and delivered the address to the brethren in his usual debonair and confident manner.
Speaking with generous warmth of the qualities of the ceremony, on conveying the greetings from the Provincial Grand Mater, Philip acknowledged that the evening had been a memorable affair and gave particular credit to the skill of Martin Spencer as installing master. Happy smiles rippled over the members' cheery faces. They had done a capital job and the proletariat was stirred and enthusiastic in its approbation. The ceremony had gone down a bomb. But when a tactician like director of ceremonies Mike Fisher is in charge of the arrangements, one can be sure that everything will work out satisfactorily. He too fashioned a smooth bit of work.
And at this juncture, one delights in saying that Mooch's charity work provided a fitting legacy to his formidable efforts over the years and a wonderful tribute to a much respected and loved brother, one that will forever be remembered by the members of Emblem Lodge and the 100s of people who benefitted from his amazing energy and caring nature. Robert proudly handed cheques to Philip who, on reading the phenomenal amount that Mooch and the lodge was donating to charity, was overcome by its magnificence. The note read: Brian House – £10,300, N W Air Ambulance – £10,000, Claire House – £10,000, Rosemere Cancer Research – £750, NSPCC – £250, Highfurlong School – £200, Masonic Charitable Foundation – £59.50. A grand total of £31,559.50.
It was with no little satisfaction at the close of play, that the populace trotted off to order their pre-dinner refreshers and to take their places at the festive board. Emblem Lodge had produced a memorable installation and reinforced it with an unforgettable tribute of respect to their great friend Mooch.