The COVID-19 pandemic has made massive changes to our lives in lots of different ways, and keeping in touch with our brethren, and finding out what is happening in the world of Freemasonry, has been an important part of dealing with this crisis.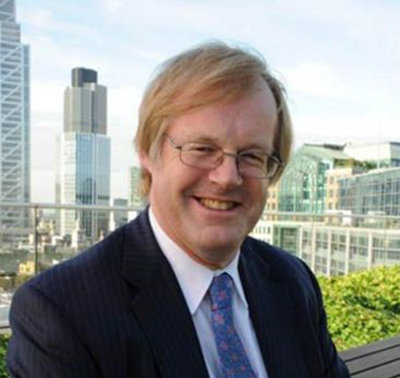 Andrew Ridal, Provincial Deputy Grand Secretary, has been scheduling and running a weekly event courtesy of Zoom, not only to answer questions, but to provide a forum for secretaries and scribes, mentors and anyone who wants to join, to get together and have a chat in the company of fellow Masons. The meeting is at three o'clock every Tuesday afternoon.
Andrew has gone to great lengths to use the meetings, not only to keep people up to date and answer questions of an administrative nature, but also to secure the presence of leaders of the Craft and senior post holders to come along and give a little of their time to keep the brethren informed.
The latest event was something of a coup, as well over 150 participants had the pleasure of an audience with non-other than Sir David Wootton, Assistant Grand Master of the United Grand Lodge of England. Provincial Grand Master Tony Harrison, and many senior officers of the Province, were on-line with members from all over West Lancashire.
The Assistant Grand Master took time from his very busy schedule to make a virtual visit to West Lancashire, and spoke and answered questions for one hour, engaging everyone with his friendly and humorous manner.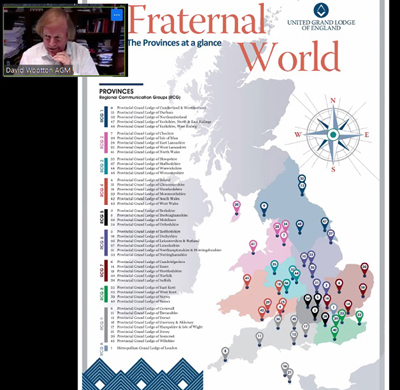 Sir David explained his role as one of the 'people at the top' and light-heartedly said of his contact with the Provinces and Districts overseas that it was important for him to 'stay awake, look good, pay attention, and when it comes to the time to make a speech, to make it shorter than the organisers thought it would be'. That set the tone for the rest of the question and answer session.
With the use of shared screen graphics, he explained about the new Regional Communication Groups. He covered topics like the use of Zoom, the reinstatement of meetings and issues around social distancing and ceremonial proceedings, special interest lodges, retention post COVID-19, and the thorny topic of fees. Each response covered the serious aspects of the issue raised, whilst retaining an ease of address and appropriate humour that kept his audience happy and engaged.
In this day and age, to see so many discussing some sensitive issues in peace and harmony was a refreshing change. That is why we love our Freemasonry. West Lancashire Freemasons give a big thank you to Sir David for his time and contribution, and not forgetting Andrew for organising and facilitating this special Zoom afternoon.
Remember, everyone in the Province is invited to attend these Zoom meetings. Look out for the email from Andrew with a link to join or ask your secretary or scribe Ezra to forward it to you. Stay safe everyone.