It has been a busy and interesting time in recent weeks for the brethren of Aigburth Lodge No 4103. Their installation ceremony at Liverpool Masonic Hall marked a hat-trick of memorable events involving the lodge.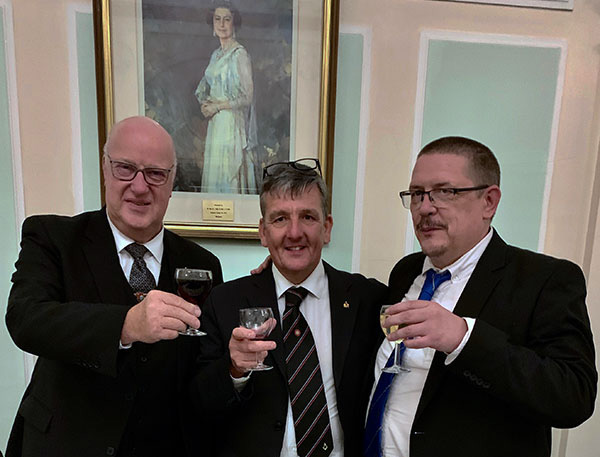 The first was the celebration of 50 years as a Freemason for their director of ceremonies Richard Wilson, which took place at Bryn Masonic Hall at Ashton-in-Makerfield, hosted by the peripatetic Sovereign's Peace Lodge No 8911.
The meeting previous to this installation was the lodge's centenary, when a certificate from United Grand Lodge of England was presented as a mark of this fantastic achievement.
On the night of the installation, the lodge was opened in regular form by the WM Mark Lawrence, ably assisted by his wardens and lodge officers. They were pleased to welcome as their principal and honoured guest Past Assistant Grand Director of Ceremonies Stephen Walls representing the Provincial Grand Master. He was accompanied by a fellow grand officer Roy Ashley and the Liverpool Group Chairman Dave Johnson.
During the installation ceremony Mark Lawrence duly installed his successor John Smith into the chair of King Solomon with Bill Johnstone acting as the stand-in director of ceremonies due to the illness of Richard Wilson. Eric Poole conducted the inner workings and floor work alongside presenting the working tools of each degree. At the end of the ceremony Steve Wells gave an outstanding address to the brethren of Aigburth Lodge.
The first duty of the newly installed master John Smith was to present a cheque of £200 in favour to the West Lancashire Freemasons' Charity.
At the festive board, those present enjoyed a fine meal commencing with a soup dish, followed by beef bourguignon with an Eton mess as the dessert course.
Steve Walls responded to the toast to grand officers, complementing the lodge for an excellent ceremony performed with sincerity and great dignity. There was a very friendly atmosphere at the festive board and everybody had a great time. Steve stressed the need for everybody to enjoy their Freemasonry and be happy.