What did you do as soon as lockdown restrictions were eased? Paul Vernazza, a member of Asshaw Lodge No 6849 and Earl of Lathom Chapter No 780 decided to complete an 11 year challenge: to climb all the fells in the Lake District over 300 metres in height – all 214 of them!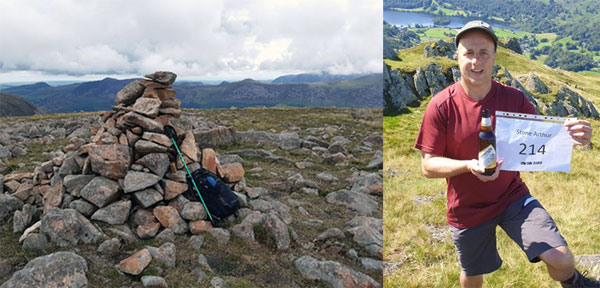 The Wainwright Challenge, as it is known, derives its name from Alfred Wainwright (1907 – 1991), perhaps, best-known for his 'Pictorial Guides to the Lakeland Fells', a series of seven volumes describing the natural features, routes of ascent and descent and the view from the summits of 214 Lakeland fells. These handwritten and hand-drawn works of art have given inspiration to 1,000s of fell walkers and armchair ramblers for more than 60 years.
So, having got to the summit of 213 of the Lakeland fells, Paul set off on Saturday 8 August from Grasmere village to climb his last fell, Stone Arthur, in beautiful warm and clear conditions – ideal for Paul's grand finale.
Paul revealed: "The whole idea came from when I took part in a climb of Scafell Pike for charity with work colleagues back in 2009. I got the bug and heard that there was a Wainwright Society website that listed all the fells with details of where to park, best routes up and down, and made a pledge to try and climb all 214. I decided to complete them in my own time and climb them in no particular order."
Paul went on to say: "The most pleasing aspect for me is doing all the planning, map reading and timings, and seeing it all play out on the walks coming to fruition. There has been a lot of pleasure in completing this challenge but the biggest pleasure is reaching the summit cairn and having the most wonderful panoramic views of all Lakeland and beyond. It really does make the hard effort of the steep ascent all the more worthwhile. I've met some great people on ridges, summits, car parks and valleys, all of whom have a shared interest in the fells, a place I like to call God's country."
It's a good job Paul is jumping onto the Masonic ladder in Asshaw Lodge as inner guard at their next installation as he will have a lot of spare time on his hands in the future – or will he take on another challenge?