Members and visitors to the Maquis of Lorne Lodge No 1354 gathered to celebrate the lodge's installation in November 2022 of its new master Azeez Amosun.
Azeez came to England from Nigeria and applied to join Freemasonry at the Leigh Group through the membership pathway in 2015. He was interviewed by the Leigh Group Membership Officer who was impressed by Azeez's enthusiasm and humility, he was then interviewed by the Leigh Group Chairman and group secretary who were similarly impressed. It was decided he should be introduced to the Marquis of Lorne Lodge.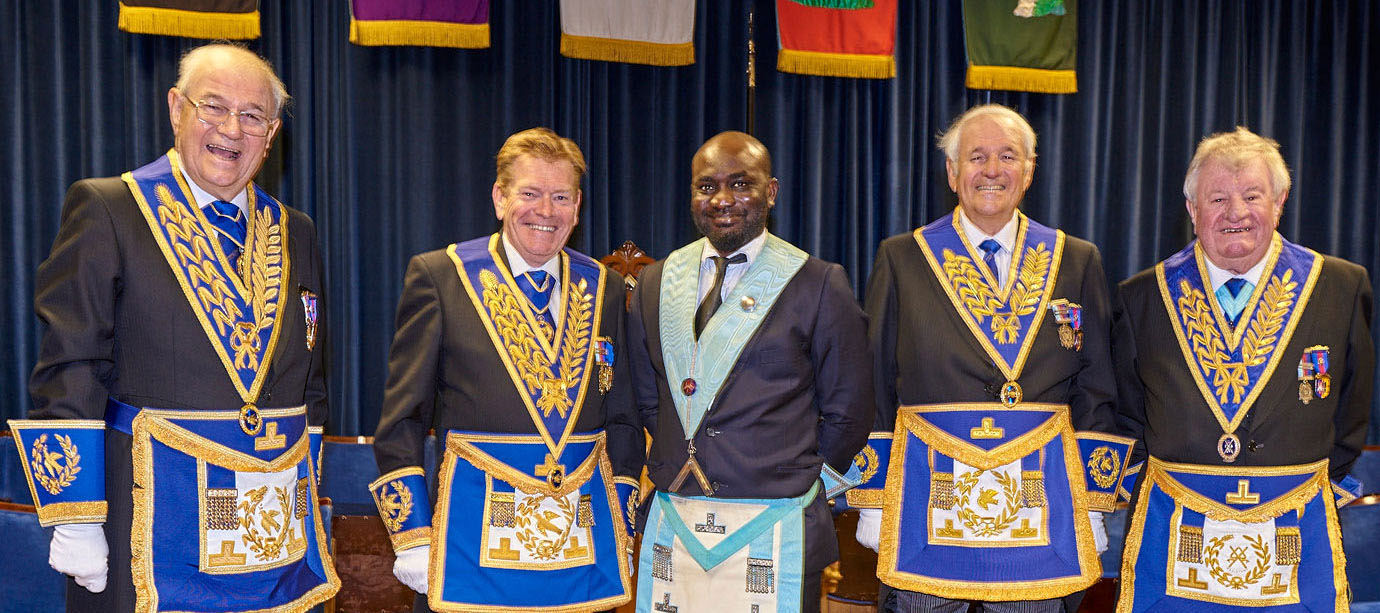 Initiation for Azeez took place in January 2016 by Ian Mann and was then passed in October the same year by Ian. He was then raised in 2017 by John Phillips. He impressed everyone with his dedication and commitment at each stage. Azeez carried out every office in the lodge successfully juggling his duties and practice around a difficult shift pattern at work whist also finding time to take that fourth and most important step by joining the Royal Arch. The brethren have been very impressed by his ability to get to grips with the ancient words in 'our little blue book'.
The installation ceremony was started by the WM Mark Rainsford who opened in all three degrees and welcomed the representative of the Deputy Provincial Grand Master in Charge Philip Gunning, Kevin Poynton, accompanied by the Leigh Group Chairman Jonathan Heaton and other grand officers from the Leigh Group.
Predictably Kevin declined the gavel! Mark then invited Andrew Hardman to assist with the ceremony and what followed under the direction of Ian Mann was an impeccable installation ceremony as commented by grand officers, Provincial grand officers and visiting brethren.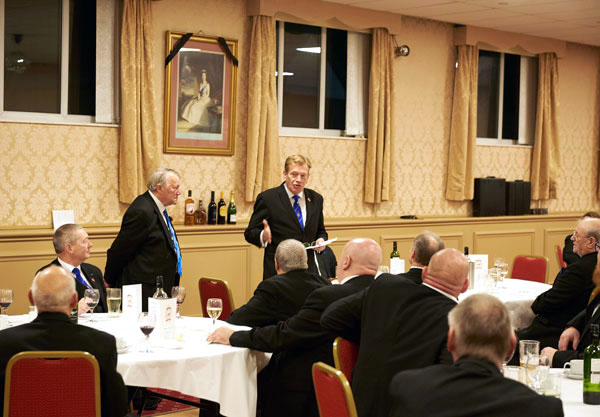 After a presentation of cheques to the value £1,354 to West Lancashire Freemasons' Charity, Leigh Hall committee and other charities, the lodge was closed in peace, harmony, and solemn prayer by the new master. Having closed the lodge, Azeez and the brethren retired to take refreshment at the festive board.
The banquet meal that followed consisted of: glazed ham hock, beef and lemon posset with shortbread, which was superbly presented and thoroughly enjoyed by all.
Following the appropriate toasts, Kevin rose to respond on behalf of the Deputy Provincial Grand Master in Charge, and everyone knew that they were in for a good time when Kevin's opening words were, in his lovely scouse accent: "I am from a small village called Widnes", the place erupted, I am sure he could have been a stand-up comic in another life.
After getting everyone into the right frame of mind he proceeded to inform the brethren of the importance of recruitment and that's it's important not to rely on the membership pathway and everyone must do their bit for recruitment. Kevin further congratulated Glynn Jones, Mark Nightingale and Chris Garlick on their excellent renditions of the working tools.
Azeez responded to the toast to his health with a particularly heart-warming response outlining the importance Freemasonry has been to him, giving him purpose in life, something to look forward to and friendships where previously there were none.
Article and photographs by Wayne Barnes.