Woolton and Garston Group charity stewards Gary Devlin and Keith Williams visited South Liverpool Foodbank (SLFB) based at Bridge Chapel and met with foodbank manager Nicola Hawkes to hand over two cheques totalling £2,350.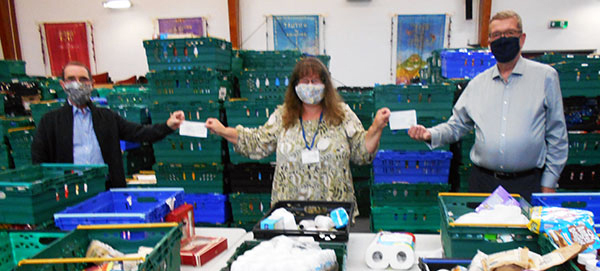 The foodbank, in the period from March to August, has supported 6,005 people in those six months which include 3,708 adults and 2,297 from 2,407 separate vouchers. Referrals were 43.5% from single person households and the rest of the referrals were from families. Also, during this period, they have supplied food to a much higher proportion of elderly clients due to shielding pensioners who have no other or extremely limited support, who have been missed from the shielding support.
Other people supported in this crisis are people struggling on low income resulting from their furloughed income being insufficient or because they were self-employed prior to lockdown and could not earn and with the combined expense of having children at home.
There have been some great children fundraising initiatives for the foodbank with one lad, Callum, doing a sponsored bike ride which raised £415. The Ross family have offered allotment produce and preserved goods, baked goods, and washed cars; so far raising donations amounting to more than £1,900.

A group of girls held a bake sale and raised £500. In the last six months there have been significant regular donations from local supermarkets and the general public who continue to give very generously, both directly and at supermarket collection points. Also, a lot of shops, restaurants and other businesses donated stock when they closed down due to lockdown and some businesses and community groups have held local collections during the last six months. If you are interested and available to help in any way or wish to donate please e-mail: info@southliverpool.foodbank.org.uk
Each household will be supplied with cereal, baked beans, soup, tomatoes, vegetables, fruit, fish, meat, rice pudding, biscuits, rice or pasta, pasta/curry sauce, jam, longlife milk, tea or coffee, instant noodles/pasta/rice and basic toiletries and, if required, pet food. The quantity depends on the size of the household and often the foodbank has a small selection of fresh fruit and vegetables and occasionally bread.