It is unusual for a lodge to have so many memorable celebrations for its long serving members as that of Merchants Lodge No 241. This lodge works under the warrant issued by the 'moderns' Grand Lodge in 1780, which gives it the distinction of being the oldest continually operating lodge in Liverpool, the relevance to this being mentioned will be shown later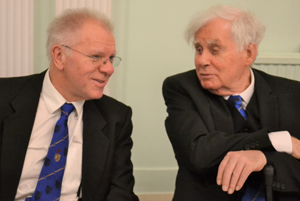 Merchants Lodge earlier in the season celebrated the 50 years' service of Bill Shuker and brought the season to an end with the celebration of the 60 years' service to the lodge of Alec Gerrard. The lodge was opened in the usual manner within the Adams suite, using Bottomley working, by WM Bill Shuker ably assisted by his officers. Once the standard business had been completed Bill requested that the DC Kevin Dempster retire from the room to admit the distinguished guests. On his instruction the brethren stood as Assistant Provincial Grand Master Derek Parkinson entered, accompanied by Liverpool Group Chairman Mark Matthews and other grand and Provincial grand officers.
After the formal salutations Derek Parkinson accepted the gavel of the lodge and took position at the chair of King Solomon. He began by saying what a delight it was for him to be back at Merchants' so soon, the last occasion being for Bill's 50th. Due to the importance of such meetings as this, Derek requested that the tyler David Jones be admitted so he could join in the celebration. He said that one of the benefits of holding a senior position in the Province is the opportunity to celebrate with a fellow Mason as he reaches a milestone in his Masonic career. Derek asked the DC to place the celebrant before him.
Alec was born in 1927, a very busy time that resulted in many important events. In Liverpool, work was underway on building, or rather digging out the Queensway tunnel, which had started in 1925 and opened in 1934 by King George V when Alec was seven years old. Also, in the 1920's, Vernon's Pools was started by George Randall Kennerley and Vernon Sangster. Looking outside of Liverpool, John Logie Baird, a Scottish engineer and inventor, gave the first public demonstration of moving silhouette images at Selfridges department store in London and after further development and refining, Baird repeated the transmission for members of the Royal Institution as the first ever televised images. Henry Ford introduced the eight-hour, five-day week as he developed the principle of the production line at the Ford Motor Company and in May 1927 the last Model T Ford, known as the Tin Lizzie, rolled off the production line.
Two years later, just five days after Alec was born, the first transatlantic telephone call was made between London and New York, but what was probably a more important event in history is the discovery by Alexander Fleming of the antibiotic penicillin allowing infections to be fought and beaten. In the same year, 1927, the National Gardens Scheme was founded which enables people to open their gardens to the public to raise money for local branches of national charities. It began by supporting The Queen's Nursing Institute and over the last 90 years other national charities have been added, including Macmillan Cancer Support, Marie Curie, the Carers Trust and Hospice UK.
The following year, 1928, work started on building the Empire State Building, which was to become the world's tallest building at the time, and in 1929 England had the heaviest snowfall ever recorded, with over six feet of snow falling on Dartmoor in less than 15 hours. As the calendar approached 1930 it heralded the end of the decade that has gone down in history as 'The Roaring 20s', which saw new styles of dressing and dancing and a time of total self-indulgence, but all that came to an end on the 29 October 1929 on 'Black Tuesday', the day of the Wall Street crash, when the world entered the 'Great Depression', and so it brings us up to date as almost 90 years later we see the worldwide economy in a similar fragile state.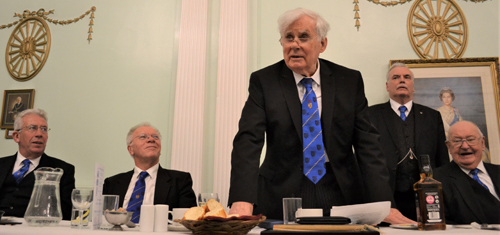 It was here that Derek returned to a more personal note with regard to Alec himself, who was born in Liverpool. His parents had married at St Cyprian's, Edge Hill, and set up home in nearby Milroy Street, later moving to Mossley Hill. This move may have been very fortuitous with regard to Alec and the family as it was just prior to the start of World War 2, and the area around Edge Hill was a prime target for the German enemy bombers due to the freight yards and sidings located in the area.
On the subject of war and conflict Derek explained how Alec came from a long line of military men, one of his father's ancestors fought in the Irish Rebellion and at the Battle of Alexandria. His grandfather had five sons who all served in the Great War and two of whom gave the ultimate sacrifice and two, including Alec's father were wounded, the only one who survived unscathed was too young to serve but gave a false age and joined the Scots Guards. One of those who died, Tommy, was in the Lancashire Fusiliers and was killed at Gallipoli in 1915 as the allied forces attempted to take Ottoman Turkey, Germany's allies, out of the war.
Alec's relatives on his mother's side were farmers from Southern Ireland and being Protestants, they had a very difficult time with frequent threats and attacks from the local Roman Catholics. They were eventually told to leave by the police as they couldn't guarantee their safety and the family came to Liverpool, others moving to the north of Ireland. While Alec attended school in Liverpool he was evacuated like many other children and was able to go and stay with relatives for a short time in County Down, part of Ulster. Alec returned and completed his schooling and later gained employment in a firm of Chartered Accountants and continuing his education gaining two First Class Honours degrees with the Open University and achieved his Chartered Accountants qualifications.
Towards the end of the war Alec volunteered for service training as an observer in the Fleet Air Arm. On leave and prior to a posting in the South Atlantic the Atom Bombs were dropped on Japan in 1945, resulting in the posting being cancelled and Alec then retrained as an Air Mechanic attached to Rolls Royce to work on the Merlin engines. At 28 years old Alec became involved in local politics as chief election agent for Liverpool and Chairman of the Liberal Party. He received the second highest number of votes in an election in England and Wales but unfortunately his Conservative rival got the highest number.
There were plenty of other ways in which Alec served the community, as a school governor at St Hilda's High School for Girls for over 20 years, Auditor for the accounts of the Regional Spina Bifida Association and sitting as a magistrate on the Liverpool bench.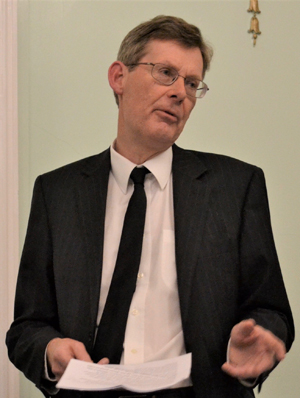 On a very personal note, it was during this time that Alec had met a young woman, Helen, at the Empress Ballroom in Wigan and after just over three years courtship they were married at the Primitive Methodist Church in Hindley. That union between Helen and Alec now celebrates a platinum anniversary, which equates to 70 years of marital bliss. The happy couple having five children, 15 grandchildren and five great grandchildren, and get together as often as possible.
In his younger days Alec enjoyed dinghy sailing as a member of Southport Sailing Club, playing rugby, until serious injury brought participation in that sport to a halt. It also curtailed Alec's love of fell walking, leading him to a more sedentary life, including collecting and reading books, especially on history and Liverpool's past. Derek explained that he understood that Alec had taken a great interest in the history of Merchants' Lodge and had updated the history written by John McNab and that Alec has spent many hours researching interesting characters associated with the Lodge.
After telling of Alec's long and eventful life, Derek Parkinson now invited lodge secretary Neil Francis, to read the minutes of the meeting at which Alec was initiated into this lodge in 1959. The lodge was meeting at Hope Street as it is now but prior to that it met at 12 different locations, all of them being inns, taverns or hotels.
Derek resumed by saying, 'tonight we're here to celebrate Alec spending 60 years as a Freemason and he is joined by many friends of this and other lodges, to wish him well.  Alec, you progressed to become WM 10 years later and received your first Provincial rank in 1980 from Sir Knowles Edge. The following year you were appointed Provincial Grand Treasurer for three years. You were also auditor for West Lancashire Educational Institution for 11 ears, Provincial Grand Chapter for 16 years and Provincial Grand Lodge for 17 years. In recognition of all your work for the Province you received appointment to Grand Lodge as Past Assistant Grand Director of Ceremonies in 1985. You are a member of Chapter of Friendship and its first principal in 1975. You served as Provincial Grand Treasurer for three years and received grand rank in the Royal Arch in 1991 as Past Grand Standard Bearer. A formidable achievement.'
At this point Derek requested Mark Matthews to read the Diamond Jubilee certificate after which Derek presented the certificate saying. 'Alec, you have contributed to serving the community by your voluntary work and to Freemasonry in this Lodge and the Province and have certainly got great pleasure and enjoyment from it and so it is a great honour and a privilege to say to you, Alec, thank you for all that you have done both for Freemasonry and the wider community, congratulations on achieving 60 years as a Freemason and we all look forward to seeing you enjoy many more years as a member of this great order.' This was met with great acclamation, following which Alec retired from the room in processional order with Derek Parkinson and Mark Matthews. WM Bill Shuker then closed the lodge enabling all to join Alec in the banqueting suite.
At the festive board Derek Parkinson spoke briefly, explaining the evening belonged to Alec, so first thanking secretary Neil Francis for all his excellent work for the evening, also to Geoffrey Cuthill for his Masonic research with Alec over the years. He reiterated the unique pleasure his position afforded him when overseeing long service celebrations and tonight was no exception.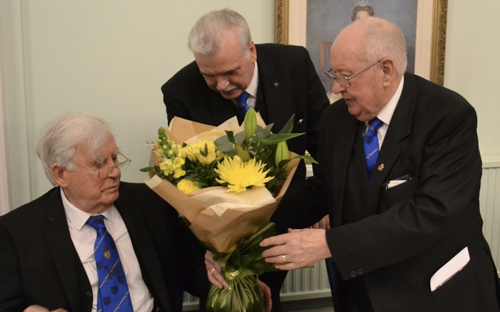 The toast to Alec was given by his son Michael who began by saying he had two matters with which he would like to start with. 'First, I've seen the plaque on the stairs from his last visit here, but my father says tonight he will stay upright, even if he requires a bit of help from time to time.
Second, and I am saying this on his behalf, a big thank you for the honour you have paid him by holding an evening such as this. He is so pleased to have been given this mark of appreciation and I can tell you that however difficult it may or may not have been for him, he was always going to make sure he was here tonight.
Now 60 years is a long time to be a member of any organisation or group. But his 60 years has been much more than that. He has been a full participant in and a big part of the life of the lodge for almost all of that 60 years.
Dad did have quite a busy time outside Masonry as well, having a larger than average family, together with further responsibilities for example as a school governor, as a magistrate, and as a fully paid up supporter of Everton Football Club, which at times, by the way, has been very hard going.
But this is not about those other things, it's mainly about his Masonic career. I must acknowledge there are parts of it I didn't know much about. For a lot of the time, I was not around, being either too young, or latterly banished to the far South West. But also, he didn't make a big song and dance, he mostly just got on and did things and was very modest about it.
As we have seen, his list of appointments and achievements is impressive, and reflects significant contributions to Masonry and in a wider sense. But that is not the end of it. My recollections from when I was a regular at the Lodge are that for him, nice though it is to be recognised, it was never really about having a list of appointments. It was much more to do with the friends that he made, the collaborations that he was willingly and energetically part of, and the contributions he was able to make.
He was and still is, along with others, part of the life blood of the lodge. I'm sure he will tell you that what he values most was the lifelong friendships he made as a result of being in the lodge. Sadly, but inevitably, a number of those friends are no longer with us and I won't mention names.
To sum up, I know that he misses not being able to attend the lodge now as much as he would like, but he would welcome joining you at some meetings in the future, health permitting. This meeting is special for my Dad, something that he greatly values, and so do I, representing as it does an appreciation and recognition of his substantial contribution to Masonry in general and Merchants Lodge in particular. Thank you.'