Alan Procter was installed as the WM of Plantagenet Lodge of Installed Masters No 9357 in the presence of Assistant Provincial Grand Master Peter Schofield. Peter was accompanied by Past Provincial Grand Master Tony Harrison, Past Assistant Provincial Grand Master (East Lancs) Malcolm Worsley and grand officers Philip Gardner, Peter Mason, Chris Butterfield, Jim Howarth, Malcolm Alexander, John Lee and Neil McGill Chairman of the Lancaster Group.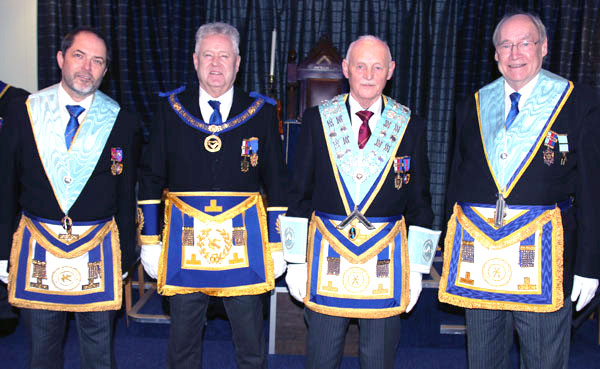 Also present were Provincial Deputy Grand Director of Ceremonies Rob Fitzsimmons, Lancaster Group Vice Chairman Scott Devine and group secretary Chris Larder. Acting officers in attendance were Provincial Grand Almoner Paul Broadley, Provincial Grand Junior Deacon Dave Shaw, Provincial Grand Standard Bearer Tim Gill and Provincial Grand Steward Mark Little.
Alan was presented as master elect by Peter Mason. The ceremony was conducted by installing WM Dennis Laird. The installing officers were; senior warden Paul Mason, junior warden John Bates and inner guard Larry Branyan. The third degree working tools were presented by Stephen McClintock, the second degree working tools by Paul Taylor and first degree tools by Stephen McClintock. The WM appointed Paul Mason as senior warden and John Bates as junior warden.
The address to the master was given by Dennis Laird, to the wardens by Scott Devine and to the brethren of Plantagenet Lodge by Peter Schofield. The organist was David Tattersall. A total of 54 brethren attended the festive board. The toast to the WM was given by Dennis Laird.
WM Alan Procter was born in April 1950 in Royal Lancaster Infirmary to Robert Edward and Frances Ivy Procter. He has an older sister Pauline Mary. He was educated at St Paul's Primary School at Brookhouse and Lunesdale County Secondary Modern School at Hornby. Alan was a regular member of the football, cricket and athletics teams and holds the school record for the 100yds.
After leaving school he served a five-year apprenticeship as a plumbing and heating engineer. He was awarded the Advanced Craft City and Guilds Certificate in plumbing and gas welding and the Full Technological Certificate in building.
In 1971 at the age of 21, Alan moved south to Maidenhead in Berkshire to work as an estimator / surveyor in the plumbing department of a large building and civil engineering contractor before progressing to the position of Contracts Manager. He joined a firm of consulting engineers based in London as head of the Sanitary Plumbing and Drainage section. In April 1978 Alan took on a contract with a London based company to manage the maintenance term works for the Army, Navy, Air-Force, Naval Hospital and the Property Service Agency buildings in Gibraltar and was made overseas director in 1983.
He returned to England in July 1986 and worked for a local building and plumbing company as the Contracts Manager. In 1992 Alan went into partnership to form a plumbing, electrical and building services company working on commercial / industrial properties. In 2000 Alan retired from the partnership to work as a self-employed plumbing and heating design consultant and project manager, which he is still doing on a part time basis.
Alan married his wife Gwen in June 1973 and in June this year they will have been married for 50 years. They started courting in 1967 when Alan was 17 and Gwen was 16, but with Alan working down south, things moved slowly. Alan and Gwen have three children, Sarah, David and Thomas, nine grandchildren and one great grandchild, who they see on a regular basis.
Over the years Alan has played a lot of sport. football for Caton United and then Maidenhead and Slough while living in Berkshire. Alan played cricket for Caton and Warton, also for Littlewick Green in Berkshire. In Gibraltar he played squash, winning the Gibraltar Open on one occasion and also football and cricket. In 1982 after living in Gibraltar for four years, Alan qualified to play for Gibraltar in the 1982 ICC 50 over cricket tournament held in England, playing against sides such as Zimbabwe, Bangladesh Holland, Kenya and many more from all over the world. In 1986 Alan was lucky enough to be still in Gibraltar and again represented them in the competition.
In all, Alan played in approximately 24 international matches. He continued to play sport on his return to England and coached children up to the age of 16 in football and cricket at Warton before a sports injury forced him to retire. Alan is still able to continue cycling and in May 2022 cycled the 'Roses Way' with Stewart Aimson and Carl Horrax. The total distance was 174 miles from Morecambe to Bridlington, and the three cyclists raised in excess of £2,500.00 which was shared between the Masonic Foundation Fund and St John's Hospice in Lancaster.
Alan was initiated into Freemasonry in Robert Freke Gould Lodge No 2874 in Gibraltar in February 1983, and remains a member. He joined Silverdale Lodge No 6926 in 1988 and was installed as WM in 1998. Alan has held various offices, mentor, chaplain, ADC and DC and now back to mentor having retired as director of ceremonies after serving 131/2 years out of the last 15 years
In Royal Arch, Alan joined Calpean Chapter No 278in Gibraltar in 1985 and then joined Carnforth Chapter No 4951 on his return to England. He was first principal in 2008 and is currently director of ceremonies. Alan has also served as an acting officer in both the Craft and chapter serving as Provincial Assistant Grand Director of Ceremonies in the Craft and a Provincial Grand Steward in Royal Arch. He served for a number of years as group social secretary, followed by group membership officer and is currently the Royal Arch Group Mentor Coordinator.
In 2016, Alan was the director of ceremonies of the Royal Arch Joint Convocation held at Rowley Court in the presence of the Grand Superintendent in which members of every Royal Arch chapter in the Group took part.